Affiliate disclosure: As an Amazon Associate, we may earn commissions from qualifying purchases from Amazon.
Do you know that Jack Ryan will come back in a TV show? After the books, the video games, and the movies, he will conquer the streaming world with a new TV show. My favorite Jack Ryan movie is The Hunt for Red October, even after all these years it's still great. My dad was really into it so we watched it a lot at my house. He loves the books too and we are going to talk about that, but first…
What is the Jack Ryan series about?
Dr. John Patrick "Jack" Ryan, Sr., KCVO (Hon.), Ph.D. is a character created by Tom Clancy. When we met him, he is a high-level CIA analyst and a former Marine. His career won't stop here. In fact, Ryan will go up the chain.
Clancy made Ryan one of his most famous creations, putting him in a few books before continuing with Jack Ryan Jr. The Ryan family never stop and a full universe was developed all around the father and the son.
You can put their stories in the spy/techno-thriller genre. Sadly, Tom Clancy died in 2013, but Mark Greaney picked up where he left off and is still publishing new Jack Ryan, jr. novels on a regular basis.
The Jack Ryan Reading Order:
In my opinion, the best way to be introduced to the Jack Ryan series is to begin with The Hunt for Red October. It was the first book published with Jack Ryan. That said, I propose you here a chronological reading order. I'll add, at the end, the publication order.
I. Before Jack Ryan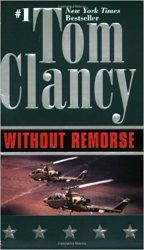 Without Remorse, by Tom Clancy – This novel doesn't revolve around Jack Ryan, but John Clark. Set during the Vietnam War, in the city of Baltimore, the book tells the origin of Clark and alternates between two major story arcs. In one of them, we met Emmet Ryan, the father of Jack. Clarke is a recurring character in the Ryan novels.
---
II. The Jack Ryan Era in Order



Patriot Games, by Tom Clancy – In an explosive wave of violence, an ultra-left-wing faction of the IRA is hunting one man for his act of salvation in an attempted assassination. And now Jack Ryan must pay with his life.
Red Rabbit, by Tom Clancy – When Jack Ryan joins the CIA as an analyst he is thrust into a world of political intrigue and conspiracy. Stationed in England, he quickly finds himself debriefing a Soviet defector with an extraordinary story to tell: senior Russian officials are plotting to assassinate Pope John Paul II.
The Hunt for Red October, by Tom Clancy – During the Cold War, Marko Alexandrovich Ramius, a Lithuanian submarine commander in the Soviet Navy, intends to defect to the United States with his officers on board the experimental nuclear submarine Red October. The entire Soviet Atlantic Fleet is ordered to hunt down the submarine and destroy her at all costs. The Americans are determined to find her first and get her safely to port in the intelligence coups of all time.



Red Winter, by Marc Cameron – 1985. A top secret F117 aircraft crashes into the Nevada desert. The Nighthawk is the most advanced fighting machine in the world and the Soviets will do anything to get their hands on its secrets. In East Berlin, a mysterious figure contacts the CIA with an incredible offer—invaluable details of his government's espionage plans in return for asylum. It's an offer they can't pass up…if it's genuine, but the risks are too great to blindly stumble into a deal. With the East German secret police closing in, someone will have to go to behind the Berlin Wall to investigate the potential defector. It's a job Deputy Director James Greer can only trust to one man–Jack Ryan.
The Cardinal of the Kremlin, by Tom Clancy – Two men possess vital data on Russia's Star Wars missile defense system. One of them is CARDINAL – America's highest agent in the Kremlin – and he's about to be terminated by the KGB. The other is the one American who can save CARDINAL and lead the world to the brink of peace or war.
Clear and Present Danger, by Tom Clancy – Colombian drug lords have assassinated the American Ambassador and the visiting head of the FBI. The decision is made to send undercover teams into Colombia. Back in the USA, men armed with the most sophisticated tools their country can devise prepare to take the fight to the enemy. But does anyone know who the real enemy is? Jack Ryan and CIA field officer John Clark must find the answer.



The Sum of All Fears, by Tom Clancy – Deputy Director of the CIA Jack Ryan lays the groundwork for a peace plan that could end centuries of conflict in the Middle East. But ruthless terrorists have their hands on a nuclear weapon and have placed it on American soil in the midst of an escalation in tension with the Soviet Union. The terrorists hope to rekindle cold war animosity and prevent reconciliation between Israelis and Palestinians.
Debt of Honor, by Tom Clancy – Razio Yamata, one of Japan's most influential industrialists, has devised a plan to cripple America. When the faulty gas tank on one Tennessee family's car leads to their fiery death, an opportunistic U. S. congressman uses the occasion to rush a new trade law through the system. The law is designed to squeeze Japan economically. Instead, it provides Yamata with the leverage he needs to put his plan into action. There's only one man to find out who the culprit is Jack Ryan, the new President's National Security Advisor.
Executive Orders, by Tom Clancy – Jack Ryan had agreed to accept the vice-presidency only as a caretaker for a year, and now, suddenly an incalculable weight has fallen on his shoulders. How do you run a government without a government? Where do you even begin? With stunning force, Ryan's responsibilities crush on him. He must calm an anxious and grieving nation, allay the skepticism of the world's leaders, conduct a swift investigation of the tragedy, and arrange a massive state funeral – all while attempting to reconstitute a Cabinet and a Congress with the greatest possible speed.


Rainbow Six, by Tom Clancy – Several NATO countries have collectively organized an elite counter-terrorist unit named Rainbow composed of the best soldiers from the militaries of several nations. The team is led by John Clark must face a group of terrorists like none the world has ever encountered before, a band of men and women so extreme that their success could literally mean the end of life on this earth as we know it.
The Bear and the Dragon, by Tom Clancy – A high-level assassination attempt in Russia has the newly elected Ryan sending his most trusted eyes and ears – including antiterrorism specialist John Clark – to Moscow, for he fears the worst is yet to come.
---
III. The Jack Ryan, jr. Era in Order
As Jack Ryan comes out of retirement, he learns that his son, Jack Jr., is now a field operative on the Campus. The Jack Ryan Series focuses now as much on Jack as on his son.



The Teeth of the Tiger, by Tom Clancy – Jack Ryan Jr. is recruited by the Campus, an "off-the-books" intelligence agency, as an analyst. He finds that nothing has prepared him for what he is about to encounter. For it is indeed a different world out there, and in here… and it is about to become far more dangerous.
Dead or Alive, by Tom Clancy with Grant Blackwood – Now covert intelligence expert Jack Ryan Jr. and his compatriots at The Campus have come up against their greatest foe: a sadistic killer known as the Emir. Mastermind of countless horrific attacks, the Emir has eluded capture by every law enforcement agency in the world. But his greatest devastation is yet to be unleashed as he plans a monumental strike at the heart of America.
Locked On, by Tom Clancy with Mark Greaney – A devout enemy of Jack, Sr. launches a privately-funded vendetta to discredit him and connect him to a mysterious killing in his longtime ally John Clark's past. With Clark on the run, it's up to Jack, Jr. to stop a growing threat emerging in the Middle East, where a corrupt Pakistani general has entered into a deadly pact with a fanatical terrorist to procure four nuclear warheads they can use to blackmail any world power into submission or face annihilation.



Threat Vector, by Tom Clancy with Mark Greaney – The Campus has been discovered. And whoever knows they exist knows they can be destroyed. Meanwhile, President Jack Ryan has been swept back into the Oval Office – and his wisdom and courage are needed more desperately than ever.
Command Authority, by Tom Clancy with Mark Greaney – When a family friend of Ryan's is poisoned by a radioactive agent, the trail leads to Russia. And Jack Ryan Jr. – aided by his compatriots John Clark and the covert warriors of the secretive Campus – must delve into an international conflict thirty years in the making, and finish what his father started.
Support and Defend, by Mark Greaney – Ethan Ross was a mid-level staffer for the National Security Council. Now he's a wanted fugitive on the run with a microdrive that contains enough information to destroy American intelligence efforts around the world. The CIA is desperate to get the drive back before it's captured by the Russians or one of the various terrorist groups also vying for it.



Full Force and Effect, by Mark Greaney – A North Korean ICBM crashes into the Sea of Japan. A veteran CIA officer is murdered in Ho Chi Minh City, and a package of forged documents goes missing. The pieces are there, but assembling the puzzle will cost Jack Ryan, Jr., and his fellow Campus agents precious time they don't have.
Under Fire, by Grant Blackwood – On a mission in Tehran, Jack Ryan, Jr., meets his oldest friend, Seth Gregory. As they part, Seth slips Jack a key, along with a perplexing message. The next day Jack is summoned to an apartment where two men claim Seth has disappeared with funds for a vital intelligence operation. They say he's turned and leave Jack with a warning: If you hear from Seth, call us. Do not get involved.
Commander in Chief, by Tom Clancy – When the desperate Russian president launches an all-out covert violent offensive in order to push the world into chaos and regain the power his once-mighty country has lost, it's up to U.S. President Jack Ryan and all of his allies to stop the madman's grand plan of global conflict and conquest.



Duty and Honor, by Grant Blackwood – Jack Ryan, Jr., is on his own. He's been ousted from his position at the Campus. As if that's not bad enough, someone is out for Jack's blood. The police think that he was just the victim of a mugging, but he knows a professional assassin when he kills one.
True Faith and Allegiance, by Mark Greaney – As more deadly events involving American military and intelligence personnel follow, all over the globe, it becomes clear that there has been some kind of massive information breach and that a wide array of America's most dangerous enemies have made a weapon of the stolen data. With U.S. intelligence agencies potentially compromised, it's up to John Clark and the rest of The Campus to track the leak to its source.
Point of Contact, by Mike Maden – Former U.S. Senator Weston Rhodes is a defense contractor with an urgent problem. His company needs someone to look over the books of Dalfan Technologies, a Singapore company—quickly. He turns to his old friend Gerry Hendley for help. Hendley Associates is one of the best financial analysis firms in the country and the cover for The Campus. Rhodes asks for two specific analysts, Jack Ryan Jr., and Paul Brown, a mild-mannered forensic accountant.



Power and Empire, by Marc Cameron – Jack Ryan is dealing with an aggressive challenge from the Chinese government. Pawns are being moved around a global chessboard: an attack on an oil platform, a terrorist strike on an American destroyer, and a storm-tossed American spy ship. It seems that President Zhao is determined to limit Ryan's choices in the upcoming G20 negotiations. But there are hints that there's even more going on behind the scene.
Line of Sight, by Mike Maden – Twenty-six years ago, Dr. Cathy Ryan restored the eyesight of a young Bosnian girl who had been injured during an attack in the Bosnian War. Today, her son, Jack Ryan Jr. has agreed to track down the young woman and deliver a letter from his mother. What he finds shocks them both.
Oath of Office, by Marc Cameron – Freedom may have finally arrived in Iran. As protests break out across the country, the media rejoices over the so-called Persian Spring. Western leaders are ecstatic. Members of Congress and the Cabinet clamor to back the rebels. Only President Jack Ryan remains wary. Meanwhile, a deadly strain of flu is ravaging the United States as spring floods decimate the Southeast.



Enemy Contact, by Mike Maden – The CIA's deepest secrets are being given away for a larger agenda that will undermine the entire Western intelligence community. Director of National Intelligence Mary Pat Foley wants it stopped but doesn't know who, how, or why. Jack Ryan, Jr., is dispatched to Poland on a different mission. The clues are thin, and the sketchy trail dead-ends in a harrowing fight where he barely escapes with his life.
Code of Honor, by Marc Cameron – Father Pat West, S.J. was a buddy of the young Jack Ryan when they were both undergraduates. Father West left a comfortable to work with the poor in Indonesia. Now he's been arrested and accused of blasphemy against Islam. President Ryan is desperate to rescue his old friend, but he can't move officially against the Indonesians. Instead, he relies on the Campus team to find out who is framing the priest.
Firing Point, by Mike Maden – While on vacation in Barcelona, Jack Ryan, Jr. is surprised to run into an old friend at a small café. A first, Renee Moore seems surprised to see Jack. After making plans to meet later, Jack leaves, only to miss the opportunity to ever speak to Renee again, as the café is destroyed minutes later by a suicide bomber. A desperate Jack plunges back into the ruins to save his friend, but it's too late. As she dies in his arms, she utters one word, "Sammler."



Shadow of the Dragon, by Marc Cameron – A missing Chinese scientist, unexplained noises emanating from under the Arctic ice, and a possible mole in American intelligence are just some of the problems that plague President Jack Ryan that has only one choice: send John Clark and his Campus team deep into China.
Target Acquired, by Don Bentley – Jack Ryan, Jr. would do anything for Ding Chavez. That's why Jack is currently sitting in an open-air market in Israel, helping a CIA team with a simple job. The man running the mission, Peter Beltz, is an old friend from Ding's Army days. Ding hadn't seen his friend since Peter's transfer to the CIA eighteen months prior and intended to use the assignment to reconnect. Unfortunately, Ding had to cancel at the last minute and asked Jack to take his place. It's a cushy assignment–a trip to Israel in exchange for a couple of hours of easy work, but Jack could use the downtime after his last operation.
Chain of Command, by Marc Cameron – An corrupt pharmaceutical billionaire has spent millions supporting radical groups while using the chaos they engender to cover his money-making schemes, but for a man with such towering ambitions, the only real goal is power. To get that, he'll have to eliminate the only impediment in his path—Jack Ryan. The question is, how do you attack the most closely guarded man in the world?



Zero Hour, by Don Bentley – When the leader of North Korea is catastrophically injured, his incapacitation inadvertently triggers a "dead-man's switch," activating an army of sleeper agents in South Korea and precipitating a struggle for succession. Jack Ryan, Jr. is in Seoul to interview a potential addition to the Campus. But his benign trip takes a deadly turn when a wave of violence perpetrated by North Korean operatives grips South Korea's capital. A mysterious voice from North Korea offers Jack a way to stop the peninsula's rush to war, but her price may be more than he can afford to pay.
Flash Point, by Don Bentley – Jack Ryan Jr. is in a world of trouble. When a benign surveillance operation takes a deadly turn, Jack finds himself locked in a struggle with an unseen enemy bent on destroying the Campus. The chase leads Jack to the South China Sea where a midair collision between aircraft from rival nations threatens to serve as a flash point for the entire region. As Jack frantically tries to put the pieces of the conspiracy together, the Campus is hit with a crippling attack. When the dust settles, Jack is one of the few operators still standing and the Campus's de facto leader. But the fight is just beginning.
Weapons Grade, by Don Bentley – The quiet of a Texas night is shattered by the sounds of screeching brakes, crumpling metal and, most shockingly, rapid gunfire. The auto accident Jack Ryan Jr thought he witnessed turned out to be a professional hit. Jack may be too late to save the victim, but he'll be damned if he's going to let the hitters escape justice. He's got just one lead—a meeting the victim was going to. When Jack shows up instead, he's drawn into the seedy underbelly of a small, Texas town and the cold case of a college student who vanished from its streets.

Command and Control, by Marc Cameron – President Jack Ryan travels to Colombia to support the president who is facing a challenge from autocratic forces. What seems like an ordinary opportunity to preach the values of democracy quickly turns into a nightmare when a full-blown military coup erupts. President Ryan and his Secret Service team are cut off and out of communication. In Washington, the Vice President is coordinating a military response, but there's still one more obstacle. The Russians recognize an opportunity when one presents itself. They've hired a private military contractor to do the unthinkable–use the cover of the coup to assassinate President Jack Ryan.
---
The Jack Ryan Books in Order of Publication
---
See Also: The Tom Clancy's OP Center series

If you like our article about reading Jack Ryan series in order, don't forget to bookmark it! You may also be interested in the Gray Man series by Mark Greaney, the Mitch Rapp series by Vince Flynn, the Scot Harvath series by Brad Thor, Cotton Malone series by Steve Berry.