Last Updated 4 months ago.Do you know that Jack Ryan will come back in a TV show? After the books, the video games, and the movies, he will conquer the streaming world with a new TV show. My favorite Jack Ryan movie is The Hunt for Red October, even after all these years it's still great. My dad was really into it so we watched it a lot at my house. He loves the books too and we are going to talk about that, but first…
Who is Jack Ryan?
Dr. John Patrick "Jack" Ryan, Sr., KCVO (Hon.), Ph.D. is a character created by Tom Clancy. When we met him, he is a high-level CIA analyst and a former Marine. His career won't stop here. In fact, Ryan will go up the chain.
Clancy made Ryan one of his most famous creations, putting him in a few books before continuing with Jack Ryan Jr. The Ryan family never stop and a full universe was developed all around the father and the son. You can put their stories in the spy/techno-thriller genre. Sadly, Tom Clancy died in 2013, but Mark Greaney picked up where he left off and is still publishing new Jack Ryan, jr. novels on a regular basis.
The Jack Ryan Reading Order:
In my opinion, the best way to be introduced to Jack Ryan is to begin with The Hunt for Red October. It was the first book published with Jack Ryan. That said, I propose you here a chronological reading order. I'll add in the end the publication order.
I. Before Jack Ryan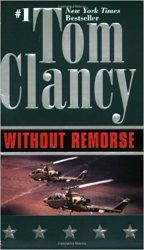 Without Remorse, by Tom Clancy – This novel doesn't revolve around Jack Ryan, but John Clark. Set during the Vietnam War, in the city of Baltimore, the book tells the origin of Clark and alternates between two major story arcs. In one of them, we met Emmet Ryan, the father of Jack. Clarke is a recurring character in the Ryan novels.
---
II. The Jack Ryan Era
Clear and Present Danger, by Tom Clancy – Colombian drug lords have assassinated the American Ambassador and the visiting head of the FBI. The decision is made to send undercover teams into Colombia. Back in the USA, men armed with the most sophisticated tools their country can devise prepare to take the fight to the enemy. But does anyone know who the real enemy is? Jack Ryan and CIA field officer John Clark must find the answer.
The Sum of All Fears, by Tom Clancy – Deputy Director of the CIA Jack Ryan lays the groundwork for a peace plan that could end centuries of conflict in the Middle East. But ruthless terrorists have their hands on a nuclear weapon and have placed it on American soil in the midst of an escalation in tension with the Soviet Union. The terrorists hope to rekindle cold war animosity and prevent reconciliation between Israelis and Palestinians.
Debt of Honor, by Tom Clancy – Razio Yamata, one of Japan's most influential industrialists, has devised a plan to cripple America. When the faulty gas tank on one Tennessee family's car leads to their fiery death, an opportunistic U. S. congressman uses the occasion to rush a new trade law through the system. The law is designed to squeeze Japan economically. Instead, it provides Yamata with the leverage he needs to put his plan into action. There's only one man to find out who the culprit is Jack Ryan, the new President's National Security Advisor.
Executive Orders, by Tom Clancy – Jack Ryan had agreed to accept the vice-presidency only as a caretaker for a year, and now, suddenly an incalculable weight has fallen on his shoulders. How do you run a government without a government? Where do you even begin? With stunning force, Ryan's responsibilities crush on him. He must calm an anxious and grieving nation, allay the skepticism of the world's leaders, conduct a swift investigation of the tragedy, and arrange a massive state funeral – all while attempting to reconstitute a Cabinet and a Congress with the greatest possible speed.
Rainbow Six, by Tom Clancy – Several NATO countries have collectively organized an elite counter terrorist unit named Rainbow composed of the best soldiers from the militaries of several nations. The team is led by John Clark must face a group of terrorists like none the world has ever encountered before, a band of men and women so extreme that their success could literally mean the end of life on this earth as we know it.
The Bear and the Dragon, by Tom Clancy – A high-level assassination attempt in Russia has the newly elected Ryan sending his most trusted eyes and ears – including antiterrorism specialist John Clark – to Moscow, for he fears the worst is yet to come.
---
III. The Jack Ryan, jr. Era
Code of Honor, by Marc Cameron – Father Pat West, S.J. was a buddy of the young Jack Ryan when they were both undergraduates. Father West left a comfortable to work with the poor in Indonesia. Now he's been arrested and accused of blasphemy against Islam. President Ryan is desperate to rescue his old friend, but he can't move officially against the Indonesians. Instead he relies on the Campus team to find out who is framing the priest.
Firing Point, by Mike Maden – While on vacation in Barcelona, Jack Ryan, Jr. is surprised to run into an old friend at a small café. A first, Renee Moore seems surprised to see Jack. After making plans to meet later, Jack leaves, only to miss the opportunity to ever speak to Renee again, as the café is destroyed minutes later by a suicide bomber. A desperate Jack plunges back into the ruins to save his friend, but it's too late. As she dies in his arms, she utters one word, "Sammler."
Shadow of the Dragon, by Marc Cameron – A missing Chinese scientist, unexplained noises emanating from under the Arctic ice, and a possible mole in American intelligence are just some of the problems that plague President Jack Ryan that has only one choice: send John Clark and his Campus team deep into China.
Target Acquired, by Don Bentley – Jack Ryan, Jr. would do anything for Ding Chavez. That's why Jack is currently sitting in an open-air market in Israel, helping a CIA team with a simple job. The man running the mission, Peter Beltz, is an old friend from Ding's Army days. Ding hadn't seen his friend since Peter's transfer to the CIA eighteen months prior, and intended to use the assignment to reconnect. Unfortunately, Ding had to cancel at the last minute and asked Jack to take his place. It's a cushy assignment–a trip to Israel in exchange for a couple hours of easy work, but Jack could use the downtime after his last operation.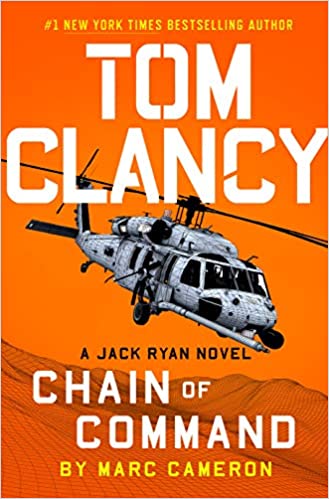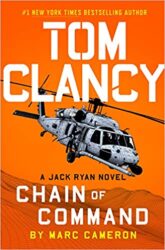 Chain of Command, by Marc Cameron – An corrupt pharmaceutical billionaire has spent millions supporting radical groups while using the chaos they engender to cover his money-making schemes, but for a man with such towering ambitions, the only real goal is power. To get that, he'll have to eliminate the only impediment in his path—Jack Ryan. The question is, how do you attack the most closely guarded man in the world?
---
The Jack Ryan Publication Order:
---
See Also: The Tom Clancy's OP Center series