Karin Slaughter Books in Order (Will Trent, Grant County)
Disclaimer: As an Amazon Associate, we earn from qualifying purchases. Thanks!
Born in 1971, Karin Slaughter is an American crime writer and best-selling author of more than 20 novels, including her Grant County and Will Trent series.
Published in 120 countries, Karin Slaughter lives in Atlanta and soon will see her stand-alone novel, Pieces of Her, adapted on-screen at Netflix, with Tony Collette in the lead role. She is also the founder of Save the Libraries, a non-profit organization that campaigns to support US public libraries.
Reading Karin Slaughter's Books in Order: A Guide
How to read the Grant County Series?
Grant County is a thriller series set in the fictional town of Heartsdale, Georgia (in the fictional Grant County). The story is told from the perspectives of three main characters: Sara Linton, the town's pediatrician and part-time coroner; her ex-husband, Chief of Police Jeffrey Tolliver; and his subordinate, Detective Lena Adams.
Throughout the series, that begins with the novel "Blindsighted," published in 2001, the characters are faced with personal and professional challenges as they work to solve crimes and bring perpetrators to justice. The stories also delve into the complicated relationships between the characters, particularly between Sara and Jeffrey, as they navigate their past and present relationships.
For more details about the plot of the books, you can read our article dedicated to the Grant County series.
Blindsighted (2001)
Kisscut (2002)
A Faint Cold Fear (2003)
Indelible (2004)
Faithless (2005)
Beyond Reach/Skin Privilege (2007)
Short Story (2018) (short story) – Jeffrey Tolliver meets Joe Pritchard from the Lincoln Perry series. Co-written with Michael Koryta.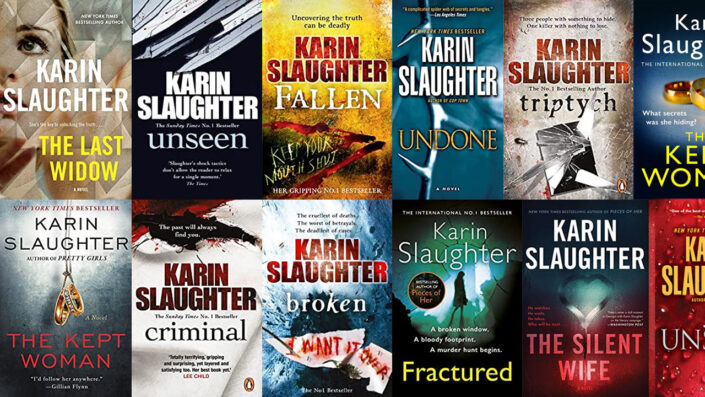 How to read the Will Trent Series?
Launched with the novel "Triptych," published in 2006, the Will Trent series follows the character of Will Trent, an agent with the Georgia Bureau of Investigation, who is dyslexic and has a difficult past. Nevertheless, he is a good agent–but has a reputation for not getting along with others.
He joined the Special Criminal Apprehension Team, a new team led by Amanda Wagner. Will, despite his dyslexia, is one of the top agents in the bureau, with a remarkable clearance rate.
Throughout the series, Will Trent struggles with his own personal demons and challenges, including a traumatic childhood and difficulties in his relationships with his colleagues and loved ones.
Will Trent works to solve a variety of crimes, including murders, kidnappings, and terrorist attacks, often in partnership with his colleagues, including detective Faith Mitchell and medical examiner Sara Linton from Slaughter's Grant County series.
What follows is just the list in order of the books in the Will Trent series. To find more information about the novels, you can visit our page about the series.
Triptych (2006)
Undone/Genesis (2009) – This book is also a sort-of the book is a sort of follow-up to Beyond Reach, as you reconnect with Dr. Sara Linton after the explosive ending.
Broken (2010) – This book also features Sara Linton and Lena Adams
Fallen (2011)
Snatched (2012) (short story)
Criminal (2012)
Busted (2013) (short story)
Unseen (2013)
The Last Widow (2019)
Cleaning the Gold (2019) (short story) – Will Trent meets Jack Reacher. Co-written with Lee Child.
The Silent Wife (2020)
After That Night (2023)
Other Karin Slaughter Novels and Novellas/Short stories
Karin Slaughter's work is not limited to the Will Trent and Grant County series. She also published a number of short stories and novels including the popular "Pretty Girls" (2015), "The Good Daughter" (2017), and "Cop Town" (2014).
For more information about the other Karin Slaughter novels and short stories, you'll find below the official synopsis for all the books:
Martin Misunderstood (2008) (short story) – Working as a glorified accountant at Southern Toilet Supply, Crime fiction obsessive Martin Reed has become resigned to the world in which he lives – the school bullies now pick on him in the workplace, women still spurn him and his arch enemy is now his supervisor. But then he arrives at work one morning to find the police on site. A co-worker has been brutally murdered and her body abandoned in a ditch. And the overwhelming evidence points to Martin. Could Martin be guilty? Or is he just misunderstood?
Thorn in My Side (2011) (short story) – It could have been just any night, and they could have just been any two brothers–but it wasn't, and they weren't. The scene is an Atlanta bar. The music is loud and the dance floor is packed. The good-looking brother picks up a girl. But when dark deeds ensue out in the parking lot, what happens next can only be described in two words: vintage Slaughter.
The Unremarkable Heart (2011) (short story) – Five and a half months ago, high school principal June Connor was dealt a shocking blow-an imminent death sentence due to lung cancer. Now it is her final day, and as she ruminates on the path her life has taken-her marriage to ex-convict Richard, the death of her daughter Grace-June discovers that fate has one final twist in store for her.
The Blessing of Brokenness (2012) (short story) – Mary Lou Dixon works at the Christ Holiness Baptist Church. She's overseeing the repair of the cross above the altar in time for Christmas when things start to go horribly wrong.
Cold Cold Heart (2013) (short story) – Fifty-two-year-old Pam has done her utmost as a loyal wife to her now ex-husband John. He dropped her cruelly . . . but with a terminal illness about to claim his life, Pam now sees an opportunity to settle the score, in a way that no one-not their children, not her ex, and certainly not the reader-will see coming . . .
Cop Town (2014) – Atlanta, 1974. Kate Murphy wonders if her first day on the job will also be her last. She's determined to defy her privileged background by making her own way-wearing a badge and carrying a gun. It's also the worst day possible to start given that a beloved cop has been gunned down, his brothers in blue are out for blood, and the city is on the edge of war. Kate isn't the only woman on the force who's feeling the heat. Maggie Lawson followed her uncle and brother into the ranks to prove her worth in their cynical eyes. When she and Kate, her new partner, are pushed out of the citywide search for a cop killer, their fury, pain, and pride finally reach the boiling point. With a killer poised to strike again, they will pursue their own line of investigation, risking everything as they venture into the city's darkest heart.
Blonde Hair, Blue Eyes (2015) (short story) (prequel to Pretty Girls) – Beautiful, intelligent, nineteen-year-old college freshman, Julia Carroll should be carefree. But instead she is frightened. Because girls are disappearing. A fellow student, Beatrice Oliver, is missing. A homeless woman called Mona-No-Name is missing. Both taken off the street. Both gone without a trace. Julia is determined to find out the reasons behind their disappearances. And she doesn't want to be next…
Pretty Girls (2015) – More than twenty years ago, Claire and Lydia's teenaged sister Julia vanished without a trace. The two women have not spoken since, and now their lives could not be more different. But neither has recovered from the horror and heartbreak of their shared loss-a devastating wound that's cruelly ripped open when Claire's husband is killed. The disappearance of a teenage girl and the murder of a middle-aged man, almost a quarter-century apart: what could connect them? Forming a wary truce, the surviving sisters look to the past to find the truth, unearthing the secrets that destroyed their family all those years ago . . . and uncovering the possibility of redemption, and revenge, where they least expect it.
Go Deep (2015) (short story) – The arrangement is simple. Charlie picks up a suit from the dry cleaner's. In the suit pocket is the name of a very important man. The next day, that man walks into the dealership, drives out in a new car, and Charlie gets a fat envelope full of cash. Everyone's happy. No one gets hurt. So long as Charlie doesn't cross his business partner. But with one twist of a knife, the unthinkable happens.
Remmy Rothstein Toes the Line (2015) (short story) – As an intrepid adjudicator of World Records, Mindy Patel has met lots of strange people in lots of strange places. But none stranger than the Swampers of the Georgia bayou. Mindy has braved the oppressive August heat in search of Remmy Rothstein. If the photos are indeed accurate, she might be about to certify Remmy as the World Record Holder for Longest Tongue in the World . . . and maybe even the Widest!
Last Breath (2017) (short story) (prequel to The Good Daughter) – At the age of thirteen, Charlie Quinn's childhood came to an abrupt and devastating end. Two men, with a grudge against her lawyer father, broke into her home-and after that shocking night, Charlie's world was never the same. Now a lawyer herself, Charlie has made it her mission to defend those with no one else to turn to. So when Flora Faulkner, a motherless teen, begs for help, Charlie is reminded of her own past, and is powerless to say no. But Soon she must ask herself: How far should she go to protect her client? And can she truly believe everything she is being told?
The Good Daughter (2017) – Twenty-eight years ago, Charlotte and Samantha Quinn's happy small-town family life was torn apart by a terrifying attack on their family home. It left their mother dead. It left their father – Pikeville's notorious defense attorney – devastated. And it left the family fractured beyond repair, consumed by secrets from that terrible night. Twenty-eight years later, and Charlie has followed in her father's footsteps to become a lawyer herself – the ideal good daughter. But when violence comes to Pikeville again, Charlie is plunged into a nightmare. It's a case that unleashes the terrible memories she's spent so long trying to suppress. Because the shocking truth about the crime which destroyed her family nearly thirty years ago won't stay buried forever…
Pieces of Her (2018) – Andrea Cooper knows everything about her mother Laura. But all that changes when a Saturday afternoon trip to the mall explodes into violence and Andrea suddenly sees a completely different side to Laura. Because it turns out that before Laura was Laura, she was someone completely different. For nearly thirty years she's been hiding from her previous identity, lying low in the hope that no one will ever find her. But now she's been exposed, and nothing will ever be the same again.
False Witness (2021) – Leigh Collier has worked hard to build what looks like a normal life. But Leigh's ordinary life masks a childhood no one should have to endure … a childhood tarnished by secrets, broken by betrayal, and ultimately destroyed by a brutal act of violence. And now, the past is catching up. . .
Girl, Forgotten (2022) – For 40 years, Emily's murder remains a mystery. Her tight-knit group of friends closed ranks; her respected, wealthy family retreated inwards; the small town moved on from her grisly attack. But all that's about to change. US Marshal Andrea Oliver arrives in Longbill Beach on her first assignment: to protect a judge receiving death threats. But, in reality, Andrea is there to find justice for Emily. The killer is still out there – and Andrea must discover the truth before she gets silenced, too…
What should you read if you like Karin Slaugher's novels?
After reading Karin Slaughter's books, you may be in search of more mystery series in the same vein. If that is so, you may be interested in the works of Lisa Gardner, Tess Gerritsen, Mo Hayder, Ruth Ware…