Affiliate disclosure: As an Amazon Associate, we may earn commissions from qualifying purchases from Amazon.
All of Janet Evanovich's Books in Order!
Who is Janet Evanovich?
Janet Evanovich is an American writer who started her career in the short contemporary romance novel section under the pen name Steffie Hall, but she is now famous for writing mysteries—also contemporary.
In fact, Janet Evanovich is the author of the best-selling series featuring Stephanie Plum, a former lingerie buyer from New Jersey who becomes a bounty hunter (played by Katherine Heigl in the movie adaptation), but she also writes The Fox and O'Hare Series about an improbable duo of crime fighters.
She doesn't stop there, and here is a guide to all of her series, big and small, including the Knight & Moon Series, the Wicked Series, and the new one, The Gabriela Rose Series.
How to read Janet Evanovich's Books In Order?
Janet Evanovich's Stephanie Plum Series in Order
Stephanie Plum is a female bounty hunter from New Jersey. After being fired from a job as a lingerie buyer, she tried to win money in other small jobs but failed, and then her car is repossessed. That's when she turned to her cousin Vinnie, owner of Vincent Plum Bail Bonds, and forced him to give her a job. Now, in each book, Stephanie goes after one or more people who are declared 'failure to appear' because they have not appeared for their court date.
For more information about the Stephanie Plum series, go to our dedicated reading order.
One For the Money (1994)
Two For the Dough (1996)
Three to Get Deadly (1997)
Four to Score (1998)
High Five (1999)
Hot Six (2000)
Seven Up (2001)
Hard Eight (2002)
Visions of Sugar Plums A short Christmas special (2002) – With Diesel.
To the Nines (2003)
Ten Big Ones (2004)
Eleven on Top (2005)
Twelve Sharp (2006)
Plum Lovin' (2007) – With Diesel.
Lean Mean Thirteen (2007)
Plum Lucky (2008) – With Diesel.
Fearless Fourteen (2008)
Plum Spooky (2009) – With Diesel.
Finger Lickin' Fifteen (2009)
Sizzling Sixteen (2010)
Smokin' Seventeen (2011)
Explosive Eighteen (2011)
Notorious Nineteen (2012)
Takedown Twenty (2013)
Top Secret Twenty-one (2014)
Tricky Twenty-two (2015)
Turbo Twenty-three (2016)
Hardcore Twenty-Four (2017)
Look Alive Twenty-Five (2018)
Twisted Twenty-Six (2019)
Fortune and Glory (2020)
Game On: Tempting Twenty-Eight (2021)
Going Rogue (2022)
Dirty Thirty (2023)

Janet Evanovich's Fox and O'Hare Series in Order
It's about FBI special agent Kate O'Hare who has devoted her career to taking down one of the FBI's most wanted con men, the master thief known as Nick Fox. For her, everything changes, when the FBI asks her to work with Nick Fox. So now, they are a team and must travel the globe to catch the most wanted and untouchable criminals. Sometimes, they even get the help of Jake O'Hare, Kate's father, a retired Special Forces operative.
For more information about the Fox and O'Hare series, go to our dedicated reading order.
Fox and O'Hare's Prequel short stories
The Shell Game (2015) co-written with Lee Goldberg
Pros and Cons (2013) co-written with Lee Goldberg
The Caper (2018) co-written with Lee Goldberg
The Fox and O'Hare's main series
The Heist (2013) co-written with Lee Goldberg
The Chase (2014) co-written with Lee Goldberg
The Job (2014) co-written with Lee Goldberg
The Scam (2015) co-written with Lee Goldberg
The Pursuit (2016) co-written with Lee Goldberg
The Big Kahuna (2019) co-written with Peter Evanovich
The Bounty (2021) co-written with Steve Hamilton
---
Janet Evanovich's Gabriela Rose Books in Order
Lost something? Gabriela Rose knows how to get it back. As a recovery agent, she's hired by individuals and companies seeking lost treasures, stolen heirlooms, or missing assets of any kind. She's reliable, cool under pressure, and well-trained in weapons of all types.

The Recovery Agent – Gabriela Rose's latest job isn't for some bamboozled billionaire, it's for her own family, whose home is going to be wiped off the map if they can't come up with a lot of money fast. Inspired by an old family legend, Gabriela sets off for the jungles of Peru in pursuit of the Ring of Solomon and the lost treasure of Lima. But this particular job comes with a huge problem attached to it—Gabriela's ex-husband, Rafer. It's Rafer who has the map that possibly points the way to the treasure, and he's not about to let Gabriela find it without him.
---
Janet Evanovich's Lizzy and Diesel Books in Order

In Wicked Appetite, Janet Evanovich spun off the character Diesel from the Stephanie Plum books and teamed him up with sweet cupcake baker Lizzie Tucker, who, unlike Stephanie Plum, can cook.
Wicked Appetite (2010) – Life in Marblehead has had a pleasant predictability, until Diesel arrives. Rumor has it that a collection of priceless ancient relics representing the Seven Deadly Sins have made their way to Boston's North Shore. Partnered with pastry chef Lizzie Tucker, Diesel bullies and charms his way through historic Salem to track them down—and his criminal mastermind cousin Gerewulf Grimorie. The black-haired, black-hearted Wulf is on the hunt for the relic representing gluttony. Caught in a race against time, Diesel and Lizzie soon find out that more isn't always better, as they battle Wulf and the first of the deadly sins.
Wicked Business (2012) – When Harvard University English professor and dyed-in-the-wool romantic Gilbert Reedy is mysteriously murdered and thrown off his fourth-floor balcony, Lizzy and Diesel take up his twenty-year quest for the Luxuria Stone, an ancient relic believed by some to be infused with the power of lust. Following clues contained in a cryptic nineteenth-century book of sonnets, Lizzy and Diesel tear through Boston catacombs, government buildings, and multimillion-dollar residences, leaving a trail of robbed graves, public disturbances, and spontaneous seduction.
Wicked Charms (2015) – Co-written with Phoef Sutton. Before he was murdered and mummified nearly a century ago, notorious bootlegger Collier "Peg Leg" Dazzle discovered and re-hid a famous pirate's treasure somewhere along the coast of New England. A vast collection of gold and silver coins and precious gems, the bounty also contains the Stone of Avarice—the very item reluctant treasure seeker Lizzy Tucker and her partner, Diesel, have been enlisted to find. While Lizzy would just like to live a quiet, semi-normal life, Diesel is all about the hunt. And this hunt is going to require a genuine treasure map and a ship worthy of sailing the seven seas . . . or at least getting them from Salem Harbor to Maine.
---
Janet Evanovich's Knight and Moon Books in Order

Emerson Knight is introverted, eccentric, and has little to no sense of social etiquette. Good thing he's also brilliant, rich, and (some people might say) handsome, or he'd probably be homeless. Riley Moon has just graduated from Harvard Business and Harvard Law. Her aggressive Texas spitfire attitude has helped her land her dream job as a junior analyst with mega-bank Blane-Grunwald. At least Riley Moon thought it was her dream job, until she is given her first assignment: babysitting Emerson Knight.
Curious Minds (2016) co-written with Phoef Sutton – What starts off as an inquiry about missing bank funds in the Knight account leads to inquiries about a missing man, missing gold, and a life-and-death race across the country. Through the streets of Washington, D.C., and down into the underground vault of the Federal Reserve in New York City, an evil plan is exposed. A plan so sinister that only a megalomaniac could think it up, and only the unlikely duo of the irrepressibly charming Emerson Knight and the tenacious Riley Moon can stop it.
Dangerous Minds (2017) – Buddhist monk Wayan Bagus lost his island of solitude and wants to get it back. The island was about two hundred miles northeast of Samoa. It had a mountain, beaches, a rain forest, and a volcano. And now it's gone. Poof! Vanished without a trace. Brilliant and boyishly charming Emerson Knight likes nothing better than solving an unsolvable, improbable mystery. And finding a missing island is better than Christmas morning in the Knight household. When clues lead to a dark and sinister secret that is being guarded by the National Park Service, Emerson will need to assemble a crack team for help. Since a crack team isn't available, he enlists Riley Moon and his cousin Vernon.
---
Janet Evanovich's Barnaby and Hooker Books in Order

Alexandra Barnaby, mechanic extraordinaire. Sam Hooker is a sexy race car driver who can rev any woman's engine. Barnaby's wacky brother, Wild Bill, who's always in trouble.
Metro Girl (2004) – Alexandra 'Barney' Barnaby got the brains in her family. The little gray cells certainly bypassed Barney's younger brother, Wild Bill. Now Bill's missing, so Barney is dispatched to Florida in the middle of summer with the bugs and the heat and the bad-hair-day humidity. Barney's thinking things can't get too much worse as she makes the rounds of South Beach, unemployed and sunburned, following her brother's trail of broken-hearted bimbos. Too bad for Barney—she's wrong about the getting worse part. Enter Sam Hooker. Somebody's stolen his boat and the trail leads to—you guessed it—Wild Bill. Hooker decides to follow Barney and see if she can lead him to his boat.
Motor Mouth (2006) – Alexandra Barnaby is NASCAR driver Sam Hooker's raceday spotter, his eye-in-the-sky, telling Hooker when to pass and when to get off the gas. From her vantage point high above the grandstand, she's also seeing things going on in the infield that will change her life. Things that will lead to a stolen racecar hauler, a kidnapped Saint Bernard, a bizarre murder, some restless nights under the covers with Hooker, and a reunion with super cigar roller Rosa Florez and the queen of wholesale fruit Felicia Ibarra.
Troublemaker (2007) Graphic Novel written by Janet and Alex Evanovich, and illustrated by Joëlle Jones. Barney and Hooker are together again and fighting crime, leaving a trail of chaos, panic, and disorder in their wake. Some would say they're drawn toward trouble like a moth to a flame. Others would claim their friends, Rosa and Felicia, dump trouble in Barney's and Hooker's laps. Either way, they are in over their heads when Rosa is kidnapped, and her disappearance is linked to a dangerous voodoo priest and his search for a mystery-drenched stolen statue.
---
Janet Evanovich's Full Series in Order

Co-written with Charlotte Hughes
Full House (1989) – Polo instructor Nicholas Kaharchek senses danger the minute he sees Billie Pearce. She represents everything he's always avoided. Happy in her home life, a divorced mother of two, Billie is the epitome of stability. She's also irresistibly fascinating to the footloose Nick, who is instantly attracted…in a car crash sort of way. Their fateful meeting will put them on a collision course of seduction, dysfunction, mayhem, murder—and maybe even love…
Full Tilt (2003) – Jamie Swift has one priority in quiet Beaumont, South Carolina: running the local newspaper. Romance runs second. But with the arrival of her silent partner, the notoriously mysterious and sexy Maximillian Holt, Jamie's life gets shaken up. Max claims he's here to give his brother-in-law a vote of confidence. A former wrestler, Frankie Fontana's now taking his shots in the political ring. Beaumont could use a mayor with scruples, but what it gets is a crime-and what Jamie gets is a story that's taking her for a ride on the wild side, complete with two assassins, a washed-up stripper, and an insane poacher. Between a spray of bullets and a fast getaway could it get any more romantic-or dangerous? Max and Jamie are betting their lives on a long shot.
Full Speed (2003) – Newspaper editor Jamie Swift likes a little predictability in her life. When she suddenly finds herself minus a fiancé and with a major case of the hots for her silent partner, millionaire Maximillian Holt, any bit of predictability goes right out the window. Max is like a tornado, turning her well-ordered world upside down. Now someone's unhappy with Max's recent business deal—dangerously unhappy. Before she knows it, Jamie's hotfooting across state lines to help Max and land a story. But Sweet Pea, Tennessee harbors some smelly secrets, many of which reside under the big tent of revivalist Harlan Rawlins, whose link to the Almighty rides shotgun with his Mob connections.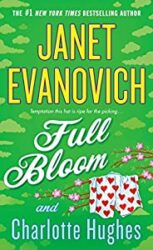 Full Blast (2004) – There's never a dull moment for the residents of Beaumont, South Carolina. Lately, a heat wave's spiked the mercury—and everyone's sex drive. When newspaper owner Jamie Swift runs into millionaire playboy Max Holt, it's all she can do not to tear his clothes off—and the feeling is mutual. But trouble seems to follow Max like moths to a flame, and Jamie suspects he's all wrong for her. Meanwhile, the lingerie shop is having a sale on edible underwear, the bakery's selling aphrodisiac-laced brownies and x-rated birthday cakes, and even Jamie's dog is dodging passes from an amorous French poodle! But when someone starts bumping off some of the town's more annoying citizens, all clues lead straight to the new personals section in Jamie's newspaper.
Full Bloom (2005) – Beaumont, South Carolina, is on "sizzle" this February. So is its newest entrepreneur, Annie Fortenberry, who has inherited her grandmother's B&B. According to a local psychic she also inherited a spirit from its glory days as a brothel-not the kind of publicity the Peachtree Bed & Breakfast needs if it's hosting millionaire Max Holt's upcoming wedding! If rumors of a prank-playing ghost aren't stressful enough, a mysterious man has arrived with an eye on Annie and her master suite. Wes Bridges is all leather and denim, sporting a two-day beard, straddling a Harley, and sending the B&B's testosterone level through the roof. Annie's cool demeanor may be dropping as fast as Wes's jeans, but leave it to her missing ex-husband to dampen the passion! Turns out someone has done him in, and all evidence points to Annie…
Full Scoop (2006) – Mercury's in retrograde, and folks in Beaumont, South Carolina, are dealing with gossip, scandal, and more secrets than ever. Local pediatrician Maggie Farnsworth has even bigger worries. Her wild-girl past has caught up with her in the form of her ex-boyfriend, a jailbird who just flew the coop—and is bent on tracking down Maggie and her daughter. Fortunately, FBI agent Zack Madden is on hand for protection. Unfortunately, his presence is turning up the heat on an attraction Maggie simply has no time for…or does she?
---
Janet Evanovich's Elsie Hawkins Books in Order
Re-Released romance novels from the pre-Plum era featuring the character Elsie Hawkins.
Back to the Bedroom (1989) – For months he'd thought of her as the Mystery Woman, draped in a black velvet cloak, with outrageous red curls, flawless skin, and carrying a large, odd case — but the night David Dodd saw a helicopter drop a chunk of metal through the roof of his lovely neighbor's bedroom, he got to meet the formidable and delightful Katherine Finn at last! Rescuing damsels and fixing roofs was dangerous work, he told her, and at the very least he deserved a kiss — didn't he?
Smitten (1990) – Single mom Lizabeth Kane isn't exactly carpenter material — she's never picked up a hammer in her life. But she desperately needs the construction job that builder Matt Hallahan is offering. And even though he knows trouble is ahead, Matt can't refuse Lizbeth's irresistible smile. Matt Hallahan isn't exactly relationship material — he has always been too busy working on other people's houses to make a home of his own. And even though she knows better, Lizabeth can't stop thinking about the rugged carpenter. Is the relationship Matt and Lizabeth are building solid — or more like a house of cards?
Wife for Hire (1988) – Hank Mallone knows he's in trouble when Maggie Toone agrees to pretend to be his wife in order to improve his rogue's reputation. Will his harebrained scheme to get a bank loan for his business backfire once Maggie arrives in his small Vermont town and lets the gossips take a look? Maggie never expected her employer to be drop-dead handsome, but she's too intrigued by his offer to say no . . . and too eager to escape a life that made her feel trapped. The deal is strictly business, both agree, until Hank turns out to be every fantasy she ever had.
Rocky Road to Romance (1991) – The "Dog Lady" of radio station WZZZ, free-spirited Daisy Adams, figures anything has to beat pushing tasty canine recipes over the airwaves. So when a slot for a roving traffic reporter opens, Daisy jumps at it — despite the fact that she's already juggling about fifteen other jobs. The new one comes with a raise and more responsibility. It also comes with a hands-on boss, hunky operations manager Steve Crow. When Daisy turns into a media darling after inadvertently foiling a major criminal's getaway, Steve decides it's his duty to protect her, bringing him even farther into the tangled web of her maddeningly overextended life. But Daisy's got far too much going on to get involved in extracurricular activities — like falling in love.
---
Other Romance Novels by Janet Evanovich

Originally written under the name Steffie Hall.
Hero at Large (1987) – It seems like good luck when gorgeous and mysterious Ken Callahan stops to help single mom Chris Nelson with her car. But then she breaks his arm…then his toe…and then his heart. Not easily discouraged, Ken moves into her basement…cooks her potholder in the spaghetti sauce…attempts to seduce her with cookies…and destroys her favorite pan by trying to make a roast in it. All may seem lost for Chris and Ken, until a meddlesome Aunt Edna, a ride on a Zamboni and a genuine love of family all conspire to turn their luck around.
Thanksgiving (1988) – When Megan Murphy discovered a floppy-eared rabbit gnawing on the hem of her skirt, she meant to give its careless owner a piece of her mind, but Dr. Patrick Hunter was too attractive to stay mad at for long. Soon the two are making Thanksgiving dinner for their families.
The Grand Finale (1988) – Berry Knudson had a talent for disaster, but when she climbed a tree to rescue a kitten, she wasn't prepared for the scrumptious hunk undressing in a nearby window, or her dive downward that smashed Jake Sawyer's pizza and won his heart! But was there room in her chaotic schedule for a risk-taking inventor with dreams? She took classes, delivered pizzas, and cared for three eccentric old ladies she rescued from the train station. But Jake thrived on a challenge, and he could be very inventive. Could he teach her there was time to make butterscotch pudding and let herself be loved?
Foul Play (1989) – When Amy Klasse loses her TV job to a dancing chicken, handsome veterinarian Jake Elliott rescues her with an offer to be his receptionist. Jake just can't resist a damsel in distress, and Amy certainly doesn't mind Jake's charming sincerity. Then suddenly the job-stealing chicken disappears and Amy is suspected of foul play. Amy and Jake search for clues to prove her innocence. But will Jake be able to prove to Amy that love, too, is a mystery worth solving?
Manhunt (1988) – A woman with a talent for numbers, Alexandra Scott wanted to escape the rat race and go someplace where the men outnumber the women. Trading in her Wall Street job and fancy condo for a rundown cabin in the woods. She's now Alaskan Wilderness Woman. It isn't long before she finds exactly what she's looking for: one sexy pilot named Michael Casey. But this confirmed bachelor has no intentions of getting caught in any woman's crosshairs—especially a hunter as appealing as Alex. It'll take skill, determination, and a little romantic persuasion for this big-game hunter to bag her prey.
Love Overboard, previously published as Ivan Takes a Wife (1988) – Stephanie Lowe decides Maine schooner captain and pirate descendent Ivan Rasmussen deserves to be called Ivan the Terrible. The house she just bought from him is falling apart and possibly haunted. He complains about her fish-eye stew and burnt chocolate chip cookies. He makes fun of her hair after she's had to comb it while using a toaster as a mirror. And on top of all that, he has the nerve to be charming, handsome, and overboard in love with her. This is one pirate captain who is determined to acquire the treasure of a lifetime.
Naughty Neighbor (1992) – A collection of nine short romance novels originally published by the Loveswept line between the years 1988 and 1992.
More recent romance novels written by Janet Evanovich:
Hot Stuff (2007) co-written with Leanne Banks – Cate Madigan, a Boston native from a large and crazy Irish family, has far too much going on to get involved in extracurricular activities, like men and marriage. She spends all day in school, earning her teaching degree, and all night working as a bartender in Boston's South End. Ex-cop Kellen McBride has decided to make Cate's bar his nightly haunt. He likes Cate's sassy Irish spirit and wild red hair. He also has an ulterior motive for getting close to her. Cate has sworn off all things romantic, but when she comes home to a ransacked apartment, a roommate who has flown the coop, and a sleeping bullmastiff named Beast, Cate has no choice but to ask Kellen for help.
Love in a Nutshell (2012) co-written with Dorien Kelly – Kate Appleton needs a job. Her husband has left her, she's been fired from her position as a magazine editor, and the only place she wants to go is to her parents' summer house, The Nutshell, in Keene's Harbor, Michigan. Kate's plan is to turn The Nutshell into a Bed and Breakfast. Problem is, she needs cash, and the only job she can land is less than savory. Matt Culhane wants Kate to spy on his brewery employees. Someone has been sabotaging his company, and Kate is just new enough in town that she can insert herself into Culhane's business and snoop around for him. If Kate finds the culprit, Matt will pay her a $20,000 bonus.
The Husband List (2013) co-written with Dorien Kelly. Caroline Maxwell would like nothing more than to join her brother, Eddie, and his friend, Jack Culhane, on their adventures. While Jack and Eddie are off seeing the world, buying up businesses and building wildly successful careers, Caroline's stuck at home frightening off the men her mother hopes will ask for her hand in marriage. When her mother sets her sights on the questionable Lord Bremerton as a possible suitor, Caroline struggles with her instincts and the true nature of her heart. She longs for adventure, passion, love, and most of all . . . Jack Culhane, an unconventional Irish-American bachelor with new money and no title. A completely unacceptable suitor in the eyes of Caroline's mother.
If this article about Janet Evanovich Series and other books in Order is useful to you, don't forget to bookmark it!