Affiliate disclosure: As an Amazon Associate, we may earn commissions from qualifying purchases from Amazon.
By the author of the DI Avison Fluke series.
Who is Washington Poe?
Seventeen years after taking up a probation officer role in Cumbria, at the rank of assistant chief officer, M. W. Craven became a full-time author and found a real success with the Washington Poe series.
The story focuses on disgraced Detective Sergeant Washington Poe who, at the beginning of the series, is brought back from suspension to work on a serial killer case. This is his specialty, and he works with the insanely brilliant, guilelessly innocent civilian analyst, Tilly Bradshaw to stop this type of murderer.
Washington Poe Books in Order:
The Puppet Show (2018) – A serial killer is burning people alive in the Lake District's prehistoric stone circles. He leaves no clues and the police are helpless. When his name is found carved into the charred remains of the third victim, disgraced detective Washington Poe is brought back from suspension and into an investigation he wants no part of . . . Reluctantly partnered with the brilliant, but socially awkward, civilian analyst, Tilly Bradshaw, the mismatched pair uncover a trail that only he is meant to see. The elusive killer has a plan and for some reason Poe is part of it.
Black Summer (2019) – Jared Keaton, chef to the stars. Charming. Charismatic. Psychopath . . . He's currently serving a life sentence for the brutal murder of his daughter, Elizabeth. Her body was never found and Keaton was convicted largely on the testimony of Detective Sergeant Washington Poe. So when a young woman staggers into a remote police station with irrefutable evidence that she is Elizabeth Keaton, Poe finds himself on the wrong end of an investigation, one that could cost him much more than his career.
The Curator (2020) – It's Christmas and a serial killer is leaving displayed body parts all over Cumbria. A strange message is left at each scene: #BSC6. Called in to investigate, the National Crime Agency's Washington Poe and Tilly Bradshaw are faced with a case that makes no sense. Why were some victims anesthetized, while others died in appalling agony? Why is their only suspect denying what they can irrefutably prove but admitting to things they weren't even aware of? And why did the victims all take the same two weeks off work three years earlier?
Cut Short (Three short stories) – Tilly and Edgar, Poe's English springer spaniel, enjoying a picnic at a nature reserve. When Edgar chases a rabbit, and Poe and Tilly chase after him, they stumble upon a twenty-year-old mystery, a mystery that couldn't be solved until now . . .
Dead Ground (2021) – Detective Sergeant Washington Poe is in court, fighting eviction from his beloved and isolated croft, when he is summoned to a backstreet brothel in Carlisle where a man has been beaten to death with a baseball bat. Poe is confused – he hunts serial killers and this appears to be a straightforward murder-by-pimp – but his attendance was requested personally, by the kind of people who prefer to remain in the shadows.
The Cutting Season (Quick Reads novella) – Dangling from a hook in a meatpacking plant isn't how Detective Sergeant Washington Poe wants to spend his weekend. He's been punched and kicked and threatened, and when a contract killer arrives it seems things are about to go from bad to worse. He goes by the name of the Pale Man and he and his straight-edged razor have been feared all over London for twenty years.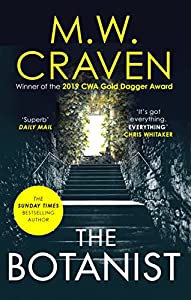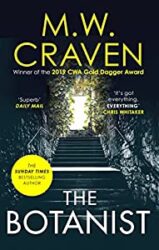 The Botanist (2022) – Detective Sergeant Washington Poe can count on one hand the number of friends he has. One of them is Estelle Doyle. It's true the caustic pathologist has never walked down the sunny side of the street but this time has she gone too far? Shot twice in the head, her father's murder appears to be an open and shut case. Estelle has firearms discharge residue on her hands, and, in a house surrounded by fresh snow, hers are the only footprints going in. Since her arrest, she's only said three words: 'Tell Washington Poe.' Meanwhile, a poisoner the press have dubbed the Botanist is sending high profile celebrities poems and pressed flowers.
---
If you like Washington Poe, you may also want to take a look at our Roy Grace reading order, or Harry Bosch reading order. Don't hesitate to follow us on Twitter or Facebook to discover more book series.