Affiliate disclosure: As an Amazon Associate, we may earn commissions from qualifying purchases from Amazon.
A chess game like no other.
What is The Patrick Bowers Files series about?
A Series of psychological thrillers, The Bowers Files is coming from the prolific author Steven James (also writer of The Blur Trilogy).
The series is about the investigations of Patrick Bowers, an FBI agent specializing in environmental criminology, as he hunts down gruesome and sadistic killers.
There's also a prequel series called The Bowers Files: The New York Years Series.
The Bowers Files Books in Order:
I. The Bowers Files
Opening Moves (short story) – Milwaukee, 1997. In a city reeling from the crimes of Jeffrey Dahmer, a series of gruesome kidnappings and mutilations draw authorities into a case like nothing they've ever seen. Cops think a Dahmer copycat is on the loose. But Patrick Bowers, working as a homicide detective, suspects this is more than an ode to the infamous cannibal.
The Pawn – Special Agent Patrick Bowers had only met one man who made him truly afraid. Until now. When he's called to North Carolina to consult on the case of an area serial killer, he finds himself in a deadly game. Cunning and lethal, the killer is always one step ahead of the law, and he's about to strike again.
The Rook – An arsonist has struck a top-secret research facility at a key US naval base. But it's not just a random terrorist attack. These people were after something specific. When Special Agent Patrick Bowers is called in to investigate, he is drawn into a deadly web of intrigue and deception. With his own criminology research being turned against him and one of the world's most deadly devices missing, Bowers is caught up in a race against time to stop an international assassin before it's too late.
The Knight – A unique clue is left for FBI criminologist Patrick Bowers at the scene of a ritual murder: a tape recording predicting Bowers' own next move. At a subsequent murder, Bowers uncovers something else: an ancient manuscript being used as a template for the crimes. And the more he deciphers the codes of the text, the more he fears how it will end. Because Bowers isn't closing in on the killer at all. The killer is closing in on him…
The Bishop – FBI Special Agent Patrick Bowers's cutting-edge 21st-century geospatial investigative techniques and impeccable logic have helped him track some of the country's most grisly killers. But those skills are pushed to the limit in this new installment of the highly-acclaimed, award-winning The Bowers Files series. This time it's a congressman's daughter who is found dead even as her killers launch a spree of perfect murders in the Northeast.
The Queen – While investigating a double homicide in an isolated northern Wisconsin town, FBI Special Agent Patrick Bowers uncovers a high-tech conspiracy that twists through long-buried Cold War secrets and targets present-day tensions in the Middle East.
The King – Settling into a new post at the FBI academy, Patrick and his fiancée, Lien-hua Jiang, are planning their future together with his stepdaughter, Tessa. But just when his life seems normal, a demon from the past returns to draw him down a dark road he hoped had closed forever. Forced into a desperate hunt to save the two women he loves most, Patrick is in a race against time to stop an international conspiracy from becoming the most widespread act of terrorism in U.S. history.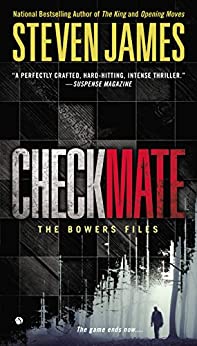 Checkmate – When a clandestine FBI facility is attacked, Special Agent Patrick Bowers is drawn into the vicious, ruthless story that a killer from his past is bent on telling the world. Clues lead to long-forgotten secrets buried deep beneath Uptown Charlotte, North Carolina. Now Bowers is caught up in trying to stop one of the deadliest attacks ever planned on American soil.
---
II. The Bowers Files: The New York Years Series
In this prequel series, we explore events taking place prior to "The Pawn". Nevertheless, those books were published after "Checkmate".
Every Crooked Path – Patrick Bowers discovers that the secret to stopping the Piper's current crime spree lies in unlocking answers from an eight-year-old cold case—and the only way to do that is by entering the terrifying world of the conspirators himself.
Every Deadly Kiss – Called in by an ex-girlfriend to consult on a case, Patrick Bowers encounters the work of a killer who displays a stunning degree of ruthlessness. Bowers is shocked to find that the slayings are linked not just to his own history with a known terrorist, but to his former lover as well—and that her secret past might hold the key to stopping the crime spree.
Every Wicked Man – When a senator's son takes his own life and posts the video live online, Agent Bowers is drawn into a complex web of lies that begins to threaten the people he loves the most. As he races to unravel the mystery behind the suicide and a centuries-old code that might help shed light on the case, he finds a dark pathway laced with twists and deadly secrets that touch a little too close to home.
If you like our article about The Bowers Files series in order, don't forget to bookmark it!