Last Updated 3 months ago.All of the books!
Who is John Grisham?
Best known for his popular legal thrillers, Grisham is an American novelist, attorney, politician, and activist. He is also one of only three authors to sell two million copies on a first printing, the other two being Tom Clancy and J. K. Rowling.
Born on February 8, 1955, in Jonesboro, Arkansas, John Grisham as a child dreamed of being a professional baseball player. That didn't happen, obviously and he studied law to become a tax lawyer, before his interest shift to general civil litigation. He practiced law for about a decade, from 1984 to 1990.
His first novel, A Time to Kill, was published in June 1989 and his writing career blossomed with the success of his second book, The Firm (1991). So, he retired from the law and became a full-time writer.
There are currently over 300 million John Grisham books in print worldwide, which have been translated into 42 languages. A few of his books have been turned into films and TV Show (The Firm, The Client, A Time to Kill…)
John Grisham Books in Order:
You'll find all of his novels here, series and stand-alonebooks.
I. Theodore Boone
You can find a full reading order for the Theodore Boone series here.
John Grisham series is about Theodore Boone, a 13-year-old student who resides in the city of Strattenburg, Pennsylvania, and he has spent more time in the courtroom than almost anywhere else. He wants to follow in his parents' footsteps, both lawyers. Due to his parents' professions, Theo knows every judge, policeman, court clerk and a lot about the law, and he happily dispenses legal advice to his friends which leads to new adventures.
---
II. Jake Brigance, from Canton, Mississippi
The books follow Jake Brigance, an attorney from Canton, Mississippi. Grisham wrote books that take place in the same setting, without Brigance.
A Time to Kill – When extremists outside Clanton hear that Carl Lee Hailey, a black man has killed the two white men who have raped his ten-year-old child, they invade the town, determined to destroy anything and anyone that opposes their sense of justice. Jake Brigance has been hired to defend Hailey. It's the kind of case that can make or break a young lawyer. But in the maelstrom of Clanton, it is also the kind of case that could get a young lawyer killed.
Sycamore Row – Seth Hubbard is a wealthy white man dying of lung cancer. Before he hangs himself from a sycamore tree, Hubbard leaves a new, handwritten will. It is an act that drags his adult children, his black maid, and defense attorney Jake Brigance into a conflict as riveting and dramatic as the murder trial that made Brigance one of Ford County's most notorious citizens, just three years earlier.
A Time for Mercy – Clanton, Mississippi. 1990. Jake Brigance finds himself embroiled in a deeply divisive trial when the court appoints him attorney for Drew Gamble, a timid sixteen-year-old boy accused of murdering a local deputy. Many in Clanton want a swift trial and the death penalty, but Brigance digs in and discovers that there is more to the story than meets the eye. Jake's fierce commitment to saving Drew from the gas chamber puts his career, his financial security, and the safety of his family on the line.
Set in the same setting :
---
III. Camino Island
Camino Island – Bruce Cable owns a popular bookstore in the sleepy resort town of Santa Rosa on Camino Island in Florida. He makes his real money, though, as a prominent dealer in rare books. Mercer Mann is a young novelist with a severe case of writer's block who has recently been laid off from her teaching position. A generous monetary offer convinces Mercer to go undercover and infiltrate Cable's circle of literary friends, to get close to the ringleader, to discover his secrets. But soon Mercer learns far too much, and there's trouble in paradise.
Camino Winds – Just as Bruce Cable's Bay Books is preparing for the return of bestselling author Mercer Mann, Hurricane Leo veers from its predicted course and heads straight for the island. Homes and condos are leveled, hotels and storefronts ruined, streets flooded, and a dozen people lose their lives. One of the apparent victims is Nelson Kerr, a friend of Bruce's and an author of thrillers. But the nature of Nelson's injuries suggests that the storm wasn't the cause of his death. As Bruce starts to investigate, what he discovers between the lines is more shocking than any of Nelson's plot twists—and far more dangerous.
---
IV. Sebastian Rudd
Rogue Lawyer – On the right side of the law—sort of—Sebastian Rudd is not your typical street lawyer. His office is a customized bulletproof van, complete with Wi-Fi, a bar, a small fridge, and fine leather chairs. He has no firm, no partners, and only one employee: his heavily armed driver, who also so happens to be his bodyguard, law clerk, confidant, and golf caddie. Sebastian defends people other lawyers won't go near: a drug-addled, tattooed kid rumored to be in a satanic cult; a vicious crime lord on death row; a homeowner arrested for shooting at a SWAT team that mistakenly invaded his house. Why these clients? Because Sebastian believes everyone is entitled to a fair trial—even if he has to bend the law to secure one.
Partners – short story only available on ebook and prequel to Rogue Lawyer telling how Sebastian Rudd meets his partner and bodyguard.
---
V. The Lacy Stoltz series
Witness to a Trial – short story only available on ebook and prequel to The Whistler.
The Whistler – Lacy Stoltz is an investigator for the Florida Board on Judicial Conduct. It is her job to respond to complaints dealing with judicial misconduct. After nine years with the Board, she knows that most problems are caused by incompetence, not corruption. But a corruption case eventually crosses her desk. A previously disbarred lawyer is back in business, and he claims to know of a Florida judge who has stolen more money than all other crooked judges combined. And now he wants to put a stop to it. His only client is a person who knows the truth and wants to blow the whistle and collect millions under Florida law. When the case is assigned to Lacy, she immediately suspects that this one could be dangerous.
The Judge's List – Three years later, and approaching 40, Lacy Stoltz is tired of her work for the Florida Board on Judicial Conduct and ready for a change. Then she meets a mysterious woman who is so frightened she uses a number of aliases. Jeri Crosby's father was murdered 20 years earlier in a case that remains unsolved and that has grown stone cold. But Jeri has a suspect whom she has become obsessed with and has stalked for two decades. Along the way, she has discovered other victims. Suspicions are easy enough, but proof seems impossible.
---
VI. Stand-alone Books
Bleachers (2003) – a sport novel. High school all-American Neely Crenshaw was probably the best quarterback ever to play for the legendary Messina Spartans. Fifteen years have gone by since those glory days, and Neely has come home to Messina to bury Coach Eddie Rake, the man who molded the Spartans into an unbeatable football dynasty. The team replay the old games, relive the old glories, and try to decide once and for all whether they love Eddie Rake—or hate him.
The Broker (2005) – In his final hours in office, the outgoing President grants a controversial last-minute pardon to Joel Backman, a notorious Washington power broker who has spent the last six years hidden away in a federal prison. Backman is quietly smuggled out of the country in a military cargo plane, given a new name, a new identity, and a new home in Italy. Eventually, after he has settled into his new life, the CIA will leak his whereabouts to the Israelis, the Russians, the Chinese, and the Saudis. Then the CIA will do what it does best: sit back and watch. The question is not whether Backman will survive—there is no chance of that. The question the CIA needs answered is, Who will kill him?
Playing for Pizza (2007) – football book. Rick Dockery is the third-string quarterback for the Cleveland Browns. During an AFC Championship game; Rick provides what is arguably the worst single performance in the history of the NFL. Overnight, he becomes a national laughingstock—and is immediately cut by the Browns and shunned by all other teams. But all Rick knows is football, and he insists that his agent find a team that needs him. Against enormous odds, Rick finally gets a job—as the starting quarterback for the Mighty Panthers . . . of Parma, Italy. To say that Italy—the land of fine wines, extremely small cars, and football americano—holds a few surprises for Rick Dockery would be something of an understatement.
The Appeal (2008) – In a crowded courtroom in Mississippi, a jury returns a shocking verdict against a chemical company accused of dumping toxic waste into a small town's water supply, causing the worst "cancer cluster" in history. The company appeals to the Mississippi Supreme Court, whose nine justices will one day either approve the verdict or reverse it. Who are the nine? How will they vote? Can one be replaced before the case is ultimately decided?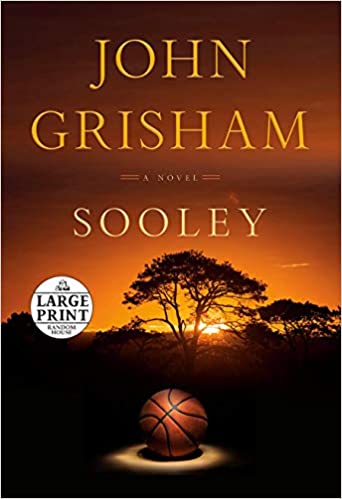 Sooley (2021) – Seventeen-year-old Samuel Sooleyman comes from a village in South Sudan. His great love is basketball: his prodigious leap and lightning speed make him an exceptional player. And it may also bring him his big chance: he has been noticed by a coach taking a youth team to the United States. As American success beckons, devastating news reaches Samuel from home. Caught between his dream and the nightmare unfolding thousands of miles away, 'Sooley' must make hard choices about his future.
---
VII. Short stories
Ford County (2009) – Collection of short stories.
The Tumor (2016) – Short story only available on ebook and focused on ultrasound treatment for cancer.
---
VIII. Non-fiction
The Wavedancer Benefit: A Tribute to Frank Muller (2002) —Audiobook with Pat Conroy, Stephen King, and Peter Straub
The Innocent Man (2006) – In the town of Ada, Oklahoma, Ron Williamson was going to be the next Mickey Mantle. But on his way to the Big Leagues, Ron stumbled, his dreams broken by drinking, drugs, and women. Then, on a winter night in 1982, not far from Ron's home, a young cocktail waitress named Debra Sue Carter was savagely murdered. The investigation led nowhere. Until, on the flimsiest evidence, it led to Ron Williamson. The washed-up small-town hero was charged, tried, and sentenced to death—in a trial littered with lying witnesses and tainted evidence that would shatter a man's already broken life, and let a true killer go free.
Don't Quit Your Day Job: Acclaimed Authors and the Day Jobs they Quit (2010) – Authors discuss the day jobs they left behind. With John Grisham, Pat Conroy, Rick Bragg, Connie May Fowler, Tom Franklin, George Singleton, Matthew Teague, Daniel Wallace, Brad Watson, Steve Yarbrough and more.
---
If you like John Grisham, you may also want to see our David Baldacci reading order, or our guide to James Patterson's Alex Cross series. Don't hesitate to follow us on Twitter or Facebook to discover more book series.