His Dark Materials Books in Order: How to read Philip Pullman's fantasy classic series?
Disclaimer: As an Amazon Associate, we earn from qualifying purchases. Thanks!
Written by English novelist Sir Philip Pullman, His Dark Materials is a young-adult fantasy series set across a multiverse, moving between many parallel worlds. More specifically, it follows the coming of age of two children, Lyra Belacqua and Will Parry, as they wander through a series of parallel universes.
In Lyra's world, who resembles that of the UK's Edwardian era, all humans have a dæmon, the physical manifestation of a person's soul or spirit taking the form of an animal.
How to read the His Dark Materials Series in Order?
There are two His Dark Materials Reading Order, you can read the books in publication order or in chronological order (this one is at the end of this article).
I. His Dark Materials Publication Reading Order
His Dark Materials trilogy
Northern Lights (UK)/The Golden Compass (US) – Lyra Belacqua and her animal daemon live half-wild and carefree among scholars of Jordan College, Oxford. The destiny that awaits her will take her to the frozen lands of the Arctic, where witch-clans reign and ice-bears fight. Her extraordinary journey will have immeasurable consequences far beyond her own world…
The Subtle Knife – Will has just killed a man. He's on the run. His escape will take him far beyond his own world, to the eerie disquiet of a deserted city, and to a girl, Lyra. Her fate is strangely linked to his own, and together they must find the most powerful weapon in all the worlds…
The Amber Spyglass – Will and Lyra, whose fates are bound together by powers beyond their own worlds, have been violently separated. But they must find each other, for ahead of them lies the greatest war that has ever been – and a journey to a dark place from which no one has ever returned…
---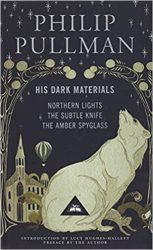 His Dark Materials: Gift Edition – A special edition featuring all three titles in the award-winning trilogy: Northern Lights, The Subtle Knife and The Amber Spyglass.
---
His Dark Materials' Companion books:
Lyra's Oxford – novella, takes place two years after The Amber Spyglass. Lyra and Pantalaimon's peace is shattered when a strange bird – a witch's daemon, on its own – tumbles out of the sky, in search of a healing elixer to cure his witch of a strange new disease. Lyra and Pan decided to help, but the closer their winding walk leads them towards the infamous Oxford alchemist, the stronger Lyra's sense that something is amiss.
Once Upon a Time in the North – novella, a prequel of Northern Lights. Many years ago, Lyra came across the story of Lee Scoresby and Iorek Byrnisson's first meeting. She discovers that when a young Texan balloonist Lee came down to earth in the harbor of an Arctic town in the North, little did he realise that he is about to be caught in a war between the residents of the town, and the huge arctic bears that also live there.
The Collectors – short story, only on audiobook & Kindle. On a dark winter's night in 1970, Horley and Grinstead huddle for warmth in the Senior Common Room of a college in Oxford. The conversation turns to the two impressive works of art that Horley has recently added to his collection. What the two men don't know is that these pieces are connected in mysterious and improbable ways, and they are about to be caught in the crossfire of a story that has traveled time and worlds.
Serpentine – Short story. Lyra and Pan return to the town of Trollesund in the North in search of answers to a most urgent question.
---
The Book of Dust trilogy
La Belle Sauvage – Malcolm Polstead's Oxford life has been one of routine, ordinary even. He is happiest playing with his daemon, Asta, in their canoe, La Belle Sauvage. But the world around Malcolm and Asta is set to become increasingly far from ordinary. Finding himself linked to a baby named Lyra Belacqua, Malcolm is forced to undertake the challenge of his life and to make a dangerous journey that will change him and Lyra forever.
The Secret Commonwealth – Lyra, now twenty years old, her daemon Pantalaimon, and Malcolm –once a boy with a boat and a mission to save a baby from the flood – must travel far beyond the edges of Oxford, across Europe and into Asia, in search for what is lost – a city haunted by daemons, a secret at the heart of a desert, and the mystery of the elusive Dust.
Third book – Planned, not yet published.
---
II. His Dark Materials Books in Chronological Order:
If you want, you can also follow the chronological order to read His Dark Materials series.
---
If you like this article about reading His Dark Materials Books in Order, you may also want to check out the ones about The Old Kingdom series by Garth Nix, and The Earthsea Cycle by Ursula K. Le Guin.