Last Updated 2 months ago.Probably the most famous long-running British fantasy series.
What is the Discworld?
From 1983 to 2015, The Discworld was the main satirical/parody fantasy series written by English author Terry Pratchett (RIP).
This series is set on the Discworld, a flat planet balanced on the backs of four elephants which in turn stand on the back of a giant turtle. The main storylines take place around the same period, at the end of the Century of the Fruitbat and the beginning of the Century of the Anchovy. It's an anthology series and each novel contains one stand-alone story, most of them exploiting fantasy clichés and talking about religion, politics, business, race, science, technology, pop culture, modern art or more in a satirical way.
Discworld Books In Order:
You can read the books in the order you want, because it's an anthology. But, even if the Discworld is made of stand-alone novels, there are recurring protagonists. What follows is the publication order. After that, you'll find the order by "subseries" if you want to follow some specific characters.
I. Publication order:
Unseen Academicals – The wizards at Ankh-Morpork's Unseen University are renowned for many things but athletics is most assuredly not on the list. So when Lord Vetinari, the city's benevolent tyrant, strongly suggests to Archchancellor Mustrum Ridcully that the university revive an erstwhile tradition and once again put forth a football team composed of faculty, students, and staff, the wizards of UU find themselves in a quandary.
I Shall Wear Midnight – As the witch of the Chalk, Tiffany Aching performs the distinctly unglamorous work of caring for the needy. But someone—or something—is inciting fear, generating dark thoughts and angry murmurs against witches. Tiffany must find the source of unrest and defeat the evil at its root.
Snuff – At long last, Lady Sybil has lured her husband, Sam Vimes, on a well-deserved holiday away from the crime and grime of Ankh-Morpork. But for the commander of the City Watch, a vacation in the country is anything but relaxing. Yet a policeman will find a crime anywhere if he decides to look hard enough, and it's not long before a body is discovered.
Raising Steam – Moist von Lipwig is not a man who enjoys hard work. He does enjoy being alive, however, which makes a new job offer from Vetinari hard to refuse. Moist will have to grapple with gallons of grease, goblins, a controller with a history of throwing employees down the stairs, and some very angry dwarfs if he's going to stop it all from going off the rails.
The Shepherd's Crown – Deep in the Chalk, something is stirring. The owls and the foxes can sense it, and Tiffany Aching feels it in her boots. An old enemy is gathering strength. This is a time of endings and beginnings, old friends and new, a blurring of edges and a shifting of power. Now Tiffany stands between the light and the dark, the good and the bad.
II. By characters
a. Rincewind
A failed student at the Unseen University for wizards in Ankh-Morpork, Rincewind is mostly known for his tendency to solve minor problems by turning them into major disasters. He spends most of his time running away from bands of people who want to kill him. It's hard to explain, but he's still alive.
b. Death
The personification of death, so he is a black-robed skeleton carrying a scythe. As a Grim Reaper, he is only a part of the universal Death, also known as Azrael. His jurisdiction is the Discworld, of course.
c. Witches
The witches are very different from the wizard, because their magic consists mostly of finding what makes everything else work … and they rarely do any magic anyway. Most of the time, they work hard, use common sense and their brand of psychology called headology.
d. City Watch
The City Watch is the police force of the city of Ankh-Morpork. Their stories center on Sam Vimes, a commander who loves his city and an incorruptible idealist who believes in justice. He is also a cynic.
e. Tiffany Aching
Tiffany is the sixth of the Aching children, and she is a young witch in training who started her career at 9.
f. Moist von Lipwig
Moist von Lipwig was a conman who was captured in Ankh-Morpork and was to be hanged. That's when Lord Vetinari offered him a job as Ankh-Morpork's Postmaster General. It's his start on the road to respectability.
III.Short stories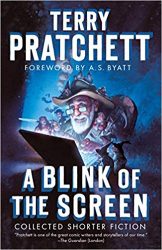 In a fictional universe like the Discworld, it's no surprise to find short stories. All are available in the anthology A Blink of the Screen collecting almost all of Terry Pratchett's short fiction work, set in the Discworld or not. If you only want Discworld short stories, read Once More* With Footnotes if you find it at a good price. It also contains articles and more.
---
There is probably more to add. If you have suggestions to complete these reading guide or if you find errors, tell me in the comment section. Thanks.