Affiliate disclosure: As an Amazon Associate, we may earn commissions from qualifying purchases from Amazon.
Harry Hole, pronounced as "HOO-leh"
What is the Harry Hole series about?
Harry Hole is a police officer with the Oslo Crime Squad created by Norwegian author Jo Nesbø. Like a lot of literary detectives, he is brilliant but uses unorthodox methods.
Harry Hole is also an alcoholic and a smoker, and his family history is complicated. He is a complicated man and his relationship with his superiors is not always easy.
That said, he is a respected detective and he has undergone special training in interrogation techniques and firearms at the FBI, which makes him a real asset, especially with serial killer cases.
The seventh novel in the series, The Snowman, was adapted as a film in 2017 and starred Michael Fassbender as Harry Hole.
How to read the Harry Hole Books in Order?
Due to a weird publication order in English (not in Norway of course), it may be confusing to follow Harry Hole. So, this is the original order of the books:
The Bat – Inspector Harry Hole of the Oslo Crime Squad is dispatched to Sydney to observe a murder case. Harry is free to offer assistance, but he has firm instructions to stay out of trouble. The victim is a twenty-three-year-old Norwegian woman who is a minor celebrity back home.
Cockroaches – When the Norwegian ambassador to Thailand is found dead in a Bangkok brothel, Inspector Harry Hole is dispatched from Oslo to help hush up the case. But once he arrives Harry discovers that this case is about much more than one random murder.
The Redbreast – Detective Harry Hole embarrassed the force, and for his sins, he's been reassigned to mundane surveillance tasks. But while monitoring neo-Nazi activities in Oslo, Hole is inadvertently drawn into a mystery with deep roots in Norway's dark past, when members of the government willingly collaborated with Nazi Germany.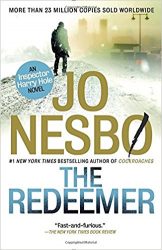 Nemesis – After a drunken evening with former girlfriend Anna Bethsen, Police Detective Harry Hole wakes up at home with a headache, no cell phone, and no memory of the past twelve hours. The same day, Anna is found shot dead in her bedroom, making Hole a prime suspect in the investigation led by his hated adversary, Tom Waaler.
The Devil's Star – In the heat of a sweltering Oslo summer, a young woman is found murdered in her flat. Harry Hole is assigned to the case with Tom Waaler. When another woman is reported missing five days later, and her severed finger turns up adorned with a red star-shaped diamond ring, Harry fears a serial killer is at work.
The Redeemer – Shots ring out at a Salvation Army Christmas concert in Oslo, leaving one of the singers dead in the street. The trail will lead Harry Hole, Oslo's best investigator and worst civil servant, deep into the darkest corners of the city and, eventually, to Croatia.
The Snowman – One night, after the first snowfall of the year, a boy wakes up and discovers that his mother has disappeared. Only one trace of her remains: a pink scarf, his Christmas gift to her, now worn by the snowman that inexplicably appeared in their yard earlier that day. The case deepens when a pattern emerges: over the past decade, eleven women have vanished – all on the day of the first snow.
The Leopard – Inspector Harry Hole has retreated to Hong Kong when two young women are found dead in Oslo, both drowned in their own blood. Media coverage quickly reaches a fever pitch. There are no clues, the police investigation is stalled, and Harry can't be found. After he returns to Oslo, the killer strikes again.
Phantom – When Harry Hole moved to Hong Kong, he thought he was escaping the traumas of his life in Oslo and his career as a detective for good. But now, the unthinkable has happened – Oleg, the boy he helped raise, has been arrested for killing a man. Harry can't believe that Oleg is a murderer, so he returns to hunt down the real killer.
Police – For years, Harry Hole has been at the center of every major criminal investigation in Oslo. His brilliant insights and dedication to his job have saved countless lives over the years. But as the killer grows increasingly bold and the media reaction increasingly hysterical, the detective is nowhere to be found.
The Thirst – The murder victim, a self-declared Tinder addict. The one solid clue leaves the investigating team baffled. Two days later, there's a second murder: a woman of the same age, a Tinder user, an eerily similar scene. The chief of police knows there's only one man for this case. But Harry Hole is no longer with the force.
Knife – Harry Hole is been given a chance for a new start with the Oslo Police but it's in the cold case office. But things will get worse. When Harry wakes up the morning after a blackout, drunken night with blood that's clearly not his own on his hands, it's only the very beginning of what will be a waking nightmare the likes of which even he could never have imagined.
Killing Moon – Two young women are missing, their only connection a party they both attended, hosted by a notorious real-estate magnate. When one of the women is found murdered, the police discover an unusual signature left by the killer, giving them a reason to suspect he will strike again. The legendary Harry Hole is gone—fired from the force, drinking himself to oblivion in Los Angeles. It seems that nothing can entice him back to Oslo. Until the woman who saved Harry's life is put in grave danger, and he has no choice but to return to the city that haunts him and track down the murderer.
If you like our article about the Harry Hole series in order, don't forget to bookmark it!