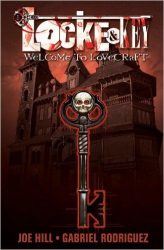 Some series doesn't require a reading order. It's mostly the case with Locke and Key. I should say that it was mostly the case, because Joe Hill and Gabriel Rodríguez recently produced a prequel story with the promise that there will be more soon.
I decided to start now, because why wait? I'll update this reading order with each new addition to the series.
What is Locke and Key about?
Locke and Key is a comic book series written by Joe Hill and illustrated by Gabriel Rodríguez. The main story is about the Locke family, present day. After the murder of their father, Tyler, Kinsey, and Bode Locke move with their mother Nina to the family estate of Keyhouse, located in Lovecraft, Massachusetts. The young Bode soon uncovers The Ghost Door which separates his spirit from his body. With his brother and sister they begin discovering more secrets and the keys that open more than doors. Each key brings a lot of possibilities and problems, but the real danger is outside with those who want the keys for themselves.