Affiliate disclosure: As an Amazon Associate, we may earn commissions from qualifying purchases from Amazon.
From the author of the Lady Darby Mysteries.
What is the Verity Kent series about?
Coming from American author Anna Lee Huber, The Verity Kent series is about a former British Secret Service Agent using her skills to investigate complex murder mysteries.
The series is set during peacetime, after the First World War in 1919, and revolves around Verity Kent who used to work for the Secret Service, a fact even her late husband didn't know. Now, navigating between old secrets and new murders, Verity searches for the truth.
How to read the Verity Kent Books in Order?
This Side of Murder – England, 1919. Verity Kent's grief over the loss of her husband pierces anew when she receives a cryptic letter suggesting her beloved Sidney may have committed treason before his untimely death. Determined to dull her pain with revelry, Verity's first impulse is to dismiss the claim. But the mystery sender knows too much—including the fact that during the war, Verity worked for the Secret Service, something not even Sidney knew.
Treacherous Is the Night – Verity Kent can sympathize with those eager to make contact with lost loved ones. After all, she once believed herself a war widow. But now that she's discovered Sidney is very much alive, Verity is having enough trouble connecting with her estranged husband, never mind the dead. Still, at a friend's behest, Verity attends a séance with a medium claiming to channel sensitive information from a surprising source: a woman Verity once worked with in the Secret Service.
Penny for Your Secrets – The Great War may be over, but for many, there are still obstacles on the home front. Reconciling with her estranged husband makes Verity sympathetic to her friend Ada's marital difficulties. Bourgeois-bred Ada, recently married to the Marquess of Rockham, is overwhelmed trying to navigate the ways of the aristocracy. And when Lord Rockham is discovered shot through the heart with a bullet from Ada's revolver, Verity fears her friend has made a fatal blunder.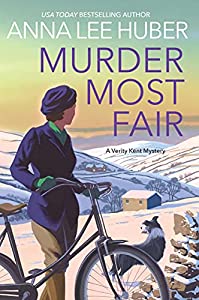 A Pretty Deceit – Peacetime has brought little respite for Verity Kent. Intrigue still abounds, even within her own family. As a favor to her father, Verity agrees to visit his sister in Wiltshire. Her once-prosperous aunt has fallen on difficult times and is considering selling their estate. But there are strange goings-on at the manor, including missing servants, possible heirloom forgeries, and suspicious rumors—all leading to the discovery of a dead body on the grounds.
Murder Most Fair – November 1919. A relaxing few weeks by the seaside with her husband, Sidney, could almost convince Verity Kent that life has returned to the pleasant rhythm of pre-war days. Then Verity's beloved Great-Aunt Ilse lands on their doorstep. After years in war-ravaged Germany, Ilse has returned to England to repair her fragile health—and to escape trouble. Someone has been sending her anonymous threats, and Verity's Secret Service contacts can only provide unsettling answers.
A Certain Darkness – March 1920: Life has turned unsettlingly quiet for former British Intelligence agent Verity Kent and her husband, Sidney. But even that false calm is about to end. As threats remain, the French authorities soon request Sidney's help with a suspect who claims to have proof of treason—shortly before she is assassinated. And Verity, too, is called to investigate a mystery . . .
---
If you like Verity Kent, you may also want to see our Maisie Dobbs reading order, of course, or our guide to Sebastian St. Cyr Mystery series. Don't hesitate to follow us on Twitter or Facebook to discover more book series.