The Land of Stories Books in Order: How to read Chris Colfer's Series?
Disclaimer: As an Amazon Associate, we earn from qualifying purchases. Thanks!
Where fairy tales are real!
What is The Land of Stories series about?
Welcome to the Land of Stories, a series imagined (and written, of course) by Chris Colfer that takes Alex and Conner Bailey-and the readers-to a magic place where fairy tales are real.
In this children's adventure and fantasy book series described by its author as a modern-day fairy tale, the Bailey twins fall from the real world into a world full of fairy tales they have only ever read about before.
There, they are discovering that there is more to this world than meets the eye.
The Land of Stories Books in Order: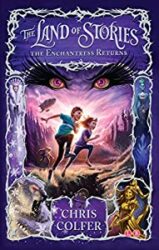 The Wishing Spell – Alex and Conner Bailey's world is about to change. When the twins' grandmother gives them a treasured fairy-tale book, they have no idea they're about to enter a land beyond all imagining: the Land of Stories, where fairy tales are real. But as Alex and Conner soon discover, the stories they know so well haven't ended in this magical land – Goldilocks is now a wanted fugitive, Red Riding Hood has her own kingdom, and Queen Cinderella is about to become a mother!
The Enchantress Returns – Alex and Conner Bailey have not been back to the magical Land of Stories since their adventures in The Wishing Spell ended. But one night, they learn the famed Enchantress has kidnapped their mother. Against the will of their grandmother (the one and only Fairy Godmother), the twins must find their own way into the Land of Stories to rescue their mother and save the fairy tale world from the greatest threat it's ever faced.
A Grimm Warning – Conner Bailey thinks his fairy-tale adventures are behind him – until he discovers a mysterious clue left by the famous Brothers Grimm. With help from his classmate Bree and the outlandish Mother Goose, Conner sets off on a mission across Europe to crack a two-hundred-year-old code. Meanwhile, Alex Bailey is training to become the next Fairy Godmother . . . but her attempts at granting wishes never go as planned. Will she ever be truly ready to lead the Fairy Council?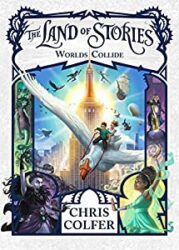 Beyond the Kingdoms – The Masked Man is on the loose in the Land of Stories, and it's up to Alex and Conner Bailey to stop him . . . except Alex has been thrown off the Fairy Council, and no one will believe they're in danger. With only the help of the ragtag group of Goldilocks, Jack, Red Riding Hood, and Mother Goose and her gander, Lester, the Bailey twins discover the Masked Man's secret scheme: he possesses a powerful magic potion that turns every book it touches into a portal, and he is recruiting an army of literature's greatest villains!
An Author's Odyssey – Conner learns that the only place to fight the Masked Man's literary army is inside his own short stories! When the twins and their friends enter worlds crafted from Conner's imagination, finding allies no one else could have ever dreamed of, the race begins to put an end to the Masked Man's reign of terror. Can the twins finally restore peace in the fairy tale world?
Worlds Collide – Conner and Alex must brave the impossible. All of the Land of Stories fairy tale characters – heroes and villains – are no longer confined within their world! With mayhem brewing in the Big Apple, Conner and Alex will have to win their biggest battle yet. Can the twins restore order between the human and fairy-tale world?
The Land of Stories Prequels: Tale of Magic
The Land of Stories reading order doesn't stop here, there is a prequel series to The Land of Stories…
A Tale of Magic – When Brystal Evergreen stumbles across a secret section of the library, she discovers a book that introduces her to a world beyond her imagination and learns the impossible: she is a fairy capable of magic! But in the oppressive Southern Kingdom, women are forbidden from reading and magic is outlawed, so Brystal is swiftly convicted of her crimes and sent to the miserable Bootstrap Correctional Facility.
A Tale of Witchcraft – Brystal Evergreen and her friends have saved the world from the evil Snow Queen and secured worldwide acceptance for the magical community. However, when a mysterious new witch named Mistress Mara arrives at the Academy, the celebrations are cut short. As Mistress Mara begins recruiting faeries into her rival school of Witchcraft, it becomes clear she has dark intentions. And soon Brystal's friend Lucy becomes embroiled in an ominous plot against mankind.
A Tale of Sorcery – Brystal Evergreen is running out of time. It's almost been a year since she made a deal with Death to find and destroy the Immortal in exchange for her life and she still hasn't found a single clue about who or where the Immortal is. To make matters worse, something dark and malignant has risen from deep within the earth, threatening life as we know it.
The Land of Stories Graphic Novels
Goldilocks: Wanted Dead or Alive – Once upon a time, the kingdoms of the fairy-tale world lived in perfect harmony under the guidance of the Happily Ever After Assembly. But not all creatures and territories have been invited to this peaceful union. Monsters and criminals have found refuge in the Dwarf Forests, a land without rulers or law. When a plot by the Charming brothers is unveiled and threatens to push society's unwanted from their homes, the fairy-tale world's harmony and Goldilocks' home are put in jeopardy . . .
More Adventures from the Land of Stories:
You can go further into The Land of Stories series with more adventures…
The Mother Goose Diaries – Mother Goose's diary entries over the last five hundred years take readers on a journey to learn buried secrets. A must-have for new and old fans alike. Please ask if you need a specific version. The data provided here may not be correct. With buying and not asking you are accepting the book as is.
Queen Red Riding Hood's Guide to Royalty – The young queen gives us her take on politics, government, health, love, and of course, what it means to be royalty. A must-have for new and old fans alike.
A Treasury of Classic Fairy Tales – Enter the world of fairy tales in this illustrated book that includes more than thirty-five beloved stories and rhymes retold by Chris Colfer. This gorgeous, full-color companion book to the Land of Stories series will appeal to new and old fans alike, who will delight in favorite classics such as "Cinderella," "Sleeping Beauty," "Little Red Riding Hood," "Jack and the Beanstalk," and more.
The Ultimate Book Hugger's Guide – A combination travel guide, encyclopedia, and exciting fan compendium, this ultimate guidebook includes sections such as "Who's Who," "Places to Go," and "Trinkets, Treasures, and Other Things" that explore the backgrounds and histories of the many characters, places, and magic items throughout the beloved Land of Stories series.
A Tale from the Land of Stories: The Picture Books
In another format, there are picture books set in the world of the The Land of Stories series.
The Curvy Tree – Once upon a time, there was a little girl who didn't quite fit in. When she runs away, she happens upon a curvy tree who helps her understand the importance of being different!
Trollbella Throws a Party – It's Queen Trollbella's birthday and she's throwing herself an epic celebration. She has everything a troll girl would want: musicians, magical creatures, carnival rides, a gigantic cake, and more. So why isn't she having any fun? Trollbella knows something is missing. When she meets a goblin boy sneaking into her party, Trollbella decides to share her party, and she discovers that a happy kingdom and learning to give back is the best gift she could've ever received.
What should you read if you like The Land of Stories novels?
If you like reading The Land of Stories series by Chris Colfer, you may be interested in Percy Jackson, or the Artemis Fowl series.
Don't hesitate to follow us on Twitter or Facebook to discover more book series.