The Blossom Street Books in Order: How to read Debbie Macomber's series?
Disclaimer: As an Amazon Associate, we earn from qualifying purchases. Thanks!
By the writer of Cedar Cove.
What is The Blossom Street Series about?
Written by American author Debbie Macomber (known for her Cedar Cove series), The Blossom Street Series begins with Lydia Hoffman, a woman who has opened A Good Yarn Shop on Blossom Street. The shop represents her dream of a new beginning; a life free from cancer and the serendipity that comes from taking chances.
Each book in this series introduces different women, brought together by the age-old craft of knitting, who make unexpected discoveries-about themselves and each other. Discoveries that lead to friendship and acceptance, to laughter and fulfillment of their dreams.
How to read The Blossom Street Books in Order?
The Shop on Blossom Street-Lydia teaches knitting to beginners, and the first class is How to Make a Baby Blanket. Three women join : Jacqueline Donovan, Carol Girard, and Alix Townsend. These four very different women, brought together by the age-old craft of knitting, make unexpected discoveries-about themselves and each other.
What Amanda Wants-Short story available on Stories of the Heart. This is a young woman's story of strength and courage in the face of seemingly insurmountable odds.
A Good Yarn-Lydia is happy, but when Brad's ex-wife reappears, Lydia is suddenly afraid to trust her newfound happiness. Three women join Lydia's newest class. Elise Beaumont, retired and bitterly divorced; Bethanne Hamlin is facing the fallout from a much more recent divorce. And Courtney Pulanski is a depressed teenager. Watch three women discover how knitting can change their lives.
Susannah's Garden-At fifty, Susannah Nelson finds herself regretting the paths not taken. Not only that, she's balancing the demands of an aging mother and a temperamental twenty-year-old daughter. Her mother, Vivian, a recent widow, is having difficulty coping and living alone, so Susannah goes home to Colville, Washington. In returning to her parents' house, she discovers that things are not as they once seemed. Some paths are dead ends. But some gardens remain beautiful…
Christmas Letters – Katherine O'Connor adores her five-year-old twin nieces-and objects to her sister's plans to dispense with Christmas. Her sister is following the theories of a child psychologist and author Wynn Jeffries, who is also, as it happens, Katherine's neighbor. As the days-and nights-move closer to Christmas, Katherine and Wynn both discover that love means accepting your differences. And Christmas is about the things you share…
Back on Blossom Street – There's a new shop on Seattle's Blossom Street-a flower store called Susannah's Garden, right next door to A Good Yarn. Susannah Nelson, the owner, has just hired an assistant named Colette Blake. When both women join Lydia's new knitting class, they discover that Lydia and her sister, Margaret, have worries of their own. Then there's Alix Townsend, whose wedding is only months away. She's not sure she can go through with it, though. But, like everyone in Lydia's knitting class, she knows there's a solution to every problem… and another woman can usually help you find it.
Twenty Wishes-At thirty-eight, Anne Marie Roche is childless, a recent widow. She owns a successful bookstore on Seattle's Blossom Street, but despite her accomplishments, there's a feeling of emptiness. When she volunteers at a local school, an eight-year-old girl named Ellen enters her life. It's a relationship that becomes far more involving-and far more important-than Anne Marie had ever imagined.
Summer on Blossom Street-Lydia Goetz, owner of A Good Yarn on Seattle's Blossom Street, offers a class called Knit to Quit. It's for people who want to quit something-or someone!-and start a new phase of their lives. First to join is Phoebe Rylander, who's trying to get over a man. Alix Turner and her husband want a baby, so she has to quit smoking. And Bryan Hutchinson needs a way to deal with the stress of running his family's business. Then there's Lydia's friend Anne Marie Roche. She and her adopted daughter, Ellen, have finally settled into a secure and happy routine-when a stranger appears, asking questions. But when your life and your stitches get snarled, your friends can always help!
The Twenty-First Wish – Anne Marie Roche and her adopted ten-year-old daughter, Ellen, have each written a list of twenty wishes-on which they included learning to knit. Like many of their wishes, it has come true, and now they knit practically every day. But Ellen has quietly added a twenty-first wish: that her mom will fall in love with Tim, Ellen's birth father, who's recently entered their lives…
Hannah's List – On the anniversary of his beloved wife's death, Dr. Michael Everett receives a letter Hannah had written him. In it she reminds him of her love and makes one final request. An impossible request. I want you to marry again. She tells him he shouldn't spend the years he has left grieving-and she's chosen three women she asks him to consider. And Hannah's list leads him to the woman who can help him find love again.
A Turn in the Road – In the middle of the year, in the middle of her life, Bethanne Hamlin takes a road trip with her daughter, Annie, and her former mother-in-law, Ruth. They're driving to Florida for Ruth's 50th high-school reunion. A longtime widow, Ruth would like to reconnect with the love of her teenage life. She's curious and maybe even hopeful. So there they are, three women driving across America. They have their maps and their directions-but even the best-planned journey can take you to a turn in the road. Or lead you to an unexpected encounter.
Starting Now-For years, Libby Morgan dreamed only of making partner in her competitive, high-pressure law firm. So nothing can prepare her for the shocking reality: she's been let go and must rebuild her entire life. With no job prospects in sight, Libby reaches out to old friends and spends her afternoons at A Good Yarn, the local knitting store. There, she forms a close bond with Lydia, the sweet-natured shop owner, Lydia's spirited teenage daughter, Casey, and Casey's best friend, Ava, a shy yet troubled girl who will shape Libby's future in surprising and profound ways.
Blossom Street Brides – Lydia is blissfully happy in her marriage, but worrying about her adoptive daughter and the future of her business. Bethanne is still madly in love with her husband, but their long-distance relationship is becoming difficult to deal with. Lauren has always yearned for marriage and a family of her own, but her long-term boyfriend just won't commit. As the three women's lives intersect in unexpected ways, they realize that the best surprises in life and love still lie ahead.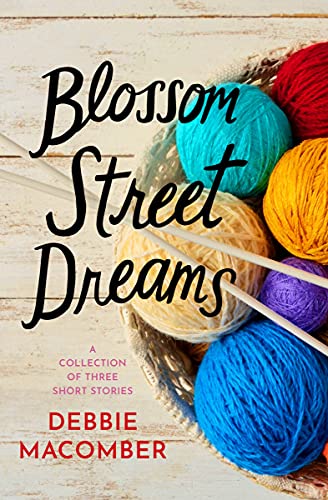 Blossom Street Dreams: A Collection of Debbie Macomber Short Stories – A collection of three new short stories from author Debbie Macomber, including a return to the beloved Blossom Street series. First published in Macomber's Digital Magazine, these heartwarming stories are now available exclusively in this collection.
---
Don't hesitate to follow us on Twitter or Facebook to discover more book series.