Affiliate disclosure: As an Amazon Associate, we may earn commissions from qualifying purchases from Amazon.
A Villain turned anti-hero.
What is the Teddy Fay series about?
Created by prolific writer Stuart Woods, Teddy Fay makes his first appearance in the book Capital Crimes, following Will Lee and his wife hunting a murderer who used to work for the CIA.
Introduced as a villain, the character became a recurring figure in the Stuart Woods universe (or the Stone Barrington universe) before becoming the star of his own series.
The villain turned anti-hero Teddy Fay is described as an 'ex-CIA, master of disguise, and a gentleman not known for abiding by legal niceties in the pursuit of his own brand of justice'.
Stuart Woods co-write the series with Parnell Hall (for the first four books), and then with Bryon Quertermous (fifth book), which follows Teddy Fay, acting as a sort-of-independent agent, doing everything his own way, but finding a way to complete the mission he has been given with success.
How to read the Teddy Fay Books in Order?
Before his own series, Teddy Fay appears in the following books, beginning in the Will Lee series…
Capital Crimes (2003) — Will Lee novel. When a prominent conservative politician is killed inside his lakeside cabin, authorities have no suspect in sight. And two more deaths—seemingly isolated incidents, achieved by very different means—might be linked to the same murderer. With the help of his CIA director wife, Kate Rule Lee, Will is facing a perilous challenge: catch the most clever and professional of killers before he can strike again.
Iron Orchid (2005) — Holly Barker novel. When his plane exploded off the coast of Maine, authorities thought they had seen the last of Teddy Fay – the ex-CIA tech wizard who kills his political targets for sport. But now they've found irrefutable evidence that he is alive and up to his old tricks. Now working for the CIA, ex-chief-of-police Holly Barker joins the elite task force tracking Fay in New York City. As he begins to pick off America's enemies one by one, Holly unexpectedly finds herself face-to-face with the killer, kick-starting a high-speed chase through the canyons of midtown Manhattan, the Metropolitan Opera house, Central Park, and the United Nations Plaza, all to prevent another assassination before Fay disappears again – maybe this time for good.
Shoot Him If He Runs (2007) — Stone Barrington novel. Rogue agent Teddy Fay has been considered dead for some time now. But President Will Lee thinks Teddy may still be alive. In a top-secret Oval Office meeting, Stone Barrington learns that he and his cohorts, Holly Barker and Dino Bacchetti, are being sent to the beautiful Caribbean island of St. Marks, courtesy of the CIA, to track down Teddy once and for all.
Mounting Fears (2009) — Will Lee novel. President Will Lee is having a rough week. His vice president just died during surgery. Confirmation hearings for the new vice president are under way, but the squeaky-clean governor whom Will has nominated may have a few previously unnoticed skeletons in his closet. And rogue CIA agent Teddy Fay is plotting his revenge on CIA director Kate Rule Lee—the president's wife.
Hothouse Orchid (2009) — Holly Barker novel. After Special Agent Holly Barker lets international terrorist Teddy Fay slip through her fingers for a second time, the CIA thinks she might want a long vacation, at least until Teddy is captured and the bad publicity has blown over. So Holly returns to her hometown of Orchid Beach, Florida, where she had been police chief for many years. But a very unpleasant surprise awaits her. Many years earlier, Holly and another female army officer had brought charges against their commanding officer for sexual harassment, attempted rape, and rape. Holly had managed to fight him off, but the other woman, a young lieutenant, had not. The officer in question was acquitted of all charges, and has also left the army – for a job as Orchid Beach's new police chief.
Santa Fe Edge (2010) — Ed Eagle novel. Ed Eagle, the six-foot-seven, take-no-prisoners Santa Fe attorney, is no stranger to murder, corruption, or organized crime—both north and south of the border. Ed has recovered from his encounters with Mexican organized crime and his ex-wife, Barbara—who's much more dangerous. But now a mysterious new client has come his way, one who may shed light into some dark corners of Ed's past…and put him in danger once more.
Scandalous Behavior (2016) — Stone Barrington novel. After a series of nonstop adventures, Stone Barrington is eager for some peace and quiet in a rustic British setting. But no sooner does he land in England than he's beset by an outrageous demand from a beautiful lady, and an offer he can't refuse.
Dishonorable Intentions (2016) — Stone Barrington novel. Stone Barrington's latest lady friend is full of surprises, both good and ill. A sensual woman with unexpected desires, Stone finds her revelations in the boudoir extremely agreeable. But on the other hand, she also has some unfinished business with a temperamental man who believes Stone is an intolerable obstacle in the way of his goals.
Then Teddy Fay takes centers stage in these novels, all featuring Stone Barrington:
Skin Game (2019) — When Teddy Fay receives a freelance assignment from a gentleman he can't refuse, he jets off to Paris on the hunt for a treasonous criminal. But as Teddy unearths more information that just doesn't seem to connect, his straightforward mission becomes far bigger–and stranger–than he could imagine. The trail of bread crumbs leads to secrets hidden within secrets, evildoers trading in money and power, and a global threat on an unprecedented scale. Under the beautiful veneer of the City of Lights, true villainy lurks in the shadows…and Teddy Fay alone can prevent the impending disaster.
Bombshell (2020) — Teddy Fay is back in Hollywood and caught in two tricky situations. First, a rising star at Centurion becomes the target of malicious gossip, and Teddy must find and neutralize the source before the situation gets out of hand–or becomes violent. At the same time, Teddy finds himself targeted by a criminal thug bearing a grudge. It's a lot of knives to juggle, even for a former-CIA-operative-turned-movie-producer accustomed to hazardous working conditions. This time Teddy will need to leverage every bit of his undercover skills and fearless daring to stay one step ahead of his foes…
Jackpot (2021) — When Peter Barrington and Ben Bachetti come under threat while working at a film festival abroad, Teddy Fay is lured to the glittering city of Macau to resolve the problem. He'll soon come to find that world of posh casinos, luxurious developments, and boundless wealth has a dark underbelly of crime and political intrigue . . . and that the biggest players behind the scenes may be far closer to home than anticipated.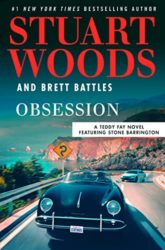 Obsession (2023) – Co-written with Brett Battles. While filming on location in scenic Santa Barbara, California, Peter Barrington and Ben Bacchetti look to expand Centurion Studios's business by making a deal with a young Croatian billionaire. But when the magnate's wife is kidnapped, Teddy Fay is brought in to assess the threat and recover the young woman. As Teddy unravels the threads of her disappearance, he quickly comes to find that darker forces are at play and an old vendetta has been revived that puts them all at risk. Meanwhile, danger lurks even nearer to home as an obsessive fan with perilous intentions weasels his way onto the film set, and only Teddy can stop him from getting too close for comfort.
Explore the Stuart Woods Universe:
If you like our article about the Teddy Fay series in order, don't forget to bookmark it!
This article was last updated on February 22, 2023.