Ripley Books in Order: How to read Patricia Highsmith's series?
Disclaimer: As an Amazon Associate, we earn from qualifying purchases. Thanks!
Highsmith's famous con artist.
What is the Tom Ripley series about?
Tom Ripley–or Thomas Ripley–is a fictional character created by American novelist Patricia Highsmith for a series of novels–and several film adaptations.
Introduced in 1955, Ripley is a con artist/serial killer. An orphan raised by a cold aunt who's mostly devoid of conscience. He is "suave, agreeable, and utterly amoral" which is a deadly combination for a killer.
Ripley is a career criminal, a bad person that is hard not to love. A classic anti-hero.
The first three Ripley novels have been adapted into films. The con artist has been played by Alain Delon, Dennis Hopper, Matt Damon, John Malkovich, and Barry Pepper, but also Jonathan Kent, Ian Hart, and Andrew Scott in other media.
How to read the Ripley Books in Order?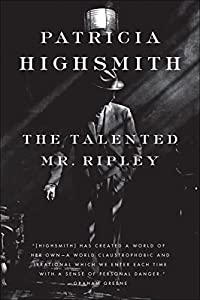 The Talented Mr. Ripley – Tom Ripley travels to Italy with a commission to coax a prodigal young American back to his wealthy father. But Ripley finds himself very fond of Dickie Greenleaf. He wants to be like him – exactly like him. Suave, agreeable and utterly amoral, Ripley will stop at nothing to accomplish his goal.
Ripley Under Ground – The Buckmaster Gallery is staging another Derwatt exhibition, but now an American collector claims that the expensive masterpiece he bought three years ago is a fake. It is, of course, and he wants to talk to Derwatt, but Derwatt, inconveniently, is dead. Ripley needs the perfect solution to keep his role in the fraud a secret and his reputation clean, but not everyone's nerves are as steady as his. Especially when it comes to murder.
Ripley's Game – Living on his posh French estate with his elegant heiress wife, Tom Ripley, on the cusp of middle age, is no longer the striving comer of The Talented Mr. Ripley. Having accrued considerable wealth through a long career of crime―forgery, extortion, serial murder―Ripley still finds his appetite unquenched and longs to get back in the game.
The Boy Who Followed Ripley – Tom Ripley meets a young American runaway who has a dark secret that he is desperate to hide. Soon this unlikely pair is drawn into the seamy underworld of Berlin and a shocking kidnapping. In this masterful thriller, Highsmith shatters our perceptions of her most famous creation by letting us glimpse a more compassionate side of this amoral charmer.
Ripley Under Water – Tom Ripley passes his leisured days at his French country estate tending the dahlias, practicing the harpsichord, and enjoying the company of his lovely wife, Heloise. Never mind the bloodstains on the basement floor. But some new neighbors have moved to Villeperce: the Pritchards, just arrived from America. they are a ghastly pair, with vulgar manners and even more vulgar taste. Most inconvenient, though, is their curiosity. Ripley does, after all, have a few things to hide. When menacing coincidences begin to occur, a spiraling contest of sinister hints and mutual terrorism ensues.
If you like our article about the Ripley series in order, don't forget to bookmark it!