Mrs. Jeffries Books in Order: How to read Emily Brightwell's Series?
Disclaimer: As an Amazon Associate, we earn from qualifying purchases. Thanks!
Did you know that Emily Brightwell is one of the pseudonyms Cheryl Lanham is using?
What is the Mrs. Jeffries series about?
Mrs. Jeffries is the main protagonist of the Victorian murder mystery series written by American writer "Emily Brightwell" that started in 1993.
Working as Inspector Witherspoon's housekeeper, Mrs. Jeffries is the widow of a Yorkshire policeman who keeps things running. Also, she knows how to help the mild-mannered Witherspoon, one investigation after the other.
In fact, Mrs. Jeffries is quite the detective herself and, with the rest of her crew, she solves Inspector's cases for him without his knowledge.
How to read the Mrs. Jeffries Books in Order?
Every book in the Mrs. Jeffries series works as a standalone story, but the lives of the different characters evolve from one novel to the other.
The Inspector and Mrs. Jeffries – When a doctor is discovered dead in his own office, Mrs Jeffries is on the look-out for a prescription for murder, determined to discover the culprit, despite how her employer feels about interviewing suspects…
Mrs. Jeffries Dusts for Clues – A servant girl and a priceless brooch vanish at the same time, and it doesn't take a genius to put two and two together. The Inspector finds the brooch on a dead woman-but where's the missing servant? Fortunately, Mrs. Jeffries isn't one to give up on a case just because of a few loose ends . . .
The Ghost and Mrs. Jeffries – Nasty miser Abigail Hodges returns home angry at a warning from medium Esme Popejoy, absent servants and husband Leonard. An intruder shoots her in the head and chest, but few jewels are missing. Forged notes direct police to inheriting Felicity Marsden. But housekeeper Mrs Jeffries recruits staff to help Inspector Witherspoon to the truth.
Mrs. Jeffries Takes Stock – A businessman has been murdered – and it could be because he cheated his shareholders. The housekeeper's interest is piqued..and when it comes to catching killers, the smart money's on Mrs. Jeffries!
Mrs. Jeffries on the Ball – A festive Jubilee Ball in honor of Queen Victoria turns into a fatal affair for Hannah Greenwood. Inspector Witherspoon was a guest at the ball so the job of finding the murderer falls to him. Fortunately, Mrs. Jeffries is there to help him read between the lines.. and identify the guilty party behind this deadly plot.
Mrs. Jeffries on the Trail – Inspector Witherspoon of Scotland Yard resorts once again to his housekeeping super-sleuth, Mrs. Jeffries, when a girl flower-peddler is killed on a foggy night in Victorian London.
Mrs. Jeffries Plays the Cook – Minerva Kenny is a dear woman, but her tendency to "borrow" things without asking has finally caught up with her. William Barrett has learned Minerva's shameful secret, and he's holding it over her head. Mrs. Jeffries and the staff have hatched a scheme to save her…but when they try to recover the damning evidence from Barrett, they discover something more shocking: Barrett's corpse.
Mrs. Jeffries and the Missing Alibi – Rarely had Mrs Jeffries encountered a murderer as brazen as the killer of Peter Hornsley, who even left behind his name . . . which was Inspector Witherspoon! Mrs Jeffries knew that her mild-mannered employer couldn't possibly be the real culprit, but would she be able to solve the mystery and convince Scotland Yard of the truth in time.
Mrs. Jeffries Stands Corrected – When a local publican is murdered, Inspector Withersppon takes Mrs. Jeffries' advice to heart. He is going to trust his own instincts..but that keeps Mrs. Jeffries in the dark. She must rouse the household staff to action and hope the Inspector doesn't arrest the wrong person before they can solve the crime!
Mrs. Jeffries Takes the Stage – It was a most peculiar murder. A man's body was found in the canal–but the evidence showed that he had drowned in a bathtub. A theatre critic known for his savage reviews, the victim had had a full cast of enemies. Mrs. Jeffries uncovered the critic's secret past: a real-life drama more compelling than any stage play…
Mrs. Jeffries Questions the Answer – Hannah Cameron was not well-liked but who stabbed her in the back? To almost everyone, the answer was clear: she was killed by a burglar. This case is given to Inspector Nivens so Mrs. Jeffries and the rest of the household must tiptoe around this case to find the real killer!
Mrs. Jeffries Reveals Her Art – An artist's model never shows up at Neville Grant's house, or so he claims. But when one of Mr. Grant's houseguests suddenly dies – the Inspector and Mrs. Jeffries have to work doubletime to find both the missing model and the killer!
Mrs. Jeffries Takes the Cake – The evidence was all there: a dead body, two dessert plates, and a gun. Could it be that Mr. Ashbury was sharing his cake with his killer? The old bloke had enemies galore. Mr. Ashbury's son-in-law doesn't want Inspector Witherspoon asking questions. Of course this doesn't stop Mrs. Jeffries and her staff snooping around.
Mrs. Jeffries Rocks the Boat – Mirabelle Daws travelled all the way from Australia to Sheridan Square to visit her sister – only to die in the middle of a locked garden. All the residents of Sheridan Square have a key to the garden. So the question facing Mrs. Jeffries is: who wanted to make sure that Mirabelle's visit was very, very short-lived?
Mrs. Jeffries Weeds the Plot – Eccentric Annabeth Gentry pretty much keeps to herself. Besides her recent inheritance, her life is in fact, rather dull. So why does she think that someone is trying to kill her? That's what Mrs. Jeffries and her staff has to find out.
Mrs. Jeffries Pinches the Post – Harrison Nye may have been involved in some dubious business dealings, but no one ever expected him to be murdered. Now Inspector Witherspoon must root out the perpetrator of the underhanded deed. Nye's business associate visited him just hours before the murder and seems to know more than he's letting on. And when his maid disappears, this dirty business gets even deadlier. Now, Mrs. Jeffries and her staff must root through the sins of Nye's past to discover which one caught up with him…
Mrs. Jeffries Pleads Her Case – As her employer, Inspector Witherspoon, attempts to learn more about the apparent suicide of Harlan Westover, Mrs. Jeffries and her staff investigate the matter themselves, subtly pointing the inspector in the right direction.
Mrs. Jeffries Sweeps the Chimney – Inspector Witherspoon is perplexed. No one seems to know the identity of the dead man dressed like a vicar and propped up against the outside wall of St. Paul's Church. A paper clutched in the corpse's hand reveals the address of a dilapidated and seemingly abandoned cottage-abandoned if you don't count the human skeleton stuffed in the chimney. To link these two bizarre incidents will take all of the resources at Witherspoon's command-and a little help from the efficient Mrs. Jeffries.
Mrs. Jeffries Stalks the Hunter – Sir Edmund Leggett is flattered to be stalked by a young lady–who makes herself scarce after he's murdered in cold blood. The police hold the young woman to blame. But Inspector Witherspoon has other ideas and consults his housekeeper, Mrs. Jeffries–who always gets to the heart of the matter.
Mrs. Jeffries and the Silent Knight – Sir George Braxton was found lying face down in a frozen fountain with the back of his skull bashed to bits. The case is complicated by a distinct lack of holiday cheer in the victim's three argumentative middle-aged daughters and their sullen houseguests. Even the cranky cat hates everyone. Only the help of Mrs. Jeffries and her crime-solving staff will give the poor Inspector Witherspoon any chance of sleeping in heavenly peace on Christmas Eve…
Mrs. Jeffries Appeals the Verdict – After a perfectly decent local woman is killed during a robbery, the Witherspoon household receives a surprising visit from a stranger named Blimpey Groggins. He claims his best buddy was convicted of the crime. He also claims the peaceable chap didn't even know how to fire a gun. With the trail cold, the crime allegedly solved, Mrs. Jeffries and her belowstairs cohorts have their work cut out for them if they want to save an innocent man from the gallows.
Mrs. Jeffries and the Best Laid Plans – A friendless old miser, banker Lawrence Boyd, is found dead at home. Called to the scene, Inspector Witherspoon is lucky to have Mrs. Jeffries's help-since the list of suspects includes just about everyone Boyd's ever met.
Mrs. Jeffries and the Feast of St. Stephen – A Yuletide dinner in West Brompton should have been a festive occasion, until the host, wealthy Stephen Whitfield, dropped dead before the second course. Now Mrs. Jeffries and the busy sleuths must rally in support of their Inspector?especially since the clues are harder to find than a silver sixpence in a plum pudding.
Mrs. Jeffries Holds the Trump – Michael Provost lived a quiet life, yet this successful owner of a medical supply company was spotted floating facedown off the Chelsea Vestry Wharf. His servants adored him, and he had no greedy relatives or business rivals-who would ever want him dead? Luckily for Inspector Gerald Witherspoon, Mrs. Jeffries and her staff are always ready to dive into an investigation, and their combined efforts soon lead to a connection with an earlier crime.
Mrs. Jeffries In the Nick of Time – Train enthusiast Francis Humphreys took his last breath while relatives and neighbors visited downstairs. But if everyone was downstairs, who could have stolen into Uncle Francis?s study, killed him, and escaped? Mrs. Jeffries will have to lend her downstairs common sense to this upstairs murder mystery.
Mrs. Jeffries and the Yuletide Weddings – The week before Christmas, Inspector Gerald Witherspoon's staff prepares for the long-awaited wedding of Betsy and Smythe. But when a middle-aged spinster is killed in what looks like a random crime, the Inspector suspects otherwise.
Mrs. Jeffries Speaks Her Mind – The eccentric Olive Kettering swore someone was trying to harm her. Too bad no one listened, though plenty wanted her dead. When Olive is shot and killed, Mrs. Jeffries has no problem speaking her mind to see justice served.
Mrs. Jeffries Forges Ahead – Arlette Montrose Banfield angered many marriageable women when she snagged the handsome Lewis Banfield-but were they angry enough to poison her? Mrs. Jeffries doesn't mind getting her hands dirty to uncover the greed behind her murder.
Mrs. Jeffries and the Mistletoe Mix-Up – Under a bundle of mistletoe, art collector Daniel McCourt lies with his throat slit, a bloody sword next to his body. Inspector Witherspoon is determined to solve the case-preferably before the eggnog is ladled out on Christmas Eve-but of course he will require assistance from the always sharp-witted housekeeper, Mrs. Jeffries, who has a few of her own theories on why McCourt had to die by the sword.
Mrs. Jeffries Defends Her Own – When the general office manager of Sutcliffe Manufacturing is murdered, no one is really surprised. Ronald Dearman was anything but a dear man. For once, Inspector Gerald Witherspoon doesn't get the case; it's given to another inspector. Then someone from Mrs. Jeffries' past shows up and begs for her help. Now Mrs. Jeffries must step into the fray and stop a terrible miscarriage of justice…
Mrs. Jeffries Turns the Tide – Beautiful and new in town, Ellen Langston-Jones doesn't have any enemies. So, when she's found dead in the communal gardens, Inspector Witherspoon quickly narrows the field of suspects down to one: Lucius Montague, who was seen threatening Mrs. Langston-Jones shortly before her death.
Mrs. Jeffries and the Merry Gentlemen – Orlando Edison is a stockbroker using London's infatuation with foreign mining ventures to make a fortune. He has curried favor with the nation's most respected aristocrats, even inviting three influential investors-known as the Merry Gentlemen-to be part of his latest enterprise. Edison is welcomed in the highest circles and moves with ease among the rich and powerful. But a few days before Christmas, he is found murdered.
Mrs. Jeffries and the One Who Got Away – When a woman is found strangled in a North London cemetery with an old newspaper clipping clutched in her hand, Inspector Witherspoon is surprised to find that he and the victim have crossed paths before. Now he'll need the help of Mrs. Jeffries to revisit an old case that has haunted him for years and to get the real story.
Mrs. Jeffries Wins the Prize – The gardening gentlewomen of the Mayfair Orchid and Exotic Plant Society are known for a bit of friendly rivalry, but the backstabbing has never been literal , until now. When Hiram Filmore, an orchid hunter and supplier, is found dead in Mrs. Helena Rayburn's conservatory, Inspector Witherspoon is called in to weed out a murderer.
Mrs. Jeffries Rights a Wrong – Thomas Mundy checks in to London's Wrexley Hotel, but he never checks out. The maid finds him on the floor of his room, bludgeoned to death by his own walking stick. Inspector Witherspoon is soon on the case and learns Mundy had a reputation for being polite, charming, and diligent. But Mrs. Jeffries and the household staff uncover that Mundy was less an amiable businessman and more a duplicitous con man with enemies on both sides of the Atlantic.
Mrs. Jeffries and the Three Wise Women – Christopher Gilhaney isn't a popular man, and he proves why once again when he insults every guest at Abigail Chase's Guy Fawkes Night dinner party. When Gilhaney is shot dead under the cover of the night's fireworks, his murder is deemed a robbery gone wrong. But when the case hasn't been solved six weeks later, Inspector Witherspoon is called upon to find the killer-and quickly!
Mrs. Jeffries Delivers the Goods – On a cold night in February, the popular Lighterman's ball festivities are cut short when a guest of honor, Stephen Bremmer, goes into spasms and abruptly collapses. Once again Inspector Witherspoon returns to the Wrexley Hotel to investigate a murder.
Mrs. Jeffries and the Alms of the Angel – Margaret Starling wasn't the sort of woman anyone expected to be murdered. She was on the advisory board of the London Angel Alms Society, she was an active member of St. Peter's Church, and, best of all, she was always willing to lend a hand to a friend or a neighbor in need of advice. But Mrs. Jeffries and Inspector Witherspoon know that justice isn't a popularity contest.
Mrs. Jeffries Demands Justice – Inspector Nigel Nivens is not a nice man or a good investigator. In fact, he's terrible at his job and has always done everything he can to make life difficult for Inspector Witherspoon. But even his powerful family can't help him after he maliciously tried to hobble Witherspoon's last homicide investigation. He's been sent to a particularly difficult precinct in the East End of London as penance.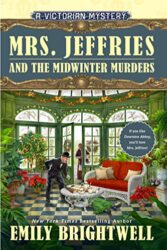 Mrs. Jeffries and the Midwinter Murders – Harriet Andover had no intention of dying young like her silly siblings had. She intended to outlive them. But Harriet discovers that the best intentions can lead to murder when she is strangled inside her mansion with a house full of holiday guests. As much as Inspector Witherspoon enjoys his job delivering justice, the last thing he wanted was a complicated murder case just a week before Christmas. He soon discovers that Harriet's own husband and grown stepchildren are not overcome with grief and neither are most of her friends.
Mrs. Jeffries Aims to Win – Successful businessman Jeremy Marks wasn't highly regarded by any of the members of the West London Archery Club. Most of them considered him a buffoon and a bore. But everyone was stunned when the fellow was murdered during a lull in the club's annual archery competition. He'd been shot with arrows from a longbow during a raging thunderstorm.
If you like our article about the Mrs. Jeffries series in order, don't forget to bookmark it!