Affiliate disclosure: As an Amazon Associate, we may earn commissions from qualifying purchases from Amazon.
The inspiration behind Tim Burton's movie.
Who are Miss Peregrine's Peculiar Children?
Contemporaine young adult fantasy series written by American author Ransom Riggs, Miss Peregrine's Peculiar Children is about children, monsters, and photographs.
Originally intended to be a picture book featuring photographs Riggs had collected, this series follows Jacob Magellan Portman as he discovers the truth about Peculiar Children living in a secret home guarded by "a wise old bird". They are in danger and Jacob will do what is necessary to protect them.
A film adaptation of the first book was directed by Tim Burton from a screenplay by Jane Goldman, starring Eva Green played Miss Peregrine, along with Asa Butterfield as Jacob, and Ella Purnell as Emma Bloom.
Miss Peregrine's Peculiar Children Books in Order:



Miss Peregrine's Home for Peculiar Children – A horrific family tragedy sets sixteen-year-old Jacob journeying to a remote island off the coast of Wales, where he discovers the crumbling ruins of Miss Peregrine's Home for Peculiar Children. As Jacob explores its abandoned bedrooms and hallways, it becomes clear that the children were more than just peculiar. They may have been dangerous. They may have been quarantined on a deserted island for good reason. And somehow—impossible though it seems—they may still be alive.
Hollow City – September 3, 1940. Ten peculiar children flee an army of deadly monsters. And only one person can help them—but she's trapped in the body of a bird. Jacob Portman and his newfound friends journey to London, the peculiar capital of the world. There, they hope to find a cure for their beloved headmistress, Miss Peregrine. But in this war-torn city, hideous surprises lurk around every corner.
Library of Souls – Jacob discovers a powerful new ability, and soon he's diving through history to rescue his peculiar companions from a heavily guarded fortress. Accompanying Jacob on his journey are Emma Bloom, a girl with fire at her fingertips, and Addison MacHenry, a dog with a nose for sniffing out lost children. They'll travel from modern-day London to the labyrinthine alleys of Devil's Acre, the most wretched slum in all of Victorian England.



A Map of Days – Having defeated the monstrous threat that nearly destroyed the peculiar world, Jacob Portman is back where his story began, in Florida. Except now Miss Peregrine, Emma, and their peculiar friends are with him, and doing their best to blend in. But carefree days of beach visits and normalling lessons are soon interrupted by a discovery—a subterranean bunker that belonged to Jacob's grandfather, Abe.
The Conference of the Birds – Coming Soon Now, with enemies behind him and the unknown ahead, Jacob Portman's story continues as he takes a brave leap forward into The Conference of the Birds
The Desolations of Devil's Acre – The last thing Jacob Portman saw before the world went dark was a terrible, familiar face. Suddenly, he and Noor are back in the place where everything began—his grandfather's house. Jacob doesn't know how they escaped from V's loop to find themselves in Florida. But he does know one thing for certain: Caul has returned.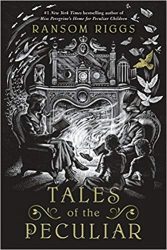 Bonus: Tales of the Peculiar – Wealthy cannibals who dine on the discarded limbs of peculiars. A fork-tongued princess. These are but a few of the stories in Tales of the Peculiar—the collection of fairy tales known to hide information about the peculiar world, including clues to the locations of time loops.
What should you read if you like the Miss Peregrine's Peculiar Children novels?
If you like Ransom Rigg's Miss Peregrine's books, you may also want to read the popular Percy Jackson series and, of course, the Harry Potter series, but also Eragon or Divergent.