Mercy Thompson Series Order: How to read Patricia Briggs's books?
Disclaimer: As an Amazon Associate, we earn from qualifying purchases. Thanks!
Written by American writer Patricia Briggs, The Mercy Thompson series and the Mercyverse is a fantasy series about a shapeshifter in a werewolf world.
Mercedes "Mercy" Thompson is a "Walker" raised by werewolves-until the pack ran her off for having a forbidden love affair. Now, she uses her talent to fix cars and runs a one-woman auto mechanic's garage in Kennewick, Washington. She also uses her particular powers to help werewolves, vampires or faes, voluntarily or not.
How to read the Mercy Thompson Books in Order?
To read the complete Mercy Thompson book series in order, you can follow the different series in the Mercyverse or mix everything and follow the chronological order available at the end of this article.
I. The main Mercy Thompson Books in Order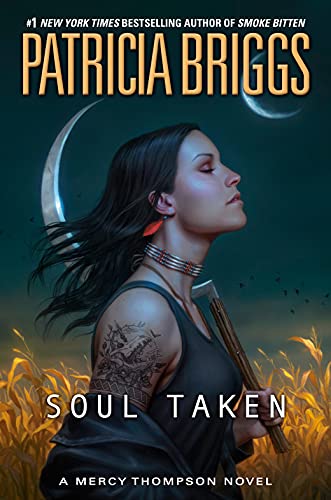 Soul Taken New – The vampire Wulfe is missing. Since he's deadly, possibly insane, and his current idea of "fun" is stalking Mercy, some may see it as no great loss. But when he disappears, the Tri-Cities pack is blamed. The mistress of the vampire seethe informs Mercy that the pack must produce Wulfe to prove their innocence, or the loose alliance between the local vampires and werewolves is over. So Mercy goes out to find her stalker-and discovers more than just Wulfe have disappeared. Someone is taking people from locked rooms, from the aisles of stores, and even from crowded parties. And these are not just ordinary people but supernatural beings. Who is taking them? As Mercy investigates, she learns of the legend of the Harvester, who travels by less-trodden paths and reaps the souls that are ripe with a great black scythe. . . .
---
II. The Alpha and Omega series in order
This is a stand-alone series taking place in the Mercyverse that follows Anna, an empathetic werewolf, and Charles Cornick, the enforcer of the North American werewolves. "Alpha and Omega" occurs before the events of Mercy's story. Then, starting with "Cry Wolf", which is set right after the events of "Moon Called", the series run parallel.
On The Prowl: Alpha & Omega (novella) – The werewolf Anna finds a new sense of self when the son of the werewolf king comes to town to quell unrest in the Chicago pack-and inspires a power in Anna she's never felt before. Also collected in Shifting Shadows.
Cry Wolf – Anna never knew werewolves existed until the night she survived a violent attack…and became one herself. After three years at the bottom of the pack, she'd learned to keep her head down and never, ever trust dominant males. But Anna is that rarest kind of werewolf: an Omega. And one of the most powerful werewolves in the country is about to recognize her value as a pack member-and as his mate.
Hunting Ground – Anna and Charles have just been enlisted to attend a summit to present Bran's controversial proposition: that the wolves should finally reveal themselves to humans. But the most feared Alpha in Europe is dead set against the plan-and it seems like someone else might be, too. When Anna is attacked by vampires using pack magic, the kind of power only werewolves should be able to draw on, Charles and Anna must combine their talents to hunt down whoever is behind it all-or risk losing everything…
Fair Game – When the FBI requests the pack's help on a local serial-killer case, Charles and Anna are sent to Boston to join the investigation. It soon becomes clear that someone is targeting the preternatural. And now Anna and Charles have put themselves right in the killer's sights…
Dead Heat – Charles and Anna discover that a dangerous fae being is on the loose, replacing human children with simulacrums. The fae have started a cold war with humanity that's about to heat up-and Charles and Anna are in the crossfire.
Burn Bright – With their Alpha out of the country, Charles and Anna are on call when an SOS comes in from the fae mate of one such wildling. Heading into the mountainous wilderness, they interrupt the abduction of the wolf–but can't stop blood from being shed. Now Charles and Anna must use their skills to track down the attackers.
Wild Sign – In the wilds of the Northern California mountains, all the inhabitants of a small town have gone missing. It's as if the people picked up and left everything they owned behind. Fearing something supernatural might be going on, the FBI taps a source they've consulted in the past: the werewolves Charles Cornick and Anna Latham. But Charles and Anna soon find a deserted town is the least of the mysteries they face.
---
III. The Mercyverse in Chronological Order
The Mercyverse contains two series: Mercy Thompson and Alpha and Omega, but also a number of short stories and graphic novels. Here is a full chronological order for the series.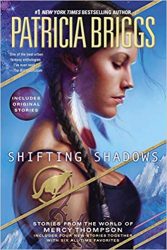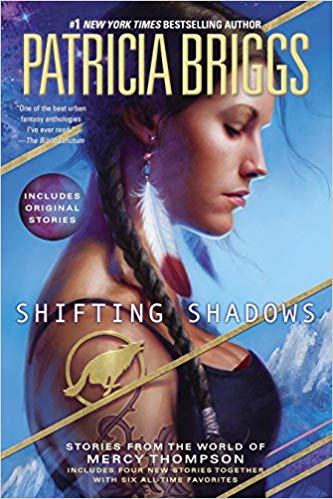 Most of the short stories are collected in the book Shifting Shadows: Stories from the World of Mercy Thompson.
Silver (novella)
HomeComing (graphic novel)
Gray (short story)
Fairy Gifts (short story)
Seeing Eye (short story)
Alpha & Omega (novella)
Cry Wolf (Alpha & Omega)
Hunting Ground (Alpha & Omega)
Star of David (short story)
Roses in Winter (short story)
In Red with Pearls (short story)
Fair Game (Alpha & Omega)
Unappreciated Gifts (short story)
Redemption (short story)
Dead Heat (Alpha & Omega)
Hopcross Jilly (graphic novel)
Hollow (short story)
Burn Bright (Alpha & Omega)
Asil and the Not-Date (short story)
Wild Sign (Alpha & Omega)
---
If you like the Mercy Thompson reading order, you may also want to see The Iron Druid Chronicles reading order, or our guide to Ilona Andrews's Kate Daniels series. Don't hesitate to follow us on Twitter or Facebook to discover more book series.