Jessica Fletcher Books in Order: How to read Murder, She Wrote series?
Disclaimer: As an Amazon Associate, we earn from qualifying purchases. Thanks!
Murder, they co-wrote…
Who is Jessica Fletcher?
Jessica Beatrice Fletcher (known as J.B. Fletcher when writing) is a retired teacher-turned-author of mystery novels, amateur detective, criminology professor, and congresswoman. Not in reality, on the American television series Murder, She Wrote in which she was portrayed by Angela Lansbury.
Like Richard Castle, the fictional J.B. Fletcher started publishing real books (she's credited as a co-author on the cover). Donald Bain began writing the series in 1989 and continued authoring the books until his death in 2017 – his wife, Renée Paley-Bain, started helping him in 2002 and ended up co-writing three books. After, Jon Land took over, then Terrie Farley Moran.
Before that, there also were a few novelizations of episodes by James Anderson and David Deutsch, but the format didn't last. Donald Bain wrote instead stories in the spirit of the TV show.
How to read the Jessica Fletcher Books in Order?
The novels by Jessica Fletcher and Donald Bain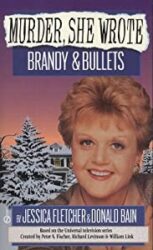 Gin & Daggers – Jessica Fletcher is off to London to deliver the keynote address at a mystery writers convention. She's also looking forward to seeing her mentor, Marjorie Ainsworth, who's hosting a party on her estate to celebrate her latest book. But a routine business trip becomes murderous business–when Jessica discovers Marjorie stabbed to death in her own bedroom…
Manhattans & Murder – Promoting her latest book brings Jessica Fletcher to New York for Christmas. It all begins with a sidewalk Santa staring at Jessica with fear and recognition. Behind the beard is Waldo Morse, former drug smuggler and the most notorious citizen of Cabot Cove, Maine. Jessica hasn't a clue as to how he ended up as a street corner Saint Nick, but she agrees to meet him at two o'clock the next day. Jessica shows up with her camera, but in no time at all Santa is dead…
Rum & Razors – After a cold winter in Cabot Cove and with another soon-to-be bestseller on the way to her publisher, Jessica Fletcher is off to balmy St. Thomas with its aquamarine sea and white sand beaches. But from the moment Jessica arrives at a four-star inn nestled by a beautiful lagoon, she senses trouble in paradise. Yet the gourmet food and the beautiful sunsets chase away Jessica's concerns…until she finds the owner's body at the edge of the lagoon.
Brandy & Bullets – Cozy Cabot Cove, Maine, has a country luncheonette, but not much high culture. Jessica Fletcher is the only writer in residence, but the renovation of the local Worrell mansion into an art colony may bring scores of artistic people to town. No one, however, expected a creative killer.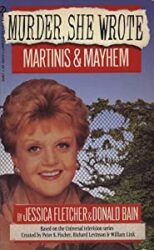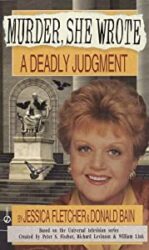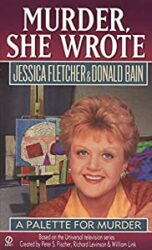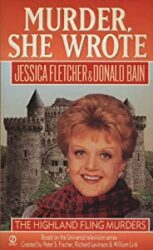 Martinis & Mayhem –

Cabot Cove's most famous mystery author is excited about promoting her new book in glamorous San Francisco. Jessica Fletcher can't wait for drinks and dinner on Fisherman's Wharf, a ride on the cable cars, and a romantic rendezvous with Scottish policeman George Sutherland. She doesn't know that solving a murder may be penciled into her agenda.

A Deadly Judgment–

Jessica Fletcher is off to Boston to help her eccentric lawyer friend, Malcolm McLoon, defend a tycoon accused of fratricide. Her uncanny sleuthing talents will come in handy when the two old acquaintances dive into the case with their characteristic vigor.

A Palette for Murder –

Jessica Fletcher has come to the elegant Hamptons on Long Island's gold coast for a sinfully sweet spell in the sun and a chance to indulge her secret burning passion: painting. In this place where the arts flower and artists flock, she finds a sketching class where she can try to make her dreams of da Vinci-hood come true. But Jessica has only a brief time behind an easel before she finds herself under the gun to solve a mystery as tantalizing as its victim.

The Highland Fling Murders –

Scotland's most celebrated witch, executed long ago with a pitchfork through her heart, is said to haunt Inspector George Sutherland's family castle in the village of Wick. It's an intriguing tale and after a British book tour, Jessica accepts Sutherland's invitation to bring her Cabot Cove friends to the heather-covered Highlands. Indeed, after "roamin' in the gloamin'" with the handsome inspector, she spots a spectral woman in white in the gloomy castle. But Jessica's blood runs cold when she later finds a local lass executed in the same way as the legendary witch.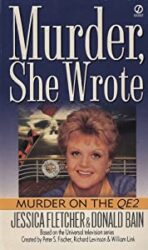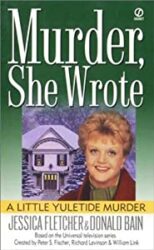 Murder on the QE2 – Jessica Fletcher is invited to travel to London on the grand dame of ocean liners, the Queen Elizabeth II, as one of seven guest lecturers. The night they set sail, a fellow speaker is found brutally murdered. Now Jessica has just four days at sea to find the killer…before she finds more of her colleagues, or even herself, dead in the water!
Murder in Moscow – Jessica Fletcher visits Moscow as part of a United States publishing group to help Russia succeed as a democracy. But the poisoning of a Russian publisher, who possessed information that could topple the government in power, places her in a dangerous situation. Jess turns to the American Embassy for help, only to discover that the United States government is involved…
A Little Yuletide Murder – Jessica Fletcher is planning to spend a cozy holiday in Cabot Cove. But when Rory Brent-the man who played St. Nick at the small town's yearly Christmas Eve celebration-is found shot to death on his farm, there will be no peace on earth until his killer is found.
Murder at the Powderhorn Ranch – While visiting an old friend's ranch in Colorado, Jessica Fletcher is caught in a fiendish plot of revenge when one of the guests is found stabbed to death. Soon after, the victim's wife is also discovered murdered in a gruesome fashion. With the police at a loss and the rest of the ranch guests on edge, Jessica decides to do some research into the past of some of the less than cordial guests. What she discovers may help her crack the case…if it doesn't get her killed first!
Knock 'em Dead – When one of her mystery books is turned into a Broadway play, Jessica Fletcher hits the Big Apple to help out the production. But when dead bodies offstage start upstaging the performers on stage, it's up to Jess to drop the curtain on a killer!
Trick or Treachery – It's late October in Cabot Cove, and as Halloween approaches, something strange is in the air. The arrival of a self-righteous, fire-and-brimstone spiritual medium has some townspeople on the lookout for curses and evil omens; a reclusive, eccentric woman has others whispering that she is a real-life witch; and the upcoming annual Halloween party has Jessica Fletcher frantically searching for the perfect costume. Then the whole town ends up spooked when the alleged witch ends up dead in the graveyard, and everyone at the party is a suspect
Blood on the Vine – Jessica Fletcher is visiting California wine country while doing research for her next book, and invites her old friend, Scotland Yard detective George Sutherland to join her at a cozy Bed and Breakfast. No sooner do they arrive than they find the valley abuzz over the murder of a waiter at the restaurant owned by infamous ex-Hollywood heavyweight Bill Ladington.
Murder in a Minor Key – Jessica Fletcher has a writer's conference in New Orleans and can't resist staying an extra week for the annual Jazz Festival. In her short time there, she gets a chance to sample everything the city has to offer- its delectable food, its wonderful music and, of course, its unique brand of murder and corruption…
Provence – To Die For – Jessica Fletcher travels to Provence for some haute cuisine, and becomes embroiled in a culinary murder mystery.
You Bet Your Life – When her old friend Martha decided to get married in Las Vegas, Jessica Fletcher made the trip to watch her walk down the aisle. But what were the odds that she'd be back two years later-to watch Martha stand accused of her husband's murder?
Majoring in Murder – Jessica Fletcher is riding out Schoolman College's first tornado in over sixty years. As a visiting professor, she is there to teach a creative writing class. But after two men choose to brave the tornado rather than take shelter and one of them is found dead-Jessica finds herself nagged by the question: Why?
Destination Murder – Jessica Fletcher takes a three-night train trip with her friend and his railroad association through scenic British Columbia. But when a member of the entourage takes a sip of a Bloody Mary and dies, police begin investigating.
Dying to Retire – Jessica Fletcher is in a Florida retirement community for the funeral of a dear old friend whose heart gave out – only to discover that the woman's death from natural causes may have been artificially induced.
A Vote for Murder – Jessica Fletcher is in Washington, D.C., to support a new literary initiative set forth by a prominent senator. But when the senator's chief-of-staff dies mysteriously, Jessica discovers just how deadly politics can be.
The Maine Mutiny – Jessica Fletcher is pitching in to help Cabot Cove's first Lobster Festival by writing an article about the lifestyle of the local lobstermen. But instead of getting the story, she becomes tangled in a net of intrigue and murder. And she better sinks her claws into this puzzling case-or she may find herself becoming the next catch of the day.
Margaritas & Murder – San Miguel de Allende is a picturesque town in central Mexico's highlands that attracts artists, retirees, and those in need of some rest and relaxation. So when publisher Vaughan Buckley and his wife, Olga, invite Jessica to join them for a little R & R, she jumps at the opportunity to spend time basking in the sun and enjoying Mexican culture with her friends. But there are those who don't share Jessica's appreciation for the arts. Ruthless kidnappers abduct Vaughan and demand a considerable ransom for his safe return-or else Olga will be made a widow.
A Question of Murder – Jessica Fletcher is in the Berkshires attending a writers' conference at a historic mansion where her friends the Savoys are hosting a murder-mystery party. As both a crime solver and a mystery author, Jessica is an old hand at this kind of thing. So she swears to the Savoys that she won't reveal the secrets of their play. But when a young actor's murder scene appears all too real, no one can tell what's scripted and what isn't.
Three Strikes and You're Dead – Visiting her old friends the Duffys in Arizona, Jessica watches their foster son Ty hit the winning run in an AA league playoff game. She and the Duffys are thrilled, but team owner Harrison Bennett is not – his son Junior and Ty are bitter rivals. Then Junior Bennett is found dead, his head caved in with a baseball bat. He and Ty were last seen fighting outside a bar, and Ty can't remember the rest of the night.
Coffee, Tea, or Murder? – When Cabot Cove's own Wayne Silverton debuts his new airline, he invites Jessica Fletcher and other locals on the inaugural flight from Boston to London. Jessica is thrilled for the opportunity to visit her dear friend, Scotland Yard Inspector George Sutherland. But the reunion hits turbulence when George is called to the airport to investigate the apparent murder of Wayne Silverton.
Panning for Murder – Jessica's plans to enjoy a relaxing cruise to Alaska are dashed when her friend Kathy Copeland joins her. Kathy's sister vanished from the very same vessel on a prior voyage, and though Wilimena often disappeared on flights of fancy, this time Kathy is convinced of foul play. The Copeland sisters had a notorious aunt – the most famous madam in Alaskan history – who, rumor has it, struck it rich during the Gold Rush. It seems the daring Wilimena has gone in search of the treasure and may have attracted the wrong kind of attention. Suddenly, Jessica's vacation becomes a challenging investigation.
Murder on Parade – Every Fourth of July, the town of Cabot Cove hosts an elaborate celebration? and no one is more enthusiastic than the town's newest resident, corporate mogul Joseph Lennon. He's desperate to give the town an unwanted 21st-century makeover, including financing a fireworks extravaganza to rival New York City's. But when Lennon's lifeless body is found floating in the water outside his office, Jessica Fletcher has no choice but to investigate her fellow Cabot Cove citizens to find out if one of them is capable of murder…
A Slaying in Savannah – Jessica is surprised to learn that her old friend, Tillie Mortelaine, has bequeathed Jessica one million dollars-as long as she solves a decades-old mystery. She must find out who murdered Tillie's fiancé, Wanamaker Jones, who'd been shot to death during a New Year's Eve party in Tillie's home.
Madison Avenue Shoot – When Jessica Fletcher's nephew, Grady, asks her to visit him in New York City, she's happy to reunite. The production firm Grady works for is creating commercials featuring big-name celebrities, and he has proposed that Jessica stars in one. She reluctantly agrees. But when one of the most creative-and-despised bigwigs is found murdered on the set, there's a long list of suspects.
A Fatal Feast – Jessica Fletcher would like to relax as Thanksgiving comes to Cabot Cove, but she's hosting a bountiful dinner for an ever-growing guest list. She couldn't be happier with the results-until she stumbles upon a body with a carving knife stuck in its chest…
Nashville Noir – Weeks after young Cabot Cove singer Cyndi Gabriel is sent on scholarship to Nashville, everyone is stunned when she's charged with the murder of a brash music publisher. Now it's up to Jessica to uncover the truth, or poor Cyndi will never get the chance for an encore.
The Queen's Jewels – Jessica Fletcher has always wanted to take a transatlantic voyage on the legendary Queen Mary 2. Now, she's finally getting her chance. But when the investigation of a stolen diamond follows her up the gangplank, she must try to enjoy the sumptuous seaborne surroundings while searching for a priceless diamond-and the person desperate enough to take a life for it.
Skating on Thin Ice – Christine Allen's dream of competing in pairs figure skating competitions becomes a nightmare when a series of "accidents" ruins her practice sessions with her partner and coach. And when the body of one of the trio is found dead at the arena, Jessica is determined to uncover the chilling motives behind the murder…
The Fine Art of Murder – Jessica's art-viewing Italian vacation is interrupted by a pair of gunmen who steal a painting and kill a retired police officer in the process. Agreeing to help identify the crooks should they be caught, Jessica returns to Cabot Cove and puts the shocking experience behind her. Months later, Wayne Simsbury, the stepson of an old friend, comes to her for help. Wayne's father has been shot to death.
Trouble at High Tide – While on vacation in Bermuda, Jessica Fletcher is surprised to hear the local population is abuzz over a trio of murders, each bearing an eerie resemblance to the 1888 Jack the Ripper killings. Jessica dismisses the panicked chatter as just that – until her friend Thomas Betterton's niece is found dead on the beach after a party. And when Scotland Yard Inspector George Sutherland arrives to investigate.
Domestic Malice – Jessica is volunteering at the Cabot Cove women's shelter when a woman walks in bruised physically and mentally. Her husband is a well-respected businessman in town. Could this paragon of virtue be abusing his wife? Despite Jessica's support and advice, the woman refuses to stay at the shelter, press charges, or even report the abuse. But a few days later the entire town is shocked to hear that domestic abuse has turned to murder.
Prescription for Murder – Jessica's latest book tour brings her to Tampa, Florida, where she meets up with an old friend, Cabot Cove's Dr. Seth Hazlitt. Seth is in town visiting Alvaro Vasquez, a renowned physician who is developing a potentially groundbreaking cure for Alzheimer's disease. If he's successful, his American backers stand to make millions. But there's a growing fear that the drug may fall into the wrong hands.
Close-Up on Murder – Cabot Cove is being invaded-by Hollywood. One of Jessica's older novels is being adapted into a big-budget movie. The producer has decided to shoot on location, since the book was loosely based on a murder that shocked Cabot Cove several years earlier. When a body is found on the set, a strip of celluloid film wrapped around its neck, there's a cast and crew of possible suspects.
Aloha Betrayed – Jessica is on the Hawaiian island of Maui, giving a lecture on community involvement in police investigations. Her co-lecturer is legendary retired detective Mike Kane, who shares his love of Hawaiian lore, legends, and culture with Jessica. But the talking stops when the body of a colleague is found at the rocky foot of a cliff.
Death of a Blue Blood – Jessica Fletcher and her friend Scotland Yard detective inspector George Sutherland are invited to attend a New Year's Eve Ball at Castorbrook Castle, thanks to her British publisher. Shortly after arriving in the idyllic English countryside, Jessica discovers the body of a lady's maid in the garden.
Killer in the Kitchen – Jessica may not know everything about food, but she knows what she likes-and she definitely likes the Leg & Claw restaurant. Opened last summer by young couple Brad and Marcie, the Leg & Claw is their dream come true, combining Marcie's sunny personality with Brad's deft hand in the kitchen. But now their dream is turning into a nightmare.
The Ghost and Mrs. Fletcher (with Renée Paley-Bain) – Jessica's friend, Eve Simpson is the town's premier real estate agent and has recently taken on the task of selling one of Cabot Cove's oldest properties-the Spencer Percy House, built in 1805 by a sea captain for his young wife. Its current occupant, Cliff Cooper, a crusty former carpenter, is convinced he's about to die and wants the house sold so he can give the proceeds to his grandson, who spent much of his youth there. When Cliff's deadly premonition becomes a reality, Dr. Seth Hazlitt is not so sure the man died of natural causes.
Design for Murder (with Renée Paley-Bain) – Jessica is in Manhattan to attend the debut of a new designer. Formerly Sandy Black of Cabot Cove, the young man has reinvented himself as Xandr Ebon, and is introducing his evening wear collection to the public and-more important-to the industry's powers-that-be: the stylists, the magazine editors, the buyers, and the wealthy clientele who can make or break him. At the show, the glitz and glamour are dazzling until a young model-a novice, taking her first walk down the runway-shockingly collapses and dies. Natural causes? Perhaps. But when another model is found dead, a famous cover girl and darling of the paparazzi, the fashion world gets nervous.
Hook, Line, and Murder (with Renée Paley-Bain) – Jessica enters a fly-fishing competition at a nearby lake. Joining her is the sheriff's wife, Maureen Metzger, who surprises Jess with her enthusiasm for the sport. Their guide, however, is a surprise to both…Brian Kinney is an ex-con. Jailed as an accomplice to Darryl Jepson, a convicted killer, Brian was later exonerated, but not before spending seven years behind bars. When Jepson breaks out of prison vowing revenge, and the lawyer for both men is found murdered, Cabot Cove becomes the focus of the nation as local, state, and federal authorities descend on Jessica's hometown. And to add to the tension, Maureen has gone missing.
A Date with Murder – Jessica Fletcher takes up the case of her good friend Barbara "Babs" Wirth after Babs' husband Hal suffers a fatal heart attack that Jessica has reason to believe was actually murder. At the heart of her suspicions lies a sinister dating site Hal had used while he and Babs were having marital issues, a site that may be complicit in somehow swindling him out of millions.
---
The novels by Jessica Fletcher and Jon Land
Manuscript for Murder – Jessica Fletcher has had plenty to worry about over her storied career, both as a bestselling novelist and amateur sleuth. But she never had any reason to worry about her longtime publisher, Lane Barfield, who also happens to be a trusted friend. When mounting evidence of financial malfeasance leads to an FBI investigation of Lane, Jessica can't believe what she's reading. So when Barfield turns up dead, Jessica takes on the task of proving Barfield's innocence.
Murder in Red – Jessica Fletcher's favorite gin rummy partner, Mimi Van Dorn, checks into the brand-new Clifton Care Partners, a private hospital that's just opened up shop in town, for a simple procedure-one that leads tragically, and inexplicably, to her death. Seeking justice in her inimitable fashion, Jessica decides to pursue her own investigation on the hospital and its shadowy business dealings.
A Time for Murder – Young Jessica Fletcher's life couldn't be more ordinary. She teaches at the local high school while she and her loving husband, Frank, are raising their nephew Grady together. But when the beloved principal dies under mysterious circumstances, Jessica knows something is off and, for the very first time, investigates a death.
The Murder of Twelve – Still staying at the Hill House hotel while her beloved home is being rebuilt, Jessica Fletcher finds herself sharing the space for a weekend with a dozen members of a wedding party who have gathered there for a rehearsal dinner. Unfortunately, weather forecasters underestimated the severity of a storm that turns into a historic blizzard that dumps nearly five feet of snow on Cabot Cove, leaving everyone stranded. But the hotel guests have bigger things to worry about than bad weather conditions and potential cold feet because a murderer has shown up uninvited.
Murder in Season – With work on the reconstruction of her beloved home almost complete, Jessica Fletcher is in high holiday spirits, spearheading the annual Christmas parade and preparing for her nephew Grady and his family to come to town. The only thing dampening the holiday cheer is the discovery of two sets of bones on Jessica's property: one set ancient, the other only about a year old. It's concluded that they were both placed there during the reconstruction, and Jessica suspects that, despite the centuries between them, the remains might be connected.
---
The novels by Jessica Fletcher and Terrie Farley Moran
Killing in a Koi Pond – After traveling to Bethesda for a mystery writers' conference, Jessica Fletcher decides she's earned a vacation and takes a train to Columbia, South Carolina, to visit her old college friend Dolores, who has recently married her third husband, Willis Nickens, a wealthy and cutthroat businessman. The morning after she arrives, Jessica discovers Willis facedown in the koi pond, and despite what the police think, she's sure foul play is involved.
Debonair in Death – When Nelson Penzell, co-owner of a local art and treasure store in Cabot Cove, is murdered, the nail tech from Jessica Fletcher's favorite beauty parlor is the main suspect. After all, she's the one who ran out of the store screaming, covered in blood, and holding the murder weapon. Jessica is positive that despite the circumstances, Coreen can't possibly be guilty, and is determined to prove it.
Killer on the Court – Jessica is delighted when her nephew Grady invites her to spend a few days with his family in an oceanside New York bungalow. She packs her bags and heads down to the city, ready to spend some quality time with Grady, his wife, Donna, and their young son, Frank. But the morning after Jessica's arrival, Donna finds her boss dead on a tennis court, and Jessica's dreams of a relaxing visit are quashed.
Death on the Emerald Isle – Jessica Fletcher is quick to accept an invitation to replace a speaker who couldn't attend a Book Festival in Belfast, Ireland. When her Cabot Cove neighbor Maeve O'Bannon hears about the trip, she asks Jessica to deliver some paintings to her family in the village of Bushmills. Happy to extend her travels and see more of the Irish countryside, Jessica agrees. The festival goes off without a hitch, and it seems like Jessica is in for a relaxing vacation. But then Maeve's cousin Michael is discovered dead under suspicious circumstances. Jessica finds herself once again in the midst of a murder investigation, and she'll have to dig into the O'Bannon family's secrets to unmask the killer.

If you like our article about the Jessica Fletcher books in order, don't forget to bookmark it! You may also be interested in Agatha Christie's books, the Agatha Raisin series, the Laura Childs' Tea Shop Mysteries, the Hannah Swensen Mysteries. Don't hesitate to follow us on Twitter or Facebook to discover more book series.