Jackson Brodie Books in Order: How to read Kate Atkinson's series?
Disclaimer: As an Amazon Associate, we earn from qualifying purchases. Thanks!
Seen on TV under the title Case Histories.
What is the Jackson Brodie series about?
Written by English writer Kate Atkinson, this crime series is about a private investigator named Jackson Brodie (played on TV by Jason Isaacs).
A former soldier and policeman, Jackson Brodie is now his own boss. Hiding a deeply empathetic heart under his tough-guy exterior, he is now a detective who is mostly investigating infidelity and finding missing cats.
How to read the Jackson Brodie Books in Order?
Every book in the Jackson Brodie series works as a standalone story, but the lives of the different characters evolve from one novel to the other.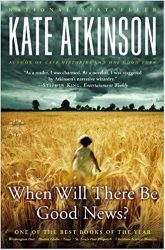 Case Histories – Case one: A little girl goes missing in the night. Case two: A beautiful young office worker falls victim to a maniac's apparently random attack. Case three: A new mother finds herself trapped in a hell of her own making – with a very needy baby and a very demanding husband – until a fit of rage creates a grisly, bloody escape. Thirty years after the first incident, as private investigator Jackson Brodie begins investigating all three cases, startling connections and discoveries emerge…
One Good Turn – The event thrusts Jackson into the orbit of the wife of an unscrupulous real estate tycoon, a washed-up comedian, a successful crime novelist, a mysterious Russian woman, and a female police detective. Each of them hiding a secret, each looking for love or money or redemption or escape, they all play a role in driving Jackson out of retirement and into the middle of several mysteries that intersect in one sinister scheme.
When Will There Be Good News? – On a hot summer day, Joanna Mason's family slowly wanders home along a country lane. A moment later, Joanna's life is changed forever… On a dark night thirty years later, ex-detective Jackson Brodie finds himself on a train that is both crowded and late. Lost in his thoughts, he suddenly hears a shocking sound… At the end of a long day, 16-year-old Reggie is looking forward to watching a little TV. Then a terrifying noise shatters her peaceful evening. Luckily, Reggie makes it a point to be prepared for an emergency…
Started Early, Took My Dog – Tracy Waterhouse leads a quiet, ordered life as a retired police detective-a life that takes a surprising turn when she encounters Kelly Cross, a habitual offender, dragging a young child through town. Both appear miserable and better off without each other-or so decides Tracy, in a snap decision that surprises herself as much as Kelly. Suddenly burdened with a small child, Tracy soon learns her parental inexperience is actually the least of her problems, as much larger ones loom for her and her young charge. Meanwhile, Jackson Brodie is embarking on a different sort of rescue-that of an abused dog.
Big Sky – Jackson Brodie has relocated to a quiet seaside village, in the occasional company of his recalcitrant teenage son and an aging Labrador, both at the discretion of his ex-partner Julia. It's picturesque, but there's something darker lurking behind the scenes. Jackson's current job, gathering proof of an unfaithful husband for his suspicious wife, is fairly standard-issue, but a chance encounter with a desperate man on a crumbling cliff leads him into a sinister network-and back across the path of his old friend Reggie.
Don't hesitate to follow us on Twitter or Facebook to discover more book series.