Affiliate disclosure: As an Amazon Associate, we may earn commissions from qualifying purchases from Amazon.
What if Baker Street's most gifted resident wasn't called Sherlock Holmes?
What are the Holmes and Hudson Mysteries about?
Everybody can legally write a Sherlock Holmes story and a lot of authors do it, that's why we've got series like Enola Holmes, Lady Sherlock, or this one, the Holmes & Hudson Mysteries.
Coming from the British author Martin Davies (Conjuror's Bird, The Year After), this Victorian crime series is about Sherlock Holmes's housekeeper Mrs. Hudson as she herself investigates.
With her helper, an orphan rescued from the streets of London named Flotsam, Mrs. Hudson is working for the famous Sherlock Holmes at Baker Street… But she also investigates complex mysteries behind his back.
How to read the Holmes and Hudson Books in Order?
Every book in the Holmes and Hudson series works as a standalone story, but the lives of the different characters evolve from one novel to the other.
Mrs. Hudson and the Spirits' Curse (2004)
Mrs. Hudson and the Malabar Rose (2005)
Mrs Hudson and the Lazarus Testament (2015)
Mrs Hudson and the Samarkand Conspiracy (2020)
Mrs Hudson and the Blue Daisy Affair (2021)
Mrs Hudson and The Christmas Canary (2022)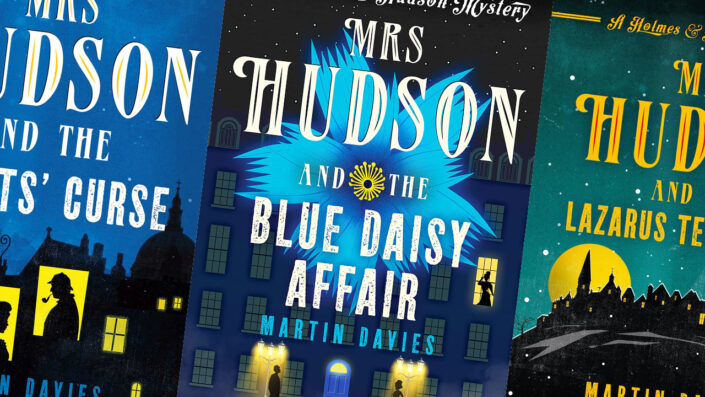 What is the plot of the Holmes and Hudson stories?
For more information about the books in the Holmes and Hudson series by Martin Davies, you'll find below the official synopsis for all the books:
Mrs. Hudson and the Spirits' Curse – An evil stalks London, blown in from the tropics. Stories of cursed giant rats and malign spirits haunt the garrets of Limehouse. A group of merchants are, one by one, dying. The elementary choice to investigate these mysterious deaths is, of course, Holmes and Dr. Watson. Yet the unique gifts of their housekeeper, Mrs. Hudson, and her orphaned assistant Flotsam, will be needed to solve the case. Can she do it all under the nose of Sherlock himself?
Mrs. Hudson and the Malabar Rose – As snow falls on Baker Street, the wintry city is abuzz with excitement: the Malabar Rose – a fabled and enormous ruby – has been sent as a gift to Queen Victoria by the Maharajah of Marjoudh. An extraordinary condition is attached: the gem must be displayed at London's sumptuous Blenheim Hotel. How can the safety of this priceless jewel be assured? The authorities wisely enlist the help of Sherlock Holmes and his colleague Dr. Watson… but fortunately for them, they are also on the receiving end of help from Holmes's redoubtable housekeeper Mrs Hudson and her able assistant, Flotsam the housemaid.
Mrs. Hudson and the Lazarus Testament – A Viscount has gone missing and there are rumors of a dead man haunting the moors and a country hall beset by ghostly lights and specters. Sherlock Holmes's housekeeper, the formidable Mrs. Hudson, is faced with a mystery. Joined by her assistant Flotsam, they're once again thrown into a dark adventure full of gripping twists and murderous intrigue.
Mrs. Hudson and the Samarkand Conspiracy – It's summer in London, and things are quiet. But while Sherlock Holmes and Dr. Watson chafe at their inactivity, a train carrying a vital secret is entering a tunnel in an obscure region of the Balkans – never to be seen again. The train is only the beginning. The missing message must be found and decoded, and a diplomat's wife must be rescued from the clutches of a pernicious blackmailer. The nation is in danger, and if a diplomatic scandal of disastrous proportions is to be avoided, Sherlock Holmes' brilliance may not be enough… Mrs. Hudson and Flottie her assistant will once again turn detective.
Mrs. Hudson and the Blue Daisy Affair – Sherlock Holmes has more work than he can handle, and when the Home Office asks him to sniff out a plot by Russian assassins on radical politician George Dashing, Holmes and Watson find themselves distracted by more pressing cases. Meanwhile, there is scandal at the home of Dashing's great political rival, Sir Henry Catanache. When Sir Henry's housemaid goes missing, leaving only a pool of blood behind, his son is the prime suspect. Laurence Martin, a detective who newly arrived in London, proves a surprising and enigmatic figure, and Mrs. Hudson and Flotsam, her intrepid helper, soon find themselves as intrigued by the detective as they are by the crime…
Mrs Hudson and The Christmas Canary – December in London, and Maximilian Cortado, the world-famous violinist, has disappeared, the only clue being the unexpected delivery to his townhouse of a basket containing a live hen. When it emerges that a number of other notable members of society have been receiving similarly unexplained fowl, the deliveries begin to appear more sinister. Sherlock Holmes, however, seems more intrigued by a trivial incident in Sussex, where someone has been damaging Christmas trees intended for a local stately home. So when he is asked by the wife of a famous artist to investigate a robbery carried out twenty-three years before, Mrs. Hudson sees an opportunity to assist.
What should you read if you like the Holmes and Hudson novels?
If you like reading Martin Davies' Holmes and Hudson stories, you may be interested in other writers who put their own spin on Sherlock Holmes like Nancy Springer with the Enola Holmes series, Sherry Thomas with The Lady Sherlock series, M.J. Trow with the Sholto Lestrade series, David Lagercrantz with the Rekke/Vargas series, Laurie R. King with the Mary Russell series, and more!