Hainish Cycle Reading Order: How to read Ursula K. Le Guin's series?
Disclaimer: As an Amazon Associate, we earn from qualifying purchases. Thanks!
What we call The Hainish Cycle or the Ekumen Cycle consists of several science fiction novels and stories by Ursula K. Le Guin. It is set in an alternate history/future history in which civilizations of human beings on planets orbiting a number of nearby stars, including Terra ("Earth"), are contacting each other for the first time and establishing diplomatic relations, setting up a confederacy under the guidance of the oldest of the human worlds, peaceful Hain.
But, let's not forget Ursula LeGuin herself didn't consider that her books formed a cycle. In her own words (that you can find on her official website): The thing is, they aren't a cycle or a saga. They do not form a coherent history. There are some clear connections among them, yes, but also some extremely murky ones. And some great discontinuities (like, what happened to "mindspeech" after Left Hand of Darkness? Who knows? Ask God, and she may tell you she didn't believe in it anymore.)
Follow The Hainish Cycle Reading Order:
There are multiple options available for reading the Hainish Cycle in order. First, we begin with the publication order, then we explore some alternatives.
Hainish Books and Short Stories in Publication Order:
Rocannon's World – A world shared by three native humanoid races – the cavern-dwelling Gdemiar, elvish Fiia, and warrior clan, Liuar – is suddenly invaded and conquered by a fleet of ships from the stars. Earth scientist Rocannon is on that world, and he sees his friends murdered and his spaceship destroyed. Marooned among alien peoples, he leads the battle to free this new world – and finds that legends grow around him even as he fights.
Planet Of Exile – The Earth colony of Landin has been stranded on Werel for ten years, and ten of Werel's years are over 600 terrestrial years. Every winter, a season that lasts for 15 years, the Earthmen have neighbors: the humanoid hilfs, a nomadic people who only settle down for the cruel cold spell. The hilfs fear the Earthmen, whom they think of as witches and call the farborns. But hilfs and farborns have common enemies: the hordes of ravaging barbarians called gaals and eerie preying snow ghouls. Will they join forces or be annihilated?
City Of Illusions – He was a fully grown man, alone in dense forest, with no trail to show where he had come from and no memory to tell who – or what – he was. The forest people took him in and raised him almost as a child, giving him all the knowledge they had. But they could not solve the riddle of his past, and at last he had to set out on a perilous quest to Es Toch, the City of the Shining, the Liars of Earth, the Enemy of Mankind.
The Left Hand Of Darkness – The story of a lone human emissary to Winter, an alien world whose inhabitants can choose – and change – their gender. His goal is to facilitate Winter's inclusion in a growing intergalactic civilization. But to do so he must bridge the gulf between his own views and those of the completely dissimilar culture that he encounters.
Winter's King – Short Story Collected In The Wind's Twelve Quarters. Argaven, young king of Winter, is attacked and faces a decision that will affect many things. Set on the world known as Winter, with the people of Karhide and the Ekumen.
Vaster Than Empires And More Slow – Short Story Collected In The Wind's Twelve Quarters. A volunteer group of humans and aliens embark on an exploratory mission to a distant planet where they will run environmental tests as preparation for colonization.
The Word For World Is Forest – Forced into servitude, the Athsheans find themselves at the mercy of their brutal masters.Desperation causes the Athsheans to retaliate against their captors. But in defending their lives, they have endangered the very foundations of their society. For every blow against the invaders is a blow to the humanity of the Athsheans.
The Dispossessed – Shevek, a brilliant physicist, decides to seek answers, question the unquestionable, and attempt to tear down the walls of hatred that have isolated his planet of anarchists from the rest of the civilized universe. To do this, Shevek must make the unprecedented journey to the utopian mother planet, Urras, to challenge the complex structures of life and living, and ignite the fires of change.
The Day Before The Revolution – Short Story Collected In The Wind's Twelve Quarters. The ruminations of an old woman who began a social movement in her youth, and the culmination of her life as a public figure on the day before the Revolution begins.
The Shobies' Story – Short Story Collected In A Fisherman Of The Inland Sea. A crew of ten embark on a test flight on a starship with a new experimental star drive that would make Nearly-as-Fast-as-Light flight obsolete.
Dancing To Ganam – Short Story Collected In A Fisherman Of The Inland Sea. Two humans from a far future Earth, have arrived on Hain, and discover another Earth human called Dalzul has also arrived and found a planet called Ganam.
Another Story Or A Fisherman Of The Inland Sea (1994) – Short Story Collected In A Fisherman Of The Inland Sea. A scientist from the planet O turns his back on the quiet rural life of his planet to join in the development of a faster than light technology called Churten Theory.
Unchosen Love – Short Story Collected In The Birthday Of The World. About a meek man and meek woman, who are in relationships with a strong-willed man and woman respectively. The meek find solace in each other's company, an unexpected relationship catalyzed by mysterious encounters.
The Matter Of Seggri – Short Story Collected In The Birthday Of The World. The discovery, exploration, and ultimate alteration of a planet characterised by extreme gender imbalance and segregation.
Solitude – Short Story Collected In The Birthday Of The World. on Eleven-Soro on the fringes of the Ekumen, dociety has fragmented – men and women live apart, and adult women do not even enter each other's houses.
Mountain Ways – Short Story collected The Birthday Of The World. A society where the hereditary rulers are "God", and is disrupted from inside and outside.
Four Ways To Forgiveness – Collections of interconnected stories (Betrayals, Forgiveness Day, A Man of the People, A Woman's Liberation) published in 1995 and joined by a fifth story Old Music And The Slave Women in the ebook Five Ways to Forgiveness. Focuses on the twin planets Werel and Yeowe, two worlds whose peoples, long known as "owners" and "assets," together face an uncertain future after civil war and revolution.
The Telling – Once a culturally rich world, the planet Aka has been utterly transformed by technology. Records of the past have been destroyed, and citizens are strictly monitored. But an official observer from Earth named Sutty has learned of a group of outcasts who live in the wilderness. They still believe in the ancient ways and still practice its lost religion – the Telling. Intrigued by their beliefs, Sutty joins them on a sacred pilgrimage into the mountains…and into the dangerous terrain of her own heart, mind, and soul.
You can find the complete Hainish Cycle in Ursula K. Le Guin: The Hainish Novels and Stories: A Library of America Boxed Set.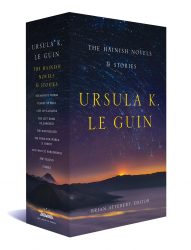 ---
Hainish Reading Order by Ursula LeGuin:
Even if Ursula LeGuin discounted the idea of a Hainish Cycle, she still offers a possible reading order (for more details, go to her website) :
---
Hainish Novels in a sort-of chronological order by author Ian Watson
In 1975, author Ian Watson wrote about Ursula LeGuin's works and offers a sort-of chronological order for her books :
---
If you like our Hainish Cycle Reading Order, you may also want to read Ursula K. Le Guin's Earthsea series, or check out our guide to the Realms of Elderlings by Robin Hobb.