Nina Wilde and Eddie Chase Books in Order: How to read Andy McDermott's series?
Disclaimer: As an Amazon Associate, we earn from qualifying purchases. Thanks!
In the tradition of Clive Cussler.
What is the Nina Wilde and Eddie Chase series about?
Coming from a former magazine editor, film critic, and British journalist Andy McDermott, the Nina Wilde/Eddie Chase series is a thriller full of adventures and mythology.
In this globetrotting series, we follow archaeologist Nina Wilde and former SAS soldier, now bodyguard, Eddie Chase as they search for great treasures and face those who want to take them for themselves or use them to do bad.
How to read the Nina Wilde and Eddie Chase Books in Order?
Every book in the Wilde and Chase series works as a standalone story, but the lives of the different characters evolve from one novel to the other.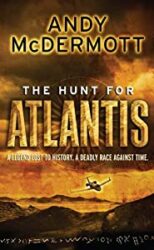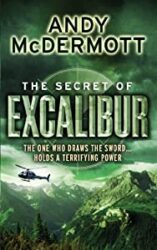 The Hunt for Atlantis – Archaeologist Nina Wilde believes she has found the location of the lost city of Atlantis and now she wants the opportunity to prove her theory. Someone else though wants her dead! With the help of ex-SAS bodyguard Eddie Chase and beautiful heiress Kari Frost, Nina faces a breakneck race against time around the world, pursued at every step by agents of the mysterious and murderous Brotherhood of Selasphoros.
The Tomb of Hercules – For archaeologist Nina Wilde it's the opportunity of a lifetime. Her studies of an ancient text have convinced her that a tomb containing the remains of legendary warrior Hercules may actually exist. If she can locate it, it will be the most important historical find ever to be unearthed. As Nina and Eddie Chase begin their search it's clear that others want to find the tomb – and the unimaginable riches contained within. Then Chase's attention is diverted by the reappearance of a face from his past…
The Secret of Excalibur – Said to make whoever holds it unstoppable in battle, the sword Excalibur has been coveted across the ages and thought lost for over a thousand years. With a cryptic message to archaeologist Nina Wilde, this may be about to change. Historian Bernd Rust believes he can locate Excalibur… and that the sword is the key to harnessing an incredible source of energy. Nina is skeptical – until she and Rust are attacked by mercenaries determined to steal his research.
The Covenant of Genesis – Off the coast of Indonesia, archaeologist Nina Wilde makes an explosive find: evidence of a settlement that existed over a hundred thousand years before any previously known civilization. But when her ship is attacked, it becomes clear that the clandestine religious group calling itself the Covenant of Genesis will stop at nothing to prevent her from revealing this knowledge. With Eddie Chase, Nina embarks upon a dangerous worldwide search to expose the Covenant of Genesis – and the incredible secret they will kill to conceal.
The Cult of Osiris – Discredited, jobless, and broke, archaeologist Nina Wilde and ex-SAS soldier Eddie Chase have problems of their own – until Macy's plea for help sends them on a deadly quest across the globe as they try to reach the mysterious pyramid before Khalid Osir, the charismatic leader of the Osirian Temple. But is the cult's motive purely greed… or something more sinister?
The Sacred Vault – Witnesses to the latest daring robbery, archaeologist Nina Wilde and former SAS soldier Eddie Chase are forced into a treacherous hunt across the world to discover the vault before its secrets fall into dangerous hands. The vault's prize is a treasure beyond price, but it may also be the catalyst for global annihilation…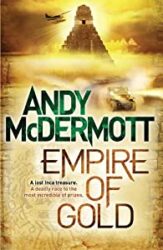 Empire of Gold – When Nina Wilde and Eddie Chase are given the chance to work on an Interpol investigation into smuggled artefacts, they are stunned to realise that the artefacts hold clues to the location of a lost Inca settlement hidden somewhere in South America. As Nina and Eddie dig deeper, it soon becomes clear that finding the settlement may only be the start of their incredible quest.
Temple of the Gods – Nina Wilde's life has fallen apart. Eddie Chase is on the run, falsely accused of murder, and her only distraction has been investigating the origin of three strange statues stolen from her just before Eddie's disappearance. When Nina discovers they may be relics from the lost civilisation of Atlantis, it's clear that she has to get her head back in the game, and fast. Eddie, meanwhile, tries to stay ahead of the authorities as he hunts the man responsible for his fugitive status across the globe.
The Valhalla Prophecy – Secrets from the past emerge to threaten archaeologist Nina Wilde and Eddie Chase, when a Viking runestone is stolen by a murderous gang of raiders. The stone holds the key to an ancient evil concealed in one of Norse mythology's holiest places: Valhalla. Travelling to Sweden, Eddie and Nina find themselves in a race against time to locate the legendary hall of the Viking warriors – before rival powers claim its deadly contents for themselves.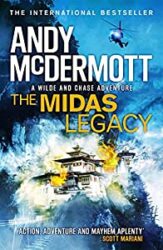 Kingdom of Darkness – Archaeologist Nina Wilde and her husband Eddie Chase encounter a young man, desperate to warn Nina about a raid on Alexander's newly-discovered tomb. But before he can explain, he is assassinated by a Nazi war criminal – who has barely aged in seventy years. As Nina and Eddie search for answers, they discover that the evilest regime in history is threatening to rise again.
The Last Survivor (Short Story) – Reeling from the events of her last mission, in which a close friend died in their attempt to stop a resurgent Nazi force from stealing a great archaeological treasure, all Nina Wilde can do is try and find solace in her work. But there is one last survivor. A man determined to take his revenge on Nina for all that befell his brethren. Now he is in New York, waiting for his chance.
The Revelation Code – Depressed following the death of a friend, Nina Wilde has been focusing her energies on her pregnancy, rather than the archaeological discoveries for which she is renowned. But adventure still finds her – when she's kidnapped by religious cultists intending to force her to locate the remaining angels!
The Midas Legacy – When a long-lost relative reappears in Nina's life, asking her to use the Secret Codex to find a hidden cave containing the secret of King Midas, she is unprepared for the devastation that follows. The promise of unlimited gold has aroused the greed of powerful and ruthless forces… and only Nina and Eddie stand in their way.
King Solomon's Curse – Now a documentary presenter, Nina Wilde is in Jerusalem where clues found at the Ark of the Covenant recovery site have led her to the ruins of the First Temple, buried beneath Temple Mount. Within them, a hidden chamber conceals a map room – which contains a model of a mysterious city thought to hold a great yet deadly power hidden by King Solomon himself. Analyzing the clues, Nina believes that the city is located in the Democratic Republic of Congo, one of the most dangerous locations on Earth.
The Spear of Atlantis – Nina Wilde and Eddie Chase believe their days of danger are behind them. But when Nina is framed for the theft of a priceless artefact in a daring raid on a luxury cruise ship, she has no choice but to flee. On the run, Nina discovers that a shadowy group is searching for an ancient Atlantean weapon with destructive power beyond comprehension. Eddie must risk his own life to learn who is pulling the strings.
The Resurrection Key – When a mythical civilization is unearthed deep in the Antarctic ice, Nina Wilde and Eddie Chase are drawn into a battle for control of its astonishing power. Dashing from New York to New Zealand, from futuristic Chinese cities to the outback of Australia, they soon confront the gravest threat they've ever faced. Pursued by ruthless mercenaries and a secret special forces unit, Nina and Eddie discover the clock is counting down to the extermination of all humanity…
The Temple of Skulls – Nina Wilde and her husband, former SAS soldier Eddie Chase, now lead a quiet life – the only real danger posed by their rebellious teenage daughter. Until, on a visit to a newly discovered temple, they're suddenly engulfed in a deadly hunt for an ancient weapon which threatens the entire globe. From the bustling streets of Mexico City to the mountainous jungles of Guatemala, Nina and Eddie – with daughter Macy in tow – are the only ones who can prevent an apocalyptic evil from seizing control of an unstoppable power.
The Knights of Atlantis – Coming Soon.
If you like our article about the Nina Wilde and Eddie Chase series in order, don't forget to bookmark it!