Affiliate disclosure: As an Amazon Associate, we may earn commissions from qualifying purchases from Amazon.
Cupcakes and murders!
What is the Cupcake Bakery Mystery series about?
Written by Jenn McKinlay, the Cupcake Bakery Mystery Series is a culinary cozy mystery series about Melanie Cooper and Angie DeLaura, two best friends and bakers who realize their dreams and open a bakery named the Fairy Tale Cupcakes Bakery. The two women create exquisite desserts and track down cunning murderers.
In addition to cupcakes recipes, the Cupcake Bakery Mystery series has a nice gallery of fun characters, including Tate, who has invested in the bakery to support his two oldest friends, their employee Oz, and Joe, one of Angie's brothers and Mel's love interest.
How to read the Cupcake Bakery Mystery Books in Order?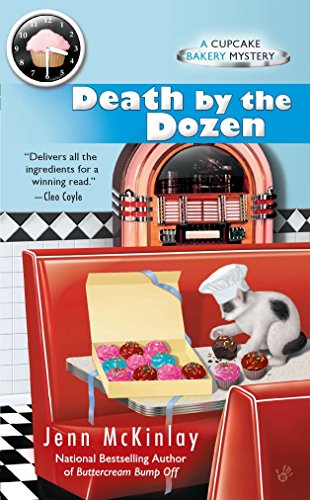 Sprinkle with Murder — Melanie Cooper and Angie DeLaura are finally living out their dream as the proud owners of the Fairy Tale Cupcakes bakery. But their first big client is a nightmare. She's a bridezilla who wants 500 custom cupcakes for her wedding. When Mel stumbles upon the bride-to-be dead-by-cupcake, she becomes the prime suspect. To save themselves and their business, the ladies need to find the real murderer, before the cupcake killer ices someone else.
Buttercream Bump Off — Melanie Cooper and Angie DeLaura's Fairy Tale Cupcakes bakery is gearing up for Valentine's Day. Unfortunately someone has iced Baxter Malloy on his first date with Mel's mother. Now Mom's a suspect, and Mel and Angie need to find time around frosting to dig into the man's shady past and discover who served him his just desserts.
Death by the Dozen — Melanie and Angie are determined to win the Challenge to the Chef to promote their Fairy Tale Cupcakes bakery. Mel's mentor from culinary school, Vic Mazzotta, may be one of the judges, but Mel and Angie will have to win fair and square. But, when Vic's dead body is found inside a freezer truck, Mel and Angie will need to use their best judgment to find the cold-blooded killer or they may lose more than the contest- they may lose their lives.
Red Velvet Revenge — It may be summertime, but sales at Fairy Tale Cupcakes are below zero–and owners Melanie Cooper and Angie DeLaura are willing to try anything to heat things up. So when local legend Slim Hazard offers them the chance to sell cupcakes at the annual Juniper Pass rodeo, they're determined to rope in a pretty payday! But not everyone at the Juniper Pass is as sweet for Fairy Tale Cupcakes as Slim–including star bull-rider Ty Stokes. Mel and Angie try to steer clear of the cowboy's short fuse, but when his dead body is found face down in the hay, it's a whole different rodeo.
Going, Going, Ganache — After a cupcake-flinging fiasco at a photo shoot for a local magazine, Melanie Cooper and Angie DeLaura agree to make amends by hosting a weeklong corporate boot camp at Fairy Tale Cupcakes. It's clear that the staff would rather be doing just about anything other than frosting baked goods. But when the magazine's creative director is found murdered outside the bakery, Mel and Angie have a new team-building exercise—find the killer before their business goes AWOL.
Sugar and Iced —

Normally Melanie Cooper and Angie DeLaura wouldn't be caught dead at a beauty pageant, but when Mel's mom asks them to provide cupcakes for the seventy-fifth annual Sweet Tiara contest as a favor for her best friend, they can't say no. But the world of pageants is even hotter than Mel's kitchen. A high-strung judge and a pushy stage mom target Lupe, a young friend of Mel and Angie's, at the competition and aim to take her out. When the same judge shows up dead underneath Mel and Angie's cupcake display, Lupe is crowned the lead suspect. Now Mel and Angie will have to find the real killer quickly or Lupe may be strutting the catwalk in prison pinstripes…

Dark Chocolate Demise —

Scottsdale, Arizona. Hundreds of fans have gathered together for the first annual Old Town Zombie Walk, and Mel, Angie, and the Fairy Tale Cupcake crew are donning their best undead attire to sell some horror-themed desserts to the hungry hordes. But the fun turns to fright when Mel finds a real dead body in a prop casket outside of the bakery's truck. Knowing that Joe, Angie's brother and Mel's former flame, has been working on a dangerous mob case, Mel worries that the murder is a hit gone wrong and that someone near and dear was the real target. To keep any of her friends from winding up six feet under, Mel will do whatever it takes to find a killer—no matter how scary things get…

Vanilla Beaned — M

elanie Cooper and Angie DeLaura are taking a gamble by opening their first franchise of the Fairy Tale Cupcakes Bakery, so where better to hit the jackpot than in Vegas? But after the potential bakery location gets blown up, Mel sets out to discover who is trying to keep the bakery from cashing in. But with a murderous mischief maker on the loose, the odds are stacking up against a happy ending for Mel and her friends…
Caramel Crush —

Love is in the air at Fairy Tale Cupcakes as Angie prepares for her wedding, but co-owner, Mel, is preparing for a breakup. Her old friend, Diane Earnest, is dumping her fiancé after discovering he's only marrying her for her money. She wants Mel to personally deliver a batch of caramel breakup cupcakes to the louse and give her a play-by-play of his reaction. When Mel finally tracks the man down, the look on his face isn't the reaction she was expecting: he's dead. After the police arrive and see the incriminating cupcakes, Diane becomes their prime suspect. If she hopes to taste freedom again, Mel and Angie must make sure the real killer gets their just desserts…

Wedding Cake Crumble —

With Angie and Tate's wedding just around the corner, it's a happy time for Melanie Cooper and the bakery crew. And their bakery, Fairy Tale Cupcakes, has just been hired to bake cupcakes for the blockbuster book signing of a controversial author. But one by one, the people Angie has hired to work at the wedding begin turning up dead. As the body count rises, the bestselling author is the next to bite the dust. Mel quickly realizes she needs to figure out how the murders are connected and why–before the killer brings the entire cupcake crew crumbling down. After all, Angie and Tate deserve their sweet happily ever after.

Dying for Devil's Food — M

elanie Cooper has zero interest in catering her fifteen-year high school reunion, but Angie insists it's only right that they bask in the success of Fairy Tale Cupcakes. Everything is going better than expected until Cassidy Havers, resident mean girl and Mel's high school nemesis, is found dead in the girl's bathroom, next to a note written in lipstick that points right to Mel–making her the prime suspect. Now, Mel must follow the clues to find the real killer and keep her reputation from being frosted for a crime she didn't commit.

Pumpkin Spice Peril — L

ife is all sugar and spice for the Fairy Tale Cupcake bakers until one of their most valued cupcake connoisseurs ends up dead. Local glass artist and cupcake lover Rene Fischer-Klein has always suffered from a wide variety of health issues. In an effort to cheer her up, her doting husband, Peter, brings her a four-pack of her favorite cupcakes every week. But when the police discover that Rene has been poisoned, there's no sugarcoating the fact that the last things she ate were the bakery's signature pumpkin spice cupcakes! With their lives and bakery at stake, it's up to Mel and Angie to find out who poisoned their artist friend and why, before their future is frosted for good.
For Batter or Worse —

Mel and Joe are getting married. Their reception will be held at the swanky resort where Oz works as the pastry chef. The wedding planning is all fun-fetti and games until Mel and Joe meet the head chef at the resort who has been making Oz's life miserable. When the eccentric chef insults Mel's bakery, Oz gets into a blowout argument with the culinary prima donna. Things turn extra sour when the chef is murdered, and Oz is the police's main suspect. As the countdown to the wedding day begins, Mel, Joe, and the rest of the Fairy Tale Cupcake crew must sift through clues to catch the real killer and clear Oz's name before their wedding plans are totally battered and baked.

Strawberried Alive —

One night, an unknown gunman takes a shot at Mel. Though the bullets miss their mark, the cupcake crew goes on high alert to figure out who would want to kill a small-town baker, and why. When more business owners are attacked, things turn fatal, and locals begin to wonder if the killer could be one of their own. Every shop owner in town starts to fear it's only a matter of time before they too become victims of the mystery murderer. Despite the cupcake crew's superb baking skills, it will be anything but a piece of cake to catch the killer, as they try to prevent anyone else from being berried.

Sugar Plum Poisoned — When up-and-coming singing sensation Shelby Vaughn arrives in town for two weeks of concert dates, she hires her old friend Angie and the rest of the bakery crew to supply cupcakes for the VIP guest lounge every night. After overhearing Shelby in a heated argument with her manager, Mel is concerned, but she and the crew decide to make the best of their time working with the star. Just as the bakers fall into the rhythm of the job, Shelby's manager is found dead, clutching a bit of fabric from a Santa suit and a cupcake. With the bakery crew and Shelby's backup dancers all dressed in similar Santa costumes, it's impossible to say who is the killer. When all suspicions lead back to Shelby, Mel and Angie stand up for their friend, determined to prove her innocence before she's frosted for a crime she didn't commit.
Bonus, for the bakers!
Fairy Tale Cupcakes — From the imagination of Jenn McKinlay and the kitchen of Christie Conlee, these delicious cupcake recipes have been baked and frosted to perfection. And now, for the first time ever, we're sharing them in a single volume with you. Happy Baking!
---
If you like the Cupcake Bakery Mystery series, you may also want to see our Joanne Fluke reading order, or our guide to Bailey Cates's Magical Bakery series. Don't hesitate to follow us on Twitter or Facebook to discover more book series.