Benedict Jacka Books in Order (Alex Verus, Ninja)
Disclaimer: As an Amazon Associate, we earn from qualifying purchases. Thanks!
All of Benedict Jacka's Books in Order!
Who is Benedict Jacka?
Benedict Jacka is a British author known for his work in the urban fantasy genre with the Alex Verus series that takes us to Camden to follow a mage with a dark past who can see the future.
The Alex Verus novels are known for their fast-paced action, intricate plotting, and well-drawn characters and was introduced in "Fated," a novel published in 2012.
Jacka didn't start there. In fact, his first books were children's fantasy novels that didn't get published. He found a bit more success with a non-fantasy series for children, the Ninja series, but it's by writing for adults that he found an audience, with the Alex Verus series.
How to read Benedict Jacka Books in Order?
The Ninja Series
A Children's series about, as the author explained it, "a brother and sister who escape from their father who's a drug lord to train in a secret ninja school in a forest valley in Wales." It's not urban fantasy like the Alex Verus series, and it can be hard to find.
Ninja: The Beginning (2005)
Ninja: The Battle (2007)
For more information about the books in the Ninja series by Benedict Jacka, you'll find below the official synopsis for all the books: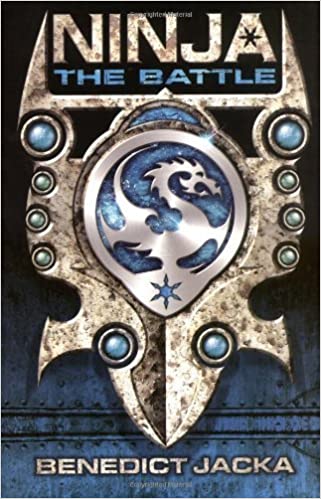 Ninja: The Beginning – Running away from home is usually a bad idea. However, Ignis, Allandra, and Michael have three good reasons for doing it. First, their father Vargas Havelock is a drug baron; second, he's thoroughly evil; and third, he expects them to join him in the family business before they get much older. Given all that, running away starts to look quite reasonable. But when Ignis and Allandra stage an escape during a holiday in Wales, taking Michael with them, things don't go to plan. Michael gets recaptured, and Ignis and Allandra nearly drown. When they wake up, they find they've been taken to a secret valley deep in the forest. A school is hidden there, built into the treetops, and it's filled with children studying to be ninjas.
Ninja: The Battle – Allandra and Ignis have been living for two years in Rokkaku, a secret training school for ninjas. Now they've been assigned a secret mission in London – which will take them back into the path of their drug-baron father. A surprise visit from their brother, Michael, convinces Allandra he's changed, but Ignis isn't so sure. So when Michael arrives at Rokkaku, seeking a family reunion, Ignis is suspicious. Could Michael still be working for their father? Allandra doesn't know what to think – but by welcoming Michael to Rokkaku, will she be bringing danger right to the heart of the ninja school?
The Alex Verus Series
Set in modern-day London, the series Alex Verus follows the adventures of Alex Verus, a mage with the ability to see possible futures.
A former apprentice of the powerful Dark mage Richard Drakh, Verus has since distanced himself from his mentor and opened his own magic shop in Camden. However, he finds himself drawn into the politics and power struggles of the Light and Dark mage factions and often becomes embroiled in dangerous conflicts between them.
As a diviner, Verus is able to see multiple possible outcomes of any given situation, which gives him an edge in the magical battles he must fight. He is also highly skilled in combat magic and uses his abilities to protect his friends and loved ones, as well as to uncover the truth behind various mysteries and conspiracies.
We also have an article dedicated to the Alex Verus series.
Fated (2012)
Cursed (2012)
Gardens (2022)
Taken (2012)
Chosen (2013)
Hidden (2014)
Veiled (2015)
Favours (novella, 2021)
Burned (2016)
Bound (2017)
Marked (2018)
Fallen (2019)
Forged (2020)
Risen (2021)
Gardens (novella, 2022)
Next comes the plot for each of the Alex Verus stories:
Fated (2012) – In the heart of Camden, where rail meets road meets leyline, you might find the Arcana Emporium, run by one Alex Verus. He won't sell you a wand or mix you a potion, but if you know what you're looking for, he might just be able to help. That's if he's not too busy avoiding his would-be apprentice, foiling the Dark, outwitting the Light, and investigating a mysterious relic that has just turned up at the British Museum.
Cursed (2012) – Things are going well for Alex Verus. But when a mysterious woman bursts into the Arcana Emporium one night with an assassin on her tail, Alex is thrown into a plot to revive a long-forbidden ritual. His old enemies are after the secret, as well as a Council mage named Belthas and a mercenary named Garrick, and at least one of them is trying to get Alex killed – if he only knew which.
Taken (2012) – Welcome to Fountain Reach. Ancient seat of the Aubuchon dynasty. Majestic setting of the White Stone tournament. At Fountain Reach, Alex Verus is perfectly placed among the noted and notorious to figure out why apprentices have been vanishing. But the tournament is a minefield of ancient grudges and new threats, and Alex can't afford to miss a trick as his elusive adversary stays one step ahead in this most dangerous of games.
Chosen (2013) – Life is quiet for Alex Verus. With a flat full of friends (and the occasional fish), and business booming, why not enjoy the humdrum here and now? But in a sudden and cruel pincer movement of fate, Alex finds himself fighting a sinister and powerful gang as well as his own demons – for the same crime.
Hidden (2014) – Alex Verus's friend, the life mage Anne, distanced herself from him when she found out about his past as a Dark apprentice. Now she's in serious trouble but wants nothing to do with him. Alex has to start wondering if Anne's problem is really with him – or if there's a secret she's trying to hide.
Veiled (2015) – Alex Verus has agreed to join the Keepers, the magical police force, to protect his friends from his old master, the Dark Mage Richard Drakh. Going legit was always going to be difficult for an outcast like Alex, and there are some Keepers who aren't keen to see an ex-Dark mage succeed. Especially when Dark mages are making a play for a seat on the council, for the first time in history. Alex finally has the law on his side — but trapped between Light and Dark politics, investigating a seedy underworld with ties to the highest of powers, will a badge be enough to save him?
Favours (novella, 2021) – Told from the perspective of the time mage Sonder. Returning to London after his year-long assignment to Washington D.C., Sonder is called into Keeper HQ to work with Caldera on an investigation. What looks at first like a simple burglary quickly turns into something much more difficult and dangerous, forcing Sonder to choose where his loyalties lie.
Burned (2016) – The Mage's Council of Great Britain just named Alex Verus a traitor and ordered his death in seven days' time, and there's no way anyone can get out of that. Alex's friends – Luna and the other apprentices he's taken in – are tainted by association. They'll be marked for death too when the ruling comes into play, and Alex becomes locked in a race against time to save them. But with only seven days to work with, will he have time left over save his own skin?
Bound (2017) – Manoeuvred by forces beyond his control, Alex Verus has made a terrible choice: he's agreed to work for his old master once more. Richard Drakh, the sadistic dark mage Alex escaped as an apprentice, has him in his clutches again. And this time, he won't let go so easily.
Marked (2018) – Alex Verus is tracking down dangerous magical items unleashed into the world by Dark Mages – however, when the Light Council decide they need his help in negotiating with the perpetrators, Alex must use all his cunning and magic to strike a deal.
Fallen (2019) – Once Alex Verus was a diviner trying to live quietly under the radar. Now he's a member of the Light Council who's found success, friends . . . and love. But it's come with a price – the Council is investigating him, and if they find out the truth, he'll lose everything. Meanwhile, Alex's old master, Richard Drakh, is waging a war against the Council, and he's preparing a move that will bring Alex and the life mage, Anne, under his control. Caught between Richard and the Council, Alex's time is running out.
Forged (2020) – To protect his friends, Mage Alex Verus has had to change – and embrace his dark side. But the life mage Anne has changed too, and made a bond with a dangerous power. She's going after everyone she's got a grudge against – and it's a long list. In the meantime, Alex has to deal with his arch-enemy, Levistus. The Council's death squads are hunting Alex as well as Anne, and the only way for Alex to stop them is to end his long war with Levistus and the Council, by whatever means necessary.
Risen (2021) – Alex's girlfriend, the life mage Anne, has fallen fully under the control of the deadly djinn she made a bargain with, and it is preparing to create an army of mages subject to its every whim. Alex, the Council, and the Dark mage Richard Drakh agree to call a truce in their war, and plans are made for a joint attack. Alex knows that it's only a matter of time before Drakh and the Council turn on each other . . . and neither cares about keeping Anne alive.
Gardens (novella, 2022) – Daniel is an adept who uses his magical talents to make a living as a small-time thief. When he and his friends are hired by a mysterious mage to steal a ring from a cabin in the Romanian woods, it seems like easy money. But all is not as it seems, and Daniel will quickly learn that nobody involved with this theft is exactly who they claim to be. As the members of the group start to turn on one another, Daniel and his friends must discover the truth behind what they've found, before it's too late. Because this forest isn't empty . . . and their actions have disturbed something that would have been better left alone.
What should you read if you like Benedict Jacka's novels?
If you like reading Benedict Jacka's stories, you may be interested in the Jim Butcher's Dresden Files or the Rivers of London series.