Asa Larsson Books in Order (Rebecka Martinsson: Arctic Murders)
Disclaimer: As an Amazon Associate, we earn from qualifying purchases. Thanks!
All of Asa Larsson's Books in Order!
Who is Asa Larsson?
Åsa Larsson was a tax lawyer but is now a bestselling/award-winning Swedish crime-fiction writer.
Larsson is mostly known for her Rebecka Martinson series, about a lawyer who returns to her hometown in Kiruna and gets involved in the search for a killer.
Her book Sun Storm (aka The Savage Altar) was adapted as a movie, the 2007 Swedish film titled Solstorm starring Izabella Scorupco, and as a TV series titled Rebecka Martinsson: Arctic Murders starring Sascha Zacharias.
How to read Asa Larsson's Books in Order?
The Rebecka Martinsson Series
Sun Storm (aka The Savage Altar – 2003, Solstorm) – Rebecka Martinsson is heading home to Kiruna, the town she'd left in disgrace years before. A Stockholm attorney, Rebecka has a good reason to return: her friend Sanna, whose brother has been horrifically murdered in the revivalist church his charisma helped create. Beautiful and fragile, Sanna needs someone like Rebecka to remove the shadow of guilt that is engulfing her, to forestall an ambitious prosecutor and a dogged policewoman. But to help her friend, and to find the real killer of a man she once adored and is now not sure she ever knew, Rebecka must relive the darkness she left behind in Kiruna, delve into a sordid conspiracy of deceit, and confront a killer whose motives are dark, wrenching, and impossible to guess…
The Blood Spilt (2004, Det blod som spillts) – The murder of a female priest sends shockwaves through the isolated community of Kiruna. A crime that has terrifying echoes of another. Lawyer Rebecka Martinsson returns to Kiruna to help the police, and is soon drawn into the dead woman's world. A world of hurt and healing, sin and sexuality, and above all, of lethal sacrifice. Can Rebecka find the truth before she is consumed by it?
The Black Path (2006, Svart stig) – The dead woman was found on a frozen lake, her body riddled with evidence of torture. Instantly, Inspector Anna-Maria Mella knows she needs help. Because the dead woman was a key player in a mining company whose tentacles reach across the globe. Anna-Maria needs a lawyer to help explain some things. Attorney Rebecka Martinsson is desperate to get back to work, to feel alive again after a case that almost destroyed her. Soon Rebecka is prying into the affairs of the dead woman's boss, the founder of Kallis Mining, whose relationship with his star employee was both complex and ominous.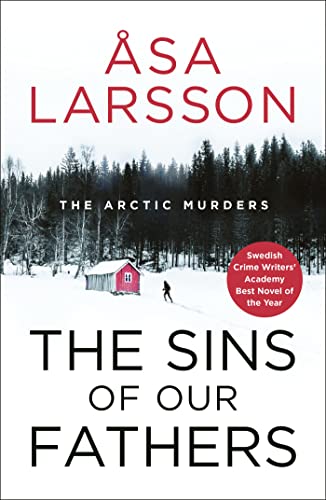 Until Thy Wrath be Past (2008, Till dess din vrede upphör) – In the first thaw of spring the body of a young woman surfaces in the River Torne in the far north of Sweden. Rebecka Martinsson is working as a prosecutor in nearby Kiruna, her sleep troubled by visions of a shadowy, accusing figure. Could the body belong to the girl in her dream? Joining forces with Police Inspector Anna-Maria Mella, Martinsson will need all her courage to face a killer who will kill again to keep the past buried under half a century of silent ice and snow.
The Second Deadly Sin (2011, Till offer åt Molok) – At the end of a deadly bear hunt across the wilderness of Northern Sweden, the successful hunters are shaken by a grisly discovery. Across in Kurravaara, a woman is murdered with frenzied brutality: crude abuse scrawled above her bloodied bed, her young grandson nowhere to be found. Only Rebecka Martinsson sees a connection. Dropped from the case thanks to a jealous rival, she now stands alone against a killer who brings death to young and old, spawned by a horrifying crime that festers after one hundred years on ice.
The Sins of Our Fathers (2021, Fädernas missgärningar) – Forensic pathologist Lars Pohjanen has only a few weeks to live when he asks Rebecka Martinsson to investigate a murder that has long since passed the statute of limitations. A body found in a freezer at the home of the deceased alcoholic, Henry Pekkari, has been identified as a man who disappeared without a trace in 1962: the father of Swedish Olympic boxing champion Börje Ström. Rebecka wants nothing to do with a fifty-year-old case – she has enough to worry about. But how can she ignore a dying man's wish?
Other Books by Asa Larsson
The books have not been translated in English yet.
Upptäck jorden (2003)
Aurinkomyrsky (2005)
Systrarna Hietala (2007, short stories)
Guds starka arm (with Lena Andersson, 2009, short stories) ()
Tjernaja tropa (2012)
If you like our article about Asa Larsson's books and her Rebecka Martinsson Series in order, don't forget to bookmark it!