Affiliate disclosure: As an Amazon Associate, we may earn commissions from qualifying purchases from Amazon.
All of Anna Lee Huber's Books in Order!

Who is
Anna Lee Huber

?

Born and raised in Ohio, Anna Lee Huber used to write during her younger years but stopped and studied music instead. Trying to build a career, she got back into writing fiction and found success.

Now, Anna Lee Huber is known for her historical mysteries series The Lady Darby Mysteries and The Verity Kent Mysteries, but she also writes Gothic Myths.
How to read Anna Lee Huber's

Books in Order?
The Lady Darby Mysteries
The Anatomist's Wife (2012) – Scotland, 1830. Following the death of her husband, Lady Darby has taken refuge at her sister's estate, finding solace in her passion for painting. But when her hosts throw a house party for the cream of London society, Kiera is unable to hide from the ire of those who believe her to be as unnatural as her husband, an anatomist who used her artistic talents to suit his own macabre purposes. Kiera wants to put her past aside, but when one of the house guests is murdered, her brother-in-law asks her to utilize her knowledge of human anatomy to aid the insufferable Sebastian Gage—a fellow guest with some experience as an inquiry agent.
Mortal Arts (2013) – Scotland, 1830. Lady Kiera Darby must journey to Edinburgh with her family so that her pregnant sister can be close to proper medical care. But the city is full of many things Kiera isn't quite ready to face: the society ladies keen on judging her, her fellow investigator—and romantic entanglement—Sebastian Gage, and ultimately, another deadly mystery.
A Grave Matter (2014) – Scotland, 1830. Following the death of a dear friend, Lady Kiera Darby is in need of a safe haven. Returning to her childhood home, Kiera hopes her beloved brother Trevor and the merriment of the Hogmanay Ball will distract her. But when a caretaker is murdered and a grave is disturbed at nearby Dryburgh Abbey, Kiera is once more thrust into the cold grasp of death.
A Study in Death (2015) – Scotland, 1831. Lady Kiera Darby is thrilled to have found both an investigative partner and a fiancé in Sebastian Gage. But with her well-meaning sister planning on making their wedding the event of the season, Kiera could use a respite from the impending madness. After she's commissioned to paint the portrait of Lady Drummond, Kiera is shocked to find her client prostrate on the floor.
A Pressing Engagement (short story, 2016) – Scotland, 1831. With her wedding to fellow investigator Sebastian Gage only a day away, Kiera is counting down the hours. But just when matrimonial jitters threaten to consume her, Kiera receives a welcome distraction in the form of a mysterious gold necklace.
The Deadly Hours (short story, 2020) – An anthology rich with atmosphere and intrigue that encapsulates the exquisite destruction, heartbreak, and redemption wrought by fate. Contains writings from C S Harris, Susanna Kearsley and Christine Trent.
As Death Draws Near (2016) – July 1831. In the midst of their idyllic honeymoon in England's Lake District, Kiera and Gage's seclusion is soon interrupted by a missive from her new father-in-law. A deadly incident involving a distant relative of the Duke of Wellington has taken place at an abbey south of Dublin, Ireland, and he insists that Kiera and Gage look into the matter.
A Brush with Shadows (2018) – July 1831. It's been fifteen years since Sebastian Gage has set foot in Langstone Manor. Though he has shared little with his wife, Lady Kiera Darby, about his past, she knows that he planned never to return to the place of so many unhappy childhood memories. But when an urgent letter from his grandfather reaches them in Dublin, Ireland, and begs Gage to visit, Kiera convinces him to go.
An Artless Demise (2019) – November 1831. After fleeing London in infamy more than two years prior, Lady Kiera Darby's return to the city is anything but mundane, though not for the reasons she expected. A gang of body snatchers is arrested on suspicion of imitating the notorious misdeeds of Edinburgh criminals, Burke and Hare–killing people from the streets and selling their bodies to medical schools. Then Kiera's past–a past she thought she'd finally made peace with–rises up to haunt her.
A Stroke of Malice (2020) – January 1832. After enjoying a delightful few weeks with her family, expectant mother Kiera and Sebastian Gage have been invited to the Duchess of Bowmont's Twelfth Night party in Traquair, Scotland. Though she normally avoids such fashionable, rambunctious events, Kiera is ready to join in the festive merrymaking. But upon their arrival at the opulent estate, it becomes obvious that all is not merry in their hostess's home. The family appears to be under a great strain, and someone seems determined to cause mayhem among the guests with a series of forged notes.
A Wicked Conceit (2021) – Edinburgh, Scotland. March 1832. Kiera and Gage have been eagerly awaiting their bundle of joy but trouble has been brewing in the form of the roguish criminal Bonnie Brock Kincaid. A new book and subsequent play features some of Kincaid's daringly heinous exploits, although he swears he had nothing to do with it or the characters which are obvious representations of Kiera and Gage. While the scoundrel's fury seems genuine, as well as his determined quest to uncover the real identity of the author, the Gages still hold doubts about his innocence.
A Perilous Perspective (2022) – Argyll, Scotland. July 1832. After a trying few months in Edinburgh, Kiera and her husband and investigative partner, Sebastian Gage, are eager to escape to the Highlands with their three-month-old child. Kiera is overjoyed for her cousin Rye and her detractor-turned-friend Charlotte who are being wed in a private ceremony at the estate of Rye's great-uncle, the Marquess of Barbreck, in what seems to be the perfect wedding party. But when Kiera is invited to peruse Barbreck's extensive art collection, she is disturbed to discover that one of his most priceless paintings seems to be a forgery.
A Fatal Illusion (2023) – Yorkshire, England. August 1832. Relations between Sebastian Gage and his father have never been easy, especially since the discovery that Lord Gage has been concealing the existence of an illegitimate son. But when Lord Gage is nearly fatally attacked on a journey to Scotland, Sebastian and Kiera race to his side. Given the tumult over the recent passage of the Reform Bill and the Anatomy Act, in which Lord Gage played a part, Sebastian wonders if the attack could be politically motivated.
---
The Verity Kent Mysteries
The series is set during peacetime, after the First World War in 1919, and revolves around Verity Kent who used to work for the Secret Service, a fact even her late husband didn't know. Now, navigating between old secrets and new murders, Verity searches for the truth. For more information, go to our Verity Kent Reading Order.
This Side of Murder (2017)
Treacherous Is the Night (2018)
Penny for Your Secrets (2019)
A Pretty Deceit (2020)
Murder Most Fair (2021)
A Certain Darkness (2022)
---
Goth Myths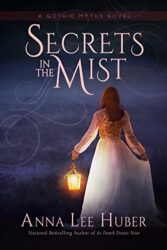 Secrets in the Mist (2016) – England 1812. Since the death of her mother and brother, Ella Winterton's life has been consumed by keeping her drunkard father out of trouble and the roof of their crumbling cottage over their heads. But even isolated deep in the Norfolk broads, Ella has never been afraid of the marshes surrounding her home, despite their being riddled with treacherous bogs and local smugglers. Until one night a man masquerading as a Lantern Man—a frightening figure of local legend—waylays her in the marshes near her home, and her world suddenly begins to spiral out of control.
---
If you like Anna Lee Huber's books, you may also want to see our Maisie Dobbs reading order or our guide to Marc Cameron's Jericho Quinn series. Don't hesitate to follow us on Twitter or Facebook to discover more book series.