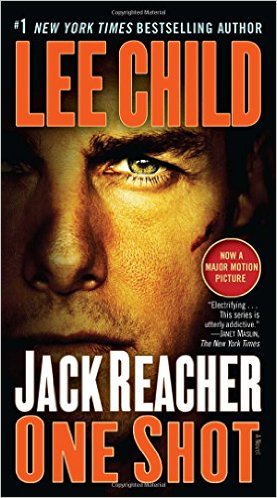 Like with Quarry, the Jack Reacher books are numerous and they are not published in a chronological order. It's not a problem, you can read them in any order you like. That said, maybe you want more, like a sense of continuity or just a firm direction to follow.
Who is Jack Reacher?
Jack Reacher is the fictional protagonist of stories written by British author Lee Child. In the books, published since 1997, Reacher is a former Major in the United States Army Military Police Corps. We mostly follow him as he travels through the United States, helping people and falling into webs of complications and mysteries.
What's the best Jack Reacher's reading order?
There are three ways to read Jack Reacher's series. The first is the simple one, you take the books like you want. The second is to follow the publication order. The third is the chronological order – you can find this one at the end of this article.
Night School – Early 1996. Reacher is still in the army and placed into a top-secret multi-agency task force. A CIA informant in a Jihadist sleeper cell in Hamburg, Germany, has relayed the message The American wants a hundred million dollars. With little else to go on, Reacher and his new associates are tasked with finding the buyer and the seller and determining what is being sold.
The Midnight Line – Reacher takes a stroll through a small Wisconsin town and sees a class ring in a pawn shop window: West Point 2005. A tough year to graduate: Iraq, then Afghanistan. The ring is tiny, for a woman, and it has her initials engraved on the inside. Reacher decides to find the woman and return her ring. So begins a harrowing journey that takes Reacher through the upper Midwest.
Past Tense – Jack Reacher hits the pavement and sticks out his thumb. He plans to follow the sun on an epic trip across America, from Maine to California. He doesn't get far. On a country road deep in the New England woods, he sees a sign to a place he has never been: the town where his father was born. He thinks, What's one extra day? He takes the detour.
Jack Reacher's Chronological Reading Order
And now, the chronological order. I included the short stories. You can find them in No Middle Name: The Complete Collected Jack Reacher Short Stories book.
Second Son (short story)
High Heat (novella)
Deep Down (short story)
Small Wars (short story)
James Penney's New Identity (short story)
The Visitor – aka Running Blind
Guy Walks into a Bar… (short story)
Everyone Talks (short story)
Not a Drill (short story)
Good and Valuable Consideration (short story)
Maybe they Have a Tradition (short story)
Too Much Time (short story)
Faking a Murderer (short story with Temperance Brennan)