In the future, Technology will rule the world, but we will still need cops, ask J.D. Robb.
What is the In Death series?
Written by Nora Roberts under her pseudonym, J. D. Robb, The …in Death series is set in New York City at the end of the '2050s. Yes, future cops!
The stories follow New York City Police and Security Department (NYPSD) Lieutenant Eve Dallas and her billionaire husband, Roarke, as they solve complex murder investigations.
In Death Books in Order: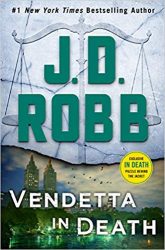 Vendetta in Death – She calls herself Lady Justice. And once she has chosen a man as her target, she makes herself as alluring and seductive as possible to them. Once they are in her grasp, they are powerless. The first victim is wealthy businessman Nigel McEnroy. His company's human resources department has already paid out settlements to a couple of his young victims―but they don't know that his crimes go far beyond workplace harassment. Lady Justice knows. And in one shocking night of brutality, she makes him pay a much steeper price. Now Eve Dallas and her husband, Roarke, are combing through the evidence of McEnroy's secret life.
Golden In Death – Coming soon.