If you like a bit of historical comedy with some British royalty, Her Royal Spyness is for you.
What is Her Royal Spyness?
Written by British author Rhys Bowen, Her Royal Spyness is a humorous historical series about the penniless cousin of King George V of England in 1932 who is acting as a spy for the queen.

Lady Victoria Georgiana Charlotte Eugenie, daughter to the Duke of Atholt and Rannoch, is flat broke. And when her brother cuts off her allowance, she leaves Scotland for London where she has been summoned by the Queen to spy on her playboy son. Soon, this amateur sleuth starts to solve crimes.
Her Royal Spyness Books in Order:
Masked Ball at Broxley Manor – It's a prequel short story, but it's better to read it a bit later. At the end of her first unsuccessful season out in society, Lady Georgiana has all but given up on attracting a suitable man—until she receives an invitation to a masked Halloween ball at Broxley Manor. Georgie is uncertain why she was invited, until she learns that the royal family intends to marry her off to a foreign prince, one reputed to be mad.
Her Royal Spyness – London, 1932. Lady Victoria Georgiana Charlotte Eugenie, 34th in line for the English throne, is flat broke. She's bolted Scotland, her greedy brother, and her fish-faced betrothed. London is a place where she'll experience freedom, learn life lessons aplenty, do a bit of spying for HRH—oh, and find a dead Frenchman in her tub. Now her new job is to clear her long family name…
A Royal Pain – London, 1932. Poor Lady Georgiana—thirty-fourth in line to the throne—has nothing to serve her Bavarian princess houseguest, even though the Queen of England has requested that she entertain her. Then there's the matter of the body in the bookshop and the princess's unwitting involvement with the Communist party. It's enough to drive a girl mad…
Royal Flush – Scotland, 1932. Back home until a little London scandal blows over, minor royal Lady Georgiana Rannoch has two equally important objectives. Queen Mary wants Georgie to keep the divorced, American, and entirely unsuitable Wallis Simpson from seducing the Prince of Wales, while Scotland Yard wants her to stop one of the members of the shooting party at Balmoral from turning their sights from the quails to His Royal Highness…
Royal Blood – London, 1932. With her hateful brother Binky in town, Georgie has been desperately seeking an escape. So when an invitation from the Queen of England arrives asking her to represent the royals at a wedding in Transylvania—legendary home of vampires—she's delighted to accept. But when the bride starts acting a little batty and a prominent wedding guest is poisoned, something must be done lest the couple's vows become "till undeath do they part…"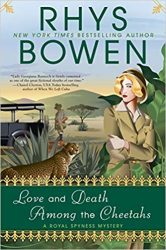 Love and Death Among the Cheetahs –

Georgie is excited when Darcy announces out of the blue that they are flying to Kenya for their extended honeymoon. It is only after they arrive that she suspects he has actually been sent there on an assignment. They are picked up in Nairobi and taken to a lovely house in Happy Valley. Darcy finally confides that there have been some spectacular robberies in London and Paris, and it is suspected that the thief was a member of the aristocracy and may have fled to Kenya.